"Tara - Ra-boom-di-ay."
- W.J. Flywheel, Webporium Curator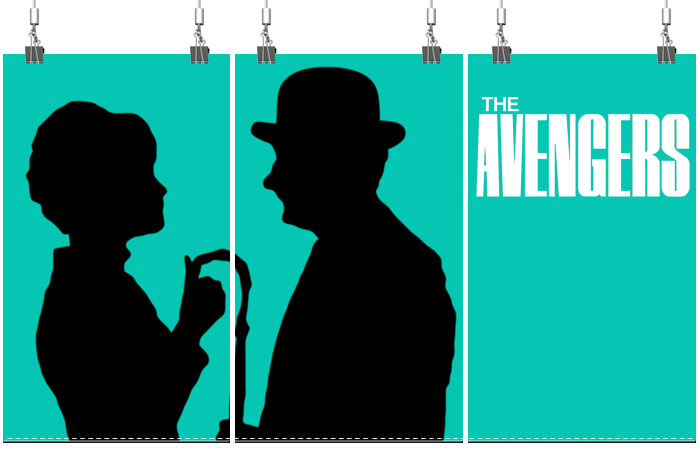 SERIES 6 - THE TARA KING EPISODES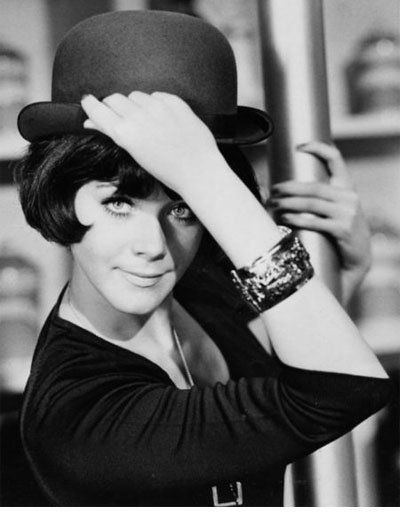 Tara King is a fictional character of British 1960s adventure television series The Avengers, played by Canadian actress Linda Thorson. Sixth partner of agent John Steed (and fourth female partner), she appeared in season 6 of the series (1968-1969), playing in 33 episodes. She is Emma Peel's successor.

Unlike Steed's other partners, we know few things about her. She enlisted at an early age in the Intelligence Service as a trainee, under the number 69.

Her first contact with the bowler-hatted agent is described in the first episode of season 6: The Forget-me-Knot. This was a rather spectacular meeting: thinking Steed is the "enemy" of her training, she pounces on him before she realizes she has made a mistake.

Shortly after, she makes Steed's acquaintance. During their talk, we learn John Steed is considered as an idol by all agents, Tara included. She then helps him to resolve the episode's investigation.

Episode ending: Emma Peel leaves Steed and her life as a "talented amateur" to go back to her husband, Peter Peel, who has been miraculously found in the Amazonian jungle, two years after his plane crashed. This means Steed needs a new partner: he phones his boss Mother, who tells him he "knows his tastes". Mother appoints Tara King to replace Emma. Tara comes to Steed's flat just in time to pass Mrs Peel on the stairs. Emma (whom she has never met before) gives her a piece of advice: how to stir Steed's tea (anticlockwise). This scene, where Emma passes the torch to Tara, is one of the best-known sequences of the series. Tara arrives at Steed's flat and, although he is saddened by Emma's departure, he is delighted to see his new partner, greeting her with the words "Tara - Ra-boom-di-ay". The clear implication is that she will not only replace Mrs. Peel in Steed's professional career, but also in his personal life, and possibly his bed. For the remainder of the series, his relationship with her was more overtly romantic and physical than with Mrs. Peel, and it was much more strongly hinted that they were sexually intimate, though not necessarily exclusive.

| | |
| --- | --- |
| 0. The Forget-Me-Knot | September 25, 1968 |
"Ra boom di ay!"
- Tara King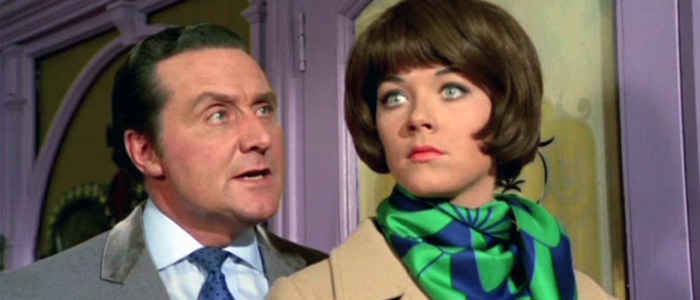 Steed's colleague Sean Mortimer comes to see him in a very confused state. He knows there is a traitor in the organization but he has been drugged to put him in an amnesiac state and he can remember little else. Mrs. Peel investigates but she too falls prey to the drug as she and Sean are abducted by bikers. It is down to trainee agent 69, Tara King, to whom Steed is introduced by spymaster 'Mother' to help him save the day.
Director: James Hill, Writer: Brian Clemens
Guest starring: Linda Thorson, Patrick Newell, Alan Lake, Douglas Sheldon, Tony Thawnton, Edward Higgins, Jeremy Young, Beth Owen, John Lee

"I would if I were you."
- John Steed

The sudden deaths of several of Steed's former army colleagues are revealed to be part of an elaborate engine of destruction, devised by a man court-martialled by them all. And now he is playing a deadly game.
Director: Robert Fuest, Writer: Richard Harris
Guest starring: Peter Jeffrey, Garfield Morgan, Anthony Newlands

| | |
| --- | --- |
| 2. Super Secret Cypher Snatch | October 9, 1968 |
"What?"
- John Steed and Tara King


Problems of a secret leakage from Cypher HQ and the disappearance of agent Jarret are first handed to rival Department MII2, and then to Mother's group. But why does everybody at Cypher HQ claim never to have seen Jarret and state that the only thing worthy of note that happened yesterday was that it rained?
Director: John Hough, Writer: Tony Williamson
Guest starring: Allan Cuthbertson, Patrick Newell, Angela Scoular

Is this is the only episode in which Mother's assistant Rhonda speaks? It seems she has the one line "What?", spoken simultaneously with Steed and Tara. While her head does turn in reaction, we only hear two voices (Tara & Steed) speaking. Rhonda is still silent, though in the episode "False Witness" she does whistle and in "Homicide & Old Lace" she laughs, but silently.

| | |
| --- | --- |
| 3. You'll Catch Your Death | October 16, 1968 |


Ear, nose and throat specialists are sneezing themselves to death, each after receiving a mysterious empty envelope. When Tara is kidnapped, Steed takes great care over his morning mail.
Director: Paul Dickson, Writer: Jeremy Burnham
Guest starring: Fulton Mackay, Patrick Newell, Roland Culver, Sylvia Kay

| | |
| --- | --- |
| 4. Split! | October 23, 1968 |


When an agent at the Ministry of Top-Secret Information is murdered, Steed and Tara have little difficulty in locating the man responsible. But when a handwriting test indicates that he is Boris Kartovski, someone Steed thought he had killed in Berlin 5 years before, our heroes find themselves drawn into the dangerous experiments of Dr. Constantine.
Director: Roy Ward Baker, Writer: Brian Clemens / Dennis Spooner
Guest starring: Nigel Davenport, Julian Glover, Bernard Archard

"Split!" was a leftover Emma Peel script from the previous season that was never done. It was also the first Avengers episode made following the return of producers Albert Fennell and Brian Clemens, after John Bryce had been sacked by A.B.C. Fennell and Clemens were not happy with the casting of Linda Thorson. Fresh out of drama school they felt she lacked television experience, but as there was no time to recast the role of Tara King so she stayed.
The episode has a title sequence that was never used again; Steed and Tara are chased round an empty studio by a telescopic sight, which the former swats away using his bowler. It was directed by Harry Booth, who also made the children's show 'Here Come The Double Deckers!' and two of the three 'On The Buses' movies. Robert Fuest was asked to come up with a different set of titles, and did - the one with Steed in a field full of suits of armour and Tara running across a bridge.

| | |
| --- | --- |
| 5. Whoever Shot Poor George Oblique Stroke XR40 | October 30, 1968 |


Somebody is out to get super-computer George/XR40. He is shot, given false data, attacked with acid, and nearly gets his power supply cut. But until George works properly the name and nature of the culprits cannot be established.
Director: Cyril Frankel, Writer: Tony Williamson
Guest starring: Dennis Price, Judy Parfitt, Clifford Evans, Anthony Nicholls

Undercover as an American, Tara speaks with a North American accent, which came easily to Linda Thorson as she is Canadian.

| | |
| --- | --- |
| 6. False Witness | November 6, 1968 |
"This is very unimportant! I don't want to warn you!"
- Tara King


Trusted agent Melville has lost three partners in quick succession, and seems to be lying at every opportunity. Is he really the man to partner Steed in an attempt to convict Lord Edgefield, noted blackmailer? And what is the odd connection between this whole affair and daily milk deliveries?
Director: Charles Crichton, Writer: Jeremy Burnham
Guest starring: John Bennett, Barry Warren, Tony Steedman, Patrick Newell

"False Witness", contains several goofs. When Tara escapes from the fight in the milk vat, as she runs away her clothes appear to be dry. After the getaway, she stops at a phone kiosk to call Steed, and she is completely dry, despite the fact that moments before she was swimming in milk. Later, she returns to the dairy and starts smashing bottles of milk and tipping over milk cans. When Steed arrives on the scene, the floor isn't wet and there are no broken bottles visible. Finally, with Tara in the butter maker, we can see her from the waist up, and she doesn't appear to be swimming in milk. Yet, when Steed frees her, she is embedded up to her neck in a giant block of butter.

| | |
| --- | --- |
| 7. All Done with Mirrors | November 13, 1968 |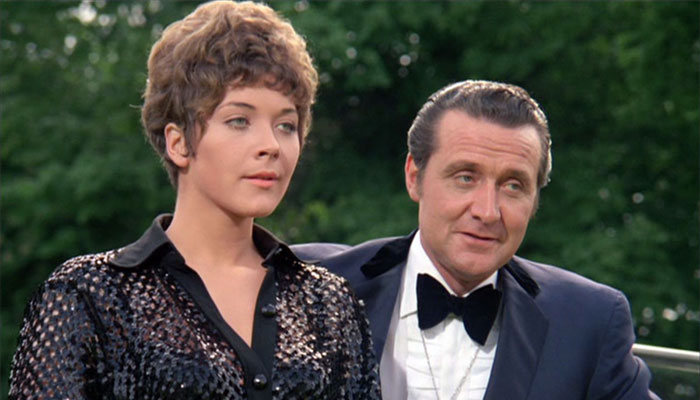 The leaking of secrets at Carmadoc Research Establishment throws suspicion on to Steed, who must suffer the torment of house arrest while Tara goes in with a new partner.
Director: Ray Austin, Writer: Leigh Vance
Guest starring: Peter Copley, Dinsdale Landen, Edwin Richfield

"All Done with Mirrors" was Linda Thorson's 12th episode filmed, and the first in which she sported her own hair. This would also be Tara King's first solo adventure.
Going by production order, this is the first episode that Rhonda appears. According to the official story, Patrick Newell, who plays "Mother" was not happy about having to maneuver his wheelchair around and spotted Rhonda Parker (being 6 foot tall, she was hard to miss) as one of the "beauties" and asked if she could be his assistant. She was hired on the spot and did 17 more episodes. Going by show order, Rhonda actions seem rather out of character as she smiles at Steed as if she has never met him before (in production order, she hasn't). In all of her other appearances she rarely smiles at all and doesn't speak.

| | |
| --- | --- |
| 8. Legacy of Death | November 13, 1968 |
"Oh, thank you, sir. Another few minutes and I would have told them everything I know."
- Tara King


Anticipating the arrival of his enemies to kill him, millionaire Henley Farrer sets a deadly trap for them involving an Oriental dagger and, inevitably, Steed and Tara.
Director: Don Chaffey, Writer: Terry Nation
Guest starring: Stratford Johns, Ronald Lacey, Ferdy Mayne, John Hollis

This is one of the few episodes in which Steed uses a gun.
Guest star John Hollis was in Star Wars: Episode V - The Empire Strikes Back (1980), Superman (1978) and Superman II (1980). He played Lando Calrissian's aide in The Empire Strikes Back, one of the most famous non-speaking characters in the history of the movies.
Hollis was also the bald, wheelchair-bound villain in the opening sequence of For Your Eyes Only, and was, quite obviously suppose to be Ernst Stavro Blofeld. However, he remained uncredited because of legal disputes over the rights to the character from the previous Bond film, Thunderball.

| | |
| --- | --- |
| 9. Noon Doomsday | November 27, 1968 |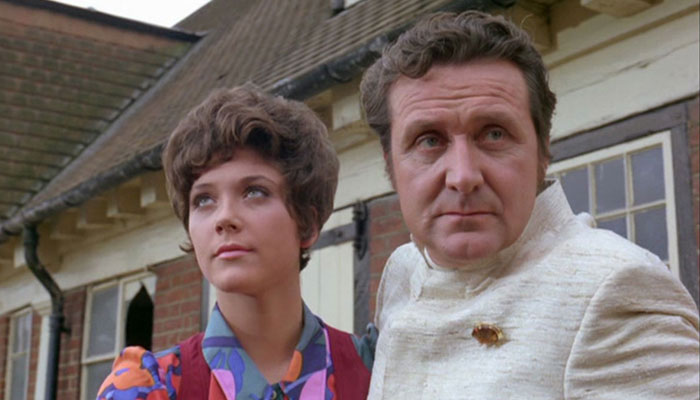 Tara visits Steed in a special hospital following an injury to his leg. This is just the backdrop needed by Gerald Kafka, ex-head of Murder International, as he plans his revenge against Steed, who sent him to prison exactly seven years ago. At noon, Steed will die.
Director: Peter Sykes, Writer: Terry Nation
Guest starring: Peter Bromilow, Griffith Jones, T.P. McKenna, Ray Brooks

| | |
| --- | --- |
| 10. Look- (stop me if you've heard this one) But There Were These Two Fellers... | December 4, 1968 |
"You are a public office?"
- Tara King
"Yes, that's the trouble!"
- Marcus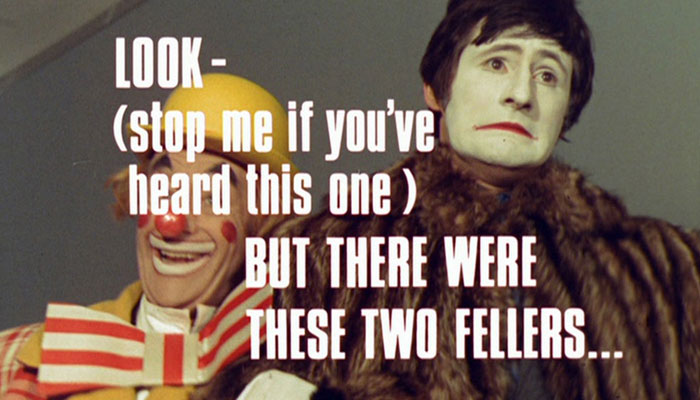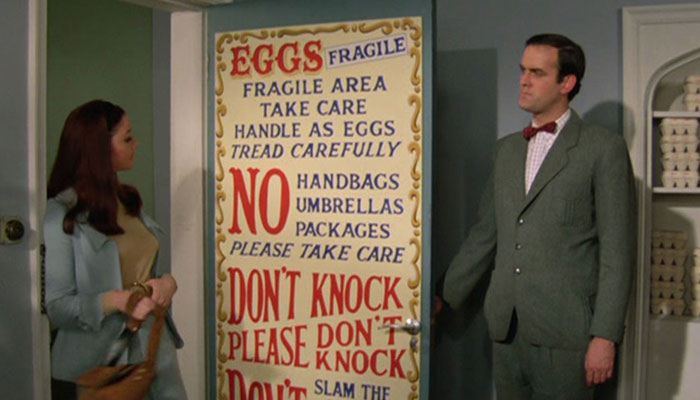 The directors of the Capital Land and Development Company are being murdered and the only clues Steed and Tara have are a massive footprint and a red nose.
Director: James Hill, Writer: Dennis Spooner
Guest starring: Gaby Vargas, Richard Young, Jimmy Jewel, Julian Chagrin, John Cleese

Clown makeups are copyrighted, and painting them on eggshells is actually one way that is used to document them for copyright purposes.
The set and the business (write gag, read it, laugh, then frown, shake head, crumple it up and toss it onto the huge pile of paper) with Bernard Cribbins as the gag writer is almost identical to the set and business used a few years later for the beginning of the Monty Python skit about "The Funniest/Deadliest Joke in the World". This Avengers episode was completed in March 1968, 18 months before Monty Python's debut.



| | |
| --- | --- |
| 11. Have Guns - Will Haggle | December 11, 1968 |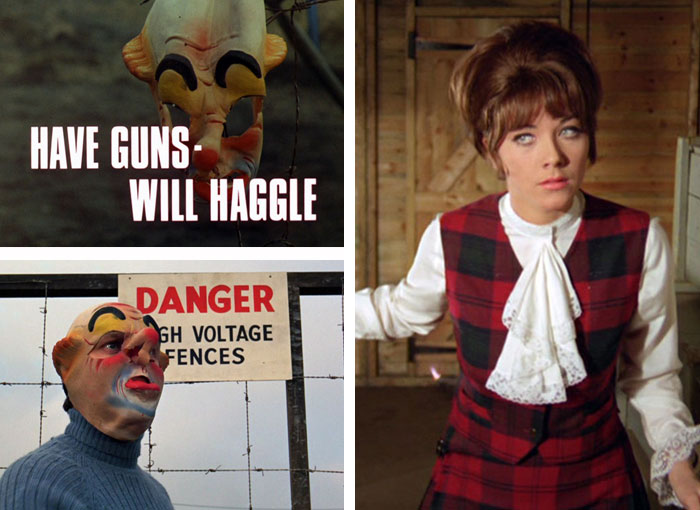 The spectacular theft of 3,000 top-secret FF70 rifles from a Government establishment brings Steed and Tara. Steed meets an old 'friend' and is invited to an auction. Tara has other reasons for being there.
Director: Ray Austin, Writer: Donald James
Guest starring: Johnny Sekka, Nicola Pagett, Jonathan Burn

"Have Guns-Will Haggle" was one of three rejected Tara King episodes shot prior to "The Forget-Me-Knot," all of which were reworked before eventual broadcast. This one began life under the title "Invitation to a Killing."

| | |
| --- | --- |
| 12. They Keep Killing Steed | December 18, 1968 |


To infiltrate a peace conference, Arcos, a brilliant plastic surgeon, uses a new moulding technique to transform an agent into a duplicate Steed. But when the transformation proves to be unstable, Arcos decides they need the real Steed.
Director: Robert Fuest, Writer: Brian Clemens
Guest starring: Ian Ogilvy, Ray McAnally, Patrick Newell, Bernard Horsfall

In 1978 guest star Ian Ogilvy star in the "Return of the Saint". The 24 episode series was the last TV version of Leslie Charteris' classic story following Roger Moore's supreme version of the character in the long running 60's TV show "The Saint".

| | |
| --- | --- |
| 13. The Interrogators | January 1, 1969 |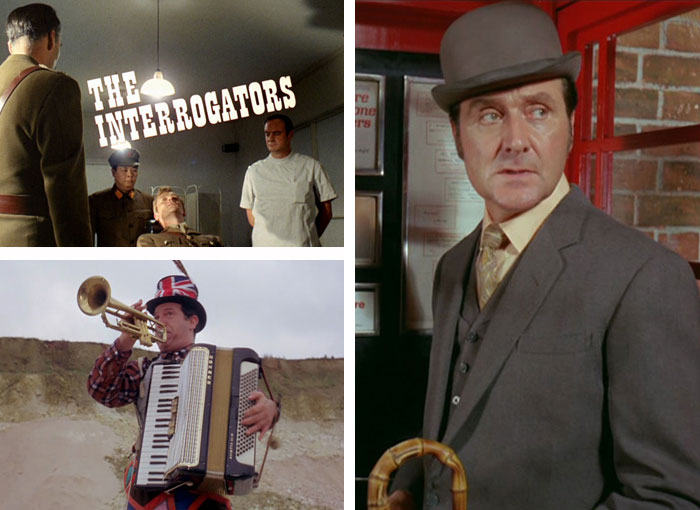 When agents find themselves in Colonel Mannering's interrogation centre, they think it's a test of their abilities, and relax with drinks when the sessions are over. But who's fooling who. Steed plays catch the pigeon.
Director: Charles Crichton, Writer: Brian Clemens / Richard Harris
Guest starring: Christopher Lee, David Sumner, Philip Bond, Patrick Newell

Guest star Philip Bond is the father of actress Samantha Bond, best known as Miss Moneypenny in the Pierce Brosnan James Bond films.
Director Charles Crichton helmed five episodes of The Avengers. His other numerous TV directing credits include: two episodes of Danger man, two episodes of The Return of The Saint and 14 episodes of Space: 1999. He also co-directed A Fish Called Wanda with a uncredited John Cleese.

| | |
| --- | --- |
| 14. The Rotters | January 8, 1969 |
"I do so hate the working classes!"
- Kenneth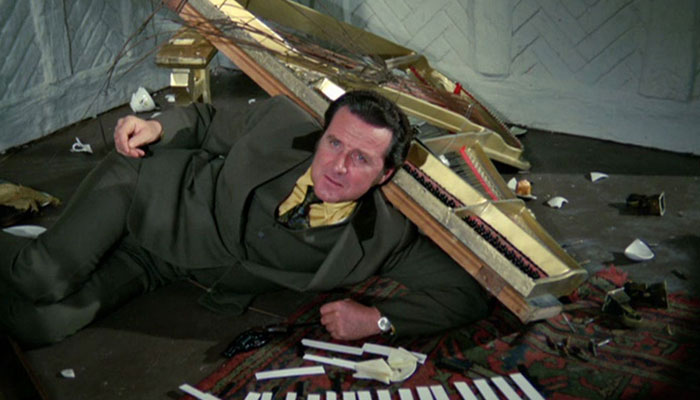 Members of the Institute of Timber Technology are being killed by a pair of caddish assassins, their advantage being an ability to destroy wood in seconds.
Director: Robert Fuest, Writer: Dave Freeman
Guest starring: Gerald Sim, Patrick Newell, Jerome Willis, John Nettleton

'The Rotters' was the only 'Avengers' episode to be written by Dave Freeman, a comedy writer who worked with Benny Hill, penned two of the 'Carry On' series and sitcoms such as 'Terry & June' and 'Bless This House'.

| | |
| --- | --- |
| 15. Invasion of the Earthmen | January 15, 1969 |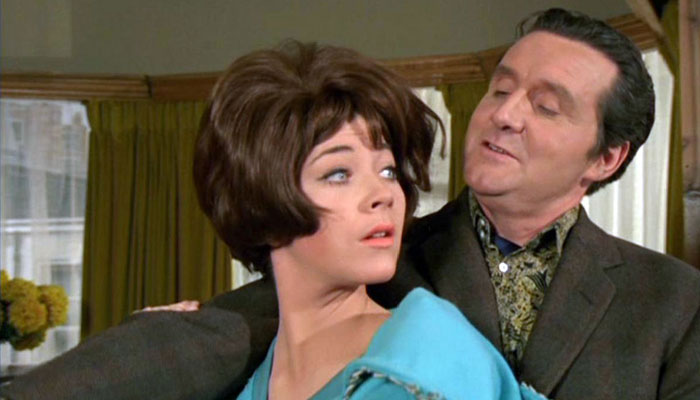 The death of agent Bernard Grant, while investigating the strange goings-on at the Alpha Academy where teenagers are being prepared for inter-planetary conquest, leads Steed and Tara into the generation war.
Director: Don Sharp, Writer: Terry Nation
Guest starring: Christian Roberts, Lucy Fleming, Warren Clarke

"Invasion of the Earthmen" was the earliest completed episode featuring Linda Thorson's Tara King, and the American broadcasts accurately followed the production line, as this was shown the week following Tara's official introduction in "The Forget-Me-Knot" (the first episode shot with a brunette Tara). Like "Have Guns-Will Haggle" and "Homicide and Old Lace," you can tell the original footage from the reshot fottage due to Tara's quickly discarded blonde wig. In these earlier shot episode the production team were still labouring under the misapprehension that Linda Thorson would look better as a Blonde. This idea was abandoned once creative control was returned to Brian Clemens.

| | |
| --- | --- |
| 16. Killer | January 22, 1969 |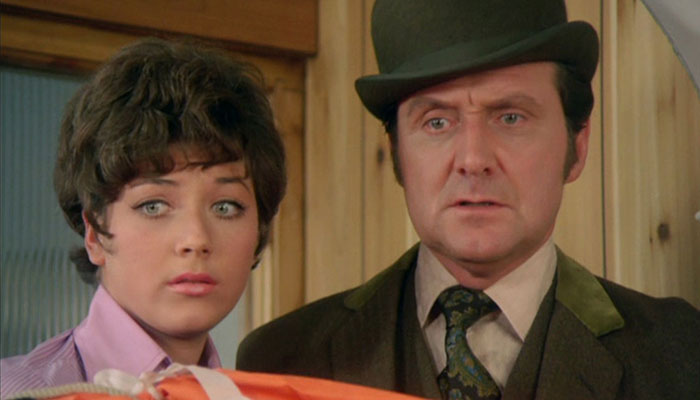 Remak is a killer, one the department are desperate to find. But a succession of agents on the trail of Remak are turning up dead, wrapped in polythene. And with Tara on holiday, Steed must go into this case with a new partner.
Director: Cliff Owen, Writer: Tony Williamson
Guest starring: Jennifer Croxton, Grant Taylor, William Franklyn

| | |
| --- | --- |
| 17. The Morning After | January 22, 1969 |

Steed, attempting to capture super-spy Merlin, is knocked out by a sleeping capsule, and wakes to find London deserted and under martial law. Firing squads are at large, and a nuclear bomb is holding the government to ransom.
Director: John Hough, Writer: Brian Clemens
Guest starring: Peter Barkworth, Joss Ackland, Brian Blessed

| | |
| --- | --- |
| 18. The Curious Case of the Countless Clues | February 5, 1969 |


Rich men are being blackmailed by two crime experts who plant clues to them all over the scenes of the crimes that they themselves commit. However, when they try to allege that Steed would murder Tara....
Director: Don Sharp, Writer: Philip Levene
Guest starring: Tracy Reed, Anthony Bate, Kenneth Cope, Tony Selby

| | |
| --- | --- |
| 19. Wish You Were Here | February 12, 1969 |


Tara's uncle is being held against his will in a country hotel. So Tara books in, and finds herself equally discouraged from leaving. Could the place also be home to the agent that Mother is missing?
Director: Don Chaffey, Writer: Tony Williamson
Guest starring: Brook Williams, Robert Urquhart, Liam Redmond

'The Avengers' often went in for gentle mockery of other spy shows. Sometimes it would be reflected in the story titles, such as 'The Girl From Auntie' and 'Mission: Highly Improbable', while 'The Winged Avenger' cheekily spoofed the 'Batman' series. 'Wish You Were Here' was originally titled 'The Prisoner', and was a send up of the famous Patrick McGoohan I.T.C. series.

| | |
| --- | --- |
| 20. Love All | February 19, 1969 |


Security lapses seem to point to top civil servants suddenly falling in love and giving secrets to an enemy agent disguised as a char lady. Steed investigates, but first has to save Tara from killing herself out of unrequited love.
Director: Don Chaffey / Peter Sykes, Writer: Tony Williamson / Jeremy Burnham
Guest starring: Patsy Rowlands, Veronica Strong, Terence Alexander

| | |
| --- | --- |
| 21. Stay Tuned | February 26, 1969 |


Steed, packing for a holiday, is knocked unconscious. When he wakes, he continues to pack but is confused when Tara arrives and tells him that he has been away for three weeks. Could it have anything to do with the mysterious man following him whom everybody else but Steed can see?
Director: Robert Fuest / Don Chaffey, Writer: Terry Nation / Tony Williamson
Guest starring: Kate O'Mara, Gary Bond, Patrick Newell, Iris Russell

| | |
| --- | --- |
| 22. Take Me to Your Leader | March 5, 1969 |

The discovery of a talking attache case passed from courier to courier until it finally reaches 'Mr. Big' takes Steed and Tara on a dazzling and surreal romp around London.
Director: Robert Fuest / John Hough, Writer: Terry Nation / Jeremy Burnham
Guest starring: Patrick Barr, Patrick Newell, John Ronane, Penelope Keith


When a member of the International Disarmament Committee is stabbed with a swordstick on a foggy night, it looks like the Gaslight Ghoul, murderer of the 1890's, has set up in business again. Can Steed and Tara catch him before the committee is severely lacking in personnel?
Director: John Hough, Writer: Brian Clemens / Malcolm Hulke
Guest starring: Nigel Green, Guy Rolfe, Patrick Newell, Terence Brady

| | |
| --- | --- |
| 24. Who Was That Man I Saw You with? | March 19, 1969 |

Tara has been employed to test the security on the top-secret war-room computer 'The Field Marshall'. But when a strange foreign man starts sending her flowers, Mother suspects that she's doing her job a bit too efficiently.
Director: Don Chaffey / Peter Sykes, Writer: Jeremy Burnham
Guest starring: William Marlowe, Ralph Michael, Alan MacNaughton

| | |
| --- | --- |
| 25. Homicide and Old Lace | March 26, 1969 |

It's Mother's birthday and he is visiting two of his aunts, Harriet and Georgina. To celebrate he tells them a hair-colour changing story, 'The Great Great British Crime'.
Director: John Hough / Don Sharpe, Writer: Brian Clemens / Malcolm Hulke
Guest starring: Patrick Newell, Joyce Carey, Mary Merrall

This is the only episode of the sixth season in which Linda Thorson (Tara King) does not appear in the last scene.

| | |
| --- | --- |
| 26. Thingumajig | April 2, 1969 |

The Reverend Shelley, a wartime pal of Steed's, seeks his help when archaeologists beneath his church are murdered mysteriously. Do the killing have anything to do with small malevolent mobile metal boxes?
Director: Leslie Norman, Writer: Terry Nation
Guest starring: Dora Reisser, Jeremy Lloyd, Iain Cuthbertson

| | |
| --- | --- |
| 27. My Wildest Dream | April 7, 1969 |

When one of the Acme Precision Combine is brutally stabbed, Steed and Tara are on hand to witness the crime, thanks to a telephoned warning. But why does somebody want them to see so many killings, and what does it have to do with Dr. Jaeger's aggresso-therapy clinic?
Director: Robert Fuest, Writer: Brian Clemens / Philip Levene
Guest starring: Peter Vaughan, Edward Fox, Susan Travers, Derek Godfrey

Like Diana Rigg (as Olenna Tyrell), guest star Peter Vaughan appears in the HBO megahit, Game of Thrones as Aemon, the maester at Castle Black.

| | |
| --- | --- |
| 28. Requiem | April 16, 1969 |
"No need to be frightened now, Miss Loxton. Look, why don't you make yourself more comfortable? Take off your nose."
- John Steed


When Steed takes prime witness Miranda Loxton to a safe house to protect her from Murder-International hitmen, Tara is kidnapped. She escapes to find herself in her worst nightmare. A booby-trap in Steed's apartment kills Mother and Tara may be the only one with the hidden knowledge of where Steed has gone.
Director: Don Chaffey, Writer: Brian Clemens
Guest starring: John Paul, Angela Douglas, John Cairney, Patrick Newell

| | |
| --- | --- |
| 29. Take-Over | April 23, 1969 |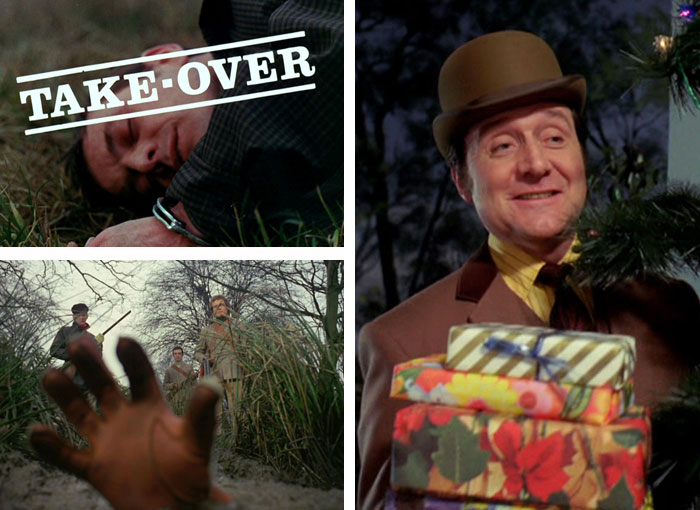 The home of Steed's friends Bill and Laura Bassett is invaded by a group of ruthless criminals who implant explosives in their throats. Unfortunately, this is the weekend that Steed is coming to stay.
Director: Robert Fuest, Writer: Terry Nation
Guest starring: Elizabeth Sellars, Tom Adams, Michael Gwynn, Hilary Pritchard

| | |
| --- | --- |
| 30. Pandora | April 30, 1969 |


Tara is kidnapped, and wakes to discover that it is 1915, and she is apparently called Pandora. Could this be because of the little matter of a dowry and a missing bride? Steed struggles to solve a very old mystery.
Director: Robert Fuest / Don Chaffey, Writer: Brian Clemens / Jeremy Burnham
Guest starring: Julian Glover, Kathleen Byron, John Laurie, Patrick Newell

| | |
| --- | --- |
| 31. Get-A-Way | May 14, 1969 |

Two invincible foreign agents escape from the ultimate prison, a monastery run by the security services. They resume their mission, to kill one important person each. Steed and Tara set out to catch them, and to find out how they escaped, before their leader follows suit.
Director: Robert Fuest / Don Sharpe, Writer: Philip Levene
Guest starring: Peter Bowles, Michael Elwyn, Andrew Keir, Peter Bayliss

"I will arrange for you to leave this life, dispense with it, shuffle off this mortal coil. If you were dead, Mr. Steed - if you were dead, the world would not pursue you any further. The heat would be off, eh? I would arrange your death for you."
- The Master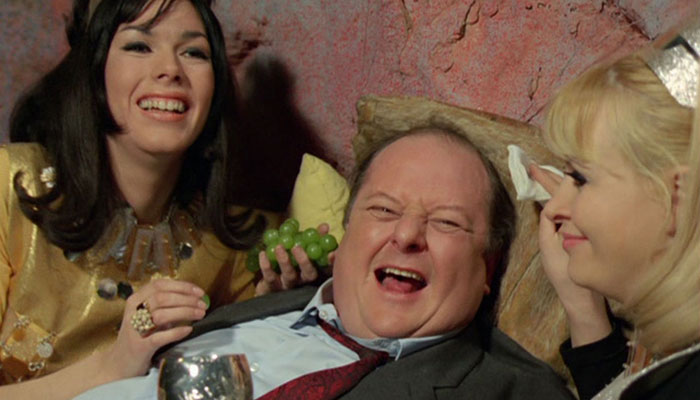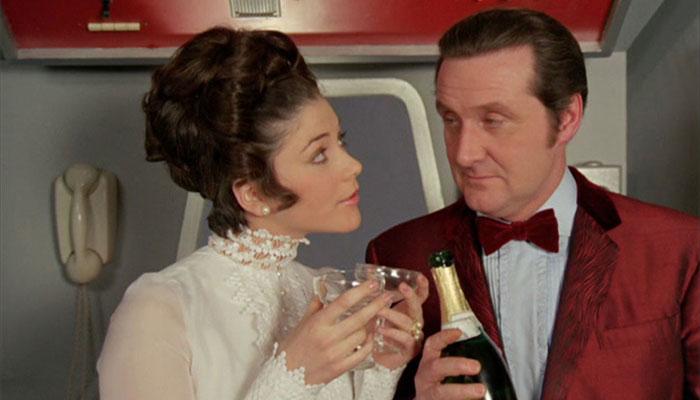 When a woman is found walking barefoot in a snowy field, complaining of a dead man who wasn't dead, Steed investigates the Happy Meadows funeral parlour, which doesn't seem to be keeping its clients down under. What connection could that business possibly have with Mystic Tours?
Director: Leslie Norman, Writer: Brian Clemens
Guest starring: Roy Kinnear, Fulton Mackay, Sally Nesbitt, Patrick Newell