"Dr. Gale, we're needed."
- W.J. Flywheel, Webporium Curator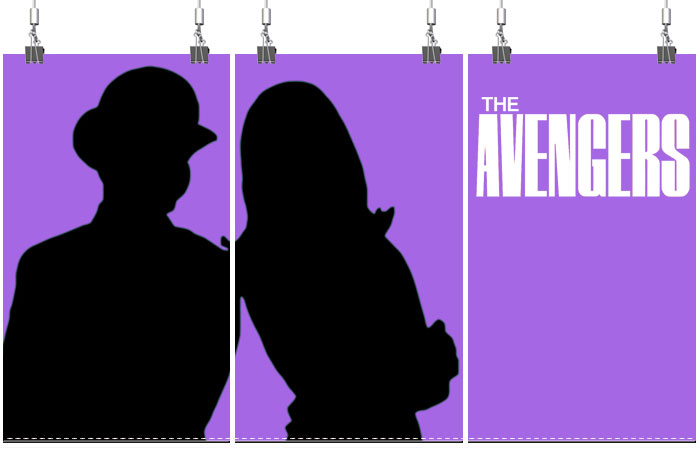 SERIES 2 - THE CATHY GALE EPISODES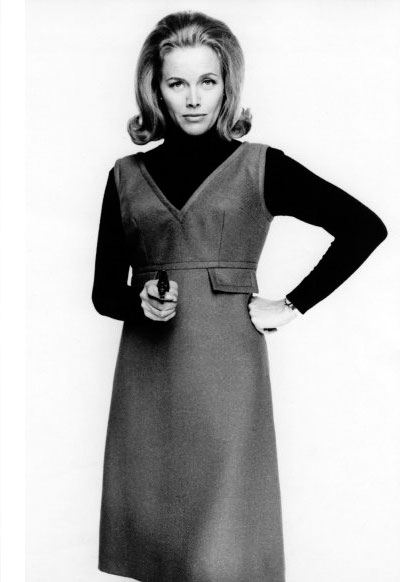 Dr Cathy Gale, played by Honor Blackman, was the first regular female partner of John Steed following the departure of Steed's original male co-star, Dr David Keel (played by Ian Hendry). She made her first appearance at the start of the series' second season in 1962.

Initially, Gale was one of several rotating partners who worked with Steed (the others being medical man Dr Martin King and nightclub singer Venus Smith). By the third season, however, she was Steed's only partner.

Gale was born 5 October 1932. She was an anthropologist who married a farmer in Africa and there learned to hunt, fight and take care of herself. When her husband was killed, Gale returned to London to earn a Ph.D. in anthropology. She was the curator of a museum when she first encountered John Steed and agreed to work alongside him from 1962-1964.

The relationship between Steed and Gale was marked by sexual tension of a type absent from later partners, plus Gale and Steed also had a rocky working relationship, with Gale not always appreciative of Steed's methods nor his habit of "volunteering" her for missions. Still, the two appear to have become quite close as the episode "The Golden Eggs" has her actually living in Steed's apartment as she searches for a new home of her own (the reason for her displacement is not revealed). In keeping with The Avengers' policy of avoiding direct references to romance between the two leads, however, it's quickly stated that Steed is actually sleeping at a nearby hotel.

Cathy Gale was considered a trail-blazing female character for British television, displaying a level of self-assurance and physical prowess rarely seen in women on television before that time. Her later mode of dress - a leather outfit designed to make it easier for Gale to fight - started a fashion trend, as did her wearing of what were dubbed "kinky boots". (The term became a catch phrase and Honor Blackman and her co-star Patrick Macnee even recorded a moderately popular single entitled "Kinky Boots".) The influence of Cathy Gale could be felt in productions on both sides of the Atlantic; characters considered to have been influenced by her in some way include the TV version of Honey West and the Doctor Who character Sara Kingdom, as well as the character that succeeded her in The Avengers, Emma Peel.

Blackman left the series after its third season in order to co-star in the James Bond film Goldfinger. She was replaced by actress Diana Rigg as Emma Peel, who continued Gale's habit of wearing leather during action sequences until she was given her own unique costuming when series production switched to colour.

| | |
| --- | --- |
| 1. Mr Teddy Bear | September 29, 1962 |
"Why aren't you dead?"
- Catherine Gale


A man is murdered whilst being interviewed on live television. one-Ten is sure that it is the work of the ruthless assassin Mr Teddy Bear, and he asks Cathy Gale to trap the man - by arranging for him to murder Steed.
Director: Richmond Harding, Writer: Martin Woodhouse
Guest starring: Bernard Goldman, Douglas Muir, Kenneth Keeling

First episode broadcast with Honor Blackman was actually her fourth to be shot.

| | |
| --- | --- |
| 2. Propellant 23 | October 6, 1962 |
"Well it's some sort of sixth sense you know, we get it in my job.
And I got it at the briefing this morning."
- John Steed

At Marseilles airport, Steed and Cathy find the courier they were due to meet dead. His sample of new liquid rocket fuel has been taken. Facing an array of enemy agents, the duo must recover the flask of Propellant 23.
Director: Jonathan Alwyn, Writer: John Manchip White
Guest starring: Geoffrey Palmer, Trader Faulkner, Nicholas Courtney

| | |
| --- | --- |
| 3. The Decapod | October 13, 1962 |
"Just how many bodyguards do you go through in a week?"
- John Steed


Borb, the president of the Balkan Republic, is visiting London to sign a military deal. His private secretary is killed by a masked wrestler, the Decapod. Steed is assigned to augment the president's bodyguards, but the wrestler continues to kill those close to Borb.
Director: Don Leaver, Writer: Eric Paice
Guest starring: Raymond Adamson, Lynn Furlong, Philip Madoc

| | |
| --- | --- |
| 4. Bullseye | October 20, 1962 |
"My name is Catherine Gray, from The Woman About London Magazine."
- Catherine Gale


Shareholders in Anderson's, a small-arms manufacturers, are being killed one by one whilst a tycoon plans a take-over. Rifles and other weapons, possibly manufactured by Anderson's, are being smuggled into Africa. Cathy Gale joins the board with a 20 per cent share in order to investigate.
Director: Peter Hammond , Writer: Eric Paice
Guest starring: Judy Parfitt, Bernard Kay, Charles Carson, Ronald Radd

| | |
| --- | --- |
| 5. Mission to Montreal | October 27, 1962 |
"No, I'm afraid not. He's been murdered. Somebody's cut his throat, come on. I think they were after you. Your dressing gown's absolutely ruined."
- John Steed

A film star's stand-in is murdered, and microfilm of North American early warning systems has been stolen. The film star, despite an aversion to travelling by sea, proceeds to Montreal on a luxury liner. In an attempt to find the mocrofilm Dr King is assigned as her personal doctor, and Steed goes under cover as a steward.
Director: Don Leaver, Writer: Lester Powell
Guest starring: Patricia English, Iris Russell, Mark Eden, Harold Berens

| | |
| --- | --- |
| 6. The Removal Men | November 3, 1962 |
"Your husband's in Italy, on business.
By the time he comes back I'll be miles away."
- John Steed


Steed is trying to infiltrate a group of assassins currently based in the South of France. He robs the leader of some jewellery in order to impress him, then waits for them in the local club. It just so happens that Venus Smith is singing there.
Director: Don Leaver, Writer: Roger Marshall / Jeremy Scott
Guest starring: Patricia Denys, Edwin Richfield, Julie Stevens

| | |
| --- | --- |
| 7. The Mauritius Penny | November 3, 1962 |
"You didn't really think you could take over this country with a few fanatics in fancy dress, did you?"
- Catherine Gale


The owner of a stamp shop is murdered when excitedly talking on the phone to a contact about the rare Mauritius Penny that has turned up on a list. Cathy Gale applies for a job in the shop, and she and Steed witness another murder in an auction room.
Director: Richmond Harding, Writer: Malcolm Hulke / Terrance Dicks
Guest starring: Richard Vernon, Sylva Langova, David Langton

| | |
| --- | --- |
| 8. Death of a Great Dane | November 17, 1962 |
"Pretty good base. Keeps your pallet perceptive, and stopes you getting sloshed."
- John Steed


A man involved in a car crash is found to have fifty thousand pounds worth of diamonds in his stomach. Steed investigates the man's joke shop, Big Laugh, and then the offices of multi-millionaire Litoff. The burial of one of Litoff's Great Danes is not quite what it seems.
Director: Peter Hammond, Writer: Roger Marshall / Jeremy Scott
Guest starring: John Laurie, Leslie French, Mike Moyer

Later remade as The Avengers: The £50,000 Breakfast (Series 6, episode 3, October 14th 1967).

| | |
| --- | --- |
| 9. The Sell-Out | November 24, 1962 |
"I can't lose sight of him. He's been following me for the past two days."
- John Steed

Steed's department is guarding M. Roland, A UN negotiator in London for important talks, but cannot prevent an assassination attempt. Indeed, it seems that one of Steed's colleagues is selling secrets - and Steed finds that even he is under suspicion.
Director: Don Leaver, Writer: Anthony Terpiloff / Brandon Brady
Guest starring: Frank Gatliff, Jon Rollason, Carleton Hobbs

| | |
| --- | --- |
| 10. Death on the Rocks | December 1, 1962 |
"Oh, don't misunderstand me, It's just that I need a wife for a couple of weeks."
- John Steed

Illegal diamonds are swamping the market. The wife of a diamond merchant is murdered. Time for Steed and Gathy Gale to feign marriage.
Director: Johathan Alwyn, Writer: Eric Paice
Guest starring: Gerald Cross, Meier Tzelniker, Ellen McIntosh

| | |
| --- | --- |
| 11. Traitor in Zebra | December 8, 1962 |
"They have a very fine laboratory, they are quite satisfied with my work, and in one week I've discovered absolutely nothing."
- Catherine Gale

Secrets are finding their way from HMS Zebra, a naval base, to the enemy, rendering the Navy's missile-tracking equipment useless. Steed and Mrs. Gale investigate, and find their attention drawn to the local sweet shop.
Director: Richmond Harding, Writer: John Gilbert
Guest starring: John Sharp, Richard Leech, Noel Coleman, Katy Wild

| | |
| --- | --- |
| 12. The Big Thinker | December 15, 1962 |
"Oh, you're almost completely thawed out."
- John Steed


Plato, the most advanced computer in the world, which could be used to target intercepting missiles, keeps breaking down. The body of a professor on the team is found within.
Director: Kim Mills, Writer: Martin Woodhouse
Guest starring: Anthony Booth, Walter Hudd, David Garth

| | |
| --- | --- |
| 13. Death Dispatch | December 22, 1962 |
"Steed. S, T, double E, D."
- John Steed


A British courier is attacked in Jamaica, and he protects the contents of his diplomatic bag at the expense of his life. But why? The case only contains mundane documents.
Director: Jonathan Alwyn, Writer: Leonard Fincham
Guest starring: Richard Warner, David Cargill, Valerie Sarruf, Douglas Muir

| | |
| --- | --- |
| 14. Dead on Course | December 29, 1962 |
"Isn't that unusual?"
- John Steed

A plane crashes in Ireland in suspicious circumstances, and the bodies are taken to the nearby St. Mary's Convent . Steed calls in Dr. King to check up on the circumstances of death, while he samples Irish hospitality and bad deeds at Shamrock Airport.
Director: Richmond Harding, Writer: Eric Paice
Guest starring: Donal Donnelly, Liam Gaffney, Elizabeth Murray



| | |
| --- | --- |
| 15. Intercrime | January 5, 1963 |
"His name's Palmer, he's an up and coming safe-cracker."
- John Steed


Steed wants Mrs. Gale to impersonate Hilda Stern, a recently arrested assassin about to be used by the trans-national crime syndicate Intercrime. Things go swimmingly, until the real Hilda Stern breaks out of Holloway and confronts the imposter.
Director: Jonathan Alwyn, Writer: Malcolm Hulke / Terrance Dicks
Guest starring: Kenneth J. Warren, Julia Arnall, Angela Browne

Intercrime would make one return appearance in the final season episode "Homicide and Old Lace" with Tara King.

| | |
| --- | --- |
| 16. Immortal Clay | January 12, 1963 |
"It's bad to feel sorry for people in our business. It slows you up."
- John Steed


Marling Ceramics, run by Cathy's friends, Richard and Allan Marling, claim to be on the verge of creating an unbreakable china. However, when Steed arrives to investigate, a body is discovered in a tank of clay.
Director: Richmond Harding, Writer: James Mitchell (VI)
Guest starring: Paul Eddington, James Bree, Bert Palmer, Douglas Muir

When Miller is finishing the cup, the camera pans with him towards a table and loudly bumps into it, making the screen wobble and shake for a moment.

| | |
| --- | --- |
| 17. Box of Tricks | January 19, 1963 |
"I see, then this is the best treatment for me. It doesn't involve exercise or diet or anything nausiating like that."
- John Steed


Classified information is finding its way into the wrong hands and Steed feels sure that this has something to do with the death of the magician's assistant at the club where Venus Smith is working. Steed investigates the lethal vanishing cabinet.
Director: Kim Mills, Writer: Peter Ling / Edward Rhodes
Guest starring: Ian Curry, Jane Barrett, Maurice Hedley, Julie Stevens

| | |
| --- | --- |
| | AV CLUB FEATURETTE DEPARTMENT |

Julie Stevens plays Venus Smith in the "The Avengers" episode, Box of Tricks.
Here she's singing "It's a Pity to Say Goodnight" supported by The Dave Lee Trio

| | |
| --- | --- |
| 18. Warlock | January 26, 1963 |
"Do you come here often?"
- John Steed


Steed is entrusted with the safe-keeping of a new fuel formula when its inventor is found in a coma. The scientist had been involved in a black magic circle which leads Steed and Cathy into the world of hexes and magic powers.
Director: Peter Hammond, Writer: Doreen Montgomery
Guest starring: Peter Arne, John Hollis, Pat Spencer, Douglas Muir

This episode originally contained Steed's first meeting with Cathy; however when the edition was reshuffled in transmission order, the introductory scenes were therefore redundant and edited out.

| | |
| --- | --- |
| 19. The Golden Eggs | February 2, 1963 |
"My name's Catherine Gale, I want to talk to you."
- Catherine Gale

A burglar steals two gold-plated eggs from Dr Ashe, not knowing that they contain a deadly virus. The man quickly falls ill, but refuses to indicate where the case containing the eggs is buried.
Director: Peter Hammond, Writer: Martin Woodhouse
Guest starring: Peter Arne, Pauline Delaney, Donald Eccles, Gordon Whiting

Guest star Peter Arne, cast as Redfern in this episode, played a different character (Cosmo Gallion) in the previous episode (Warlock).
Peter Arne was known for playing villain in British films beginning with Strangers' Meeting (1957). He continued to play sinister types in Blood on the Sword (1958), Intent to Kill (1958), Danger Within (1959), Conspiracy of Hearts (1960), The Hellfire Club (1961), The Treasure of Monte Cristo (1961) and The Pirates of Blood River (1962) with Christopher Lee. In the 60's he moved on to TV roles and found bit parts in features including a couple of Blake Edwards movies. He became an antique dealer with his sister as a sideline.
At age 63 Peter Arne had been cast to play the part of "Range" in the "Doctor Who" episode "Frontios" in 1983. He had just returned from a costume fitting when he was bludgeoned to death in his apartment with a log from the fireplace. The role was later filled by William Lucas. The prime suspect in Arne's murder was a schoolteacher from Italy who had been living rough in a local park, for whom Arne had been providing food, and who drowned a few days later in an apparent suicide. Police suspect the murderer came to Arne's home for whatever reason, and became incensed either when Arne made a pass at him, or refused his request for accommodation. The alleged killer's body was found washed up near Wandsworth bridge 3 days later, his bloodstained clothes found upstream at Putney. The coroner concluded that the man killed Arne and then committed suicide whilst in a disturbed state of mind.

| | |
| --- | --- |
| 20. School for Traitors | February 9, 1963 |
"Do we know who was blackmailing him?"
- John Steed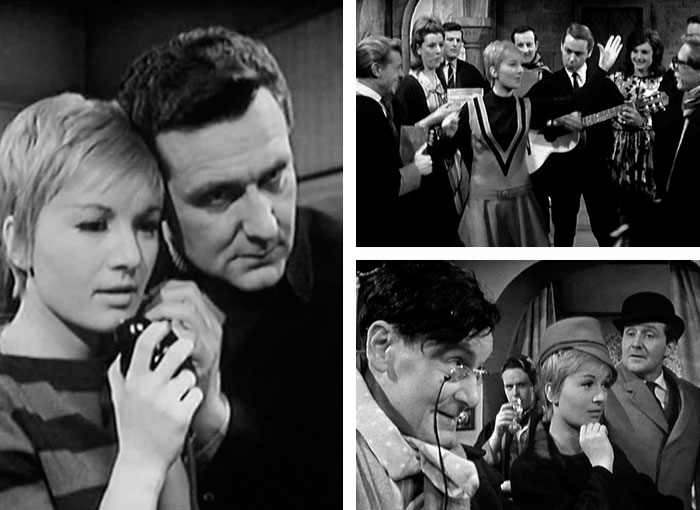 Steed, investigating the suicide of a University tutor, discovers that the man seems to have shot himself with a gun with a silencer attached. Venus is sent a tub of acid 'face-cream', and there is another mysterious suicide.
Director: Jonathan Alwyn, Writer: James Mitchell (VI)
Guest starring: Melissa Stribling, Julie Stevens, John Standing, Richard Thorp

"School for Traitors" was the fourth of the six episodes featuring Julie Stevens as nightclub singer Venus Smith. This episode was first broadcast the same night it was videotaped.

| | |
| --- | --- |
| 21. The White Dwarf | February 16, 1963 |
"What do you think, having myself a good time, while there's still time to have it."
- John Steed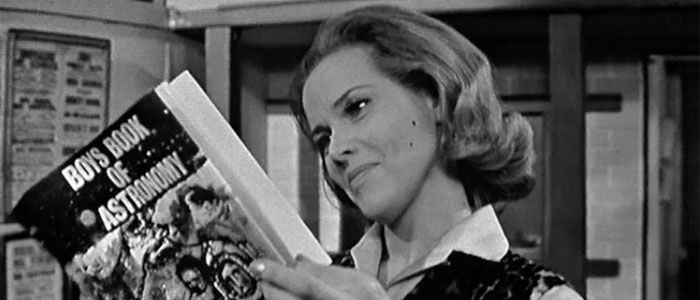 Astonomer Professor Richter believes that the sun's stellar companion, a white dwarf, is returning to the solar system. If it does, that's the end of everything. So why on Earth would anybody want to murder him now?
Director: Richmond Harding, Writer: Malcolm Hulke
Guest starring: Peter Copley, George A. Cooper, Philip Latham

As Steed fetches Cathy's bag to her in his flat the boom is clearly visible between them.

| | |
| --- | --- |
| 22. Man in the Mirror | February 23, 1963 |
"Hey, you're that man in the photograph... but you're dead!"
- Venus Smith


Venus has her camera and films stolen whilst taking pictures in a fun fair. One film is missed, however, and when developed a face can be seen in the Hall of Mirrors - that of Trevelyan, the cypher clerk who has committed suicide. But Venus's photograph was taken after the man's death.
Director: Kim Mills, Writer: Geoffrey Orme / Anthony Terpiloff
Guest starring: Ray Barrett, Daphne Anderson, Julie Stevens, Michael Gover

| | |
| --- | --- |
| 23. Conspiracy of Silence | March 2, 1963 |
"May I remind you, Mrs. Gale, we are dealing with the Mafia and not the boyscouts!"
- John Steed


The Mafia aren't about to let Steed get in the way of their lucrative drug-smuggling operation between Britain and North America, and arrange for him to be assassinated. Steed survives, and tracks his intended killer to a circus, where some of the clowns prove to be anything but figures of fun.
Director: Peter Hammond, Writer: Roger Marshall
Guest starring: Robert Rietty, Sandra Dorne, Alec Mango, Roy Purcell

| | |
| --- | --- |
| 24. A Chorus of Frogs | March 9, 1963 |
"What? Well where do you think you're going to stay, under the bed?"
- Venus Smith


A holiday for Steed in Greece is, of course, no straightforward affair. A deep-sea diver dies in mysterious circumstances, whilst bathyscope experiments are taking place on the yacht where Venus is singing.
Director: Raymond Menmuir, Writer: Martin Woodhouse
Guest starring: Eric Pohlmann, Julie Stevens, Yvonne Shima, John Carson

Sixth and final appearance of Julie Stevens as Venus Smith. Julie Stevens was born on December 20th 1936 in Prestwich, England. In addition to her short stint as Steed's partner on The Avengers she is known for her work on the film Carry on Cleo (1964), the TV series Girls About Town (1969) and as a hostess on the game show For Love or Money (1959). Stevens also presented ABC Weekend Television's "The Sunday Break" a religious program for teenagers during the early 1960s, and in the early 1970s presented BBC2's Play School (1964) program for pre-schoolers.

| | |
| --- | --- |
| 25. Six Hands Across a Table | March 16, 1963 |
"That accident last night wasn't an accident."
- John Steed


What should have been a quiet weekend at the home of an old friend soon turns into a thick web of treachery and scheming, which throws Cathy into the world of shipbuilding, cross-company romance, mysterious 'accidents' and misguided nationalism.
Director: Richmond Harding, Writer: Reed De Rouen
Guest starring: Guy Doleman, Campbell Singer, Philip Madoc

| | |
| --- | --- |
| 26. Killer Whale | March 23, 1963 |
"Not that Wales. Whales, Moby Dick."
- John Steed


Cathy is managing the boxer Joey Frazer, but Pancho Driver's gym, where the man is training, is, Steed suspects, the centre for shipments of illegal ambergris.
Director: Kim Mills, Writer: John Lucarotti
Guest starring: John Bailey, Kenneth Farrington, Julie Paulle, Morris Perry