"Dr. Gale, we're needed."
- W.J. Flywheel, Webporium Curator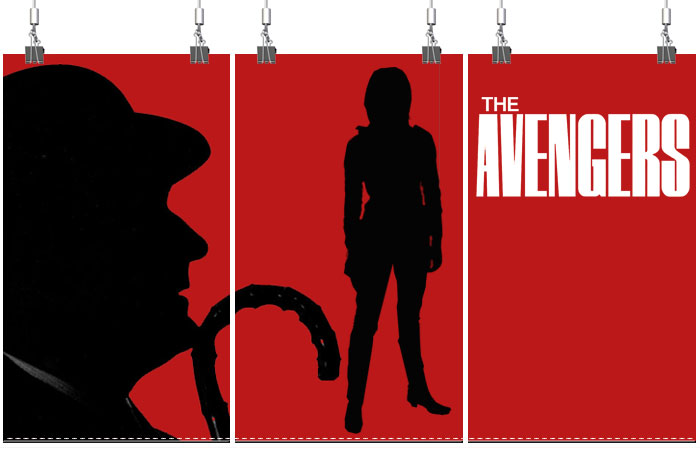 SERIES 3 - THE CATHY GALE EPISODES

| | |
| --- | --- |
| 1. Brief for Murder | September 28, 1963 |
"Must be something in your psychic makeup, the way you antagonize complete strangers."
- John Steed

Thanks to the clever briefing of the Lakin brothers a man charged with treason is found not guilty. Mrs Gale believes that Steed is implicated, and contacts the newspapers. Steed threatens her: either withdraw her allegations or pay the consequences. Soon Steed is on trial for Gale's murder.
Director: Peter Hammond, Writer: Brian Clemens
Guest starring: John Laurie, Helen Lindsay, Harold Scott, Alec Ross

| | |
| --- | --- |
| 2. The Undertakers | October 5, 1963 |
"Where are my jellied bumblebees?"
- John Steed

All the occupants of a rest home, Adelphi Park, are multi-millionaires. And most of them are refusing to see anyone, including Professor Renter who was due to fly to America with Steed to show off his latest invention. His wife is unable or unwilling to help and, curiously, the neighbour, Madden, another millionaire, is missing.
Director: Bill Bain, Writer: Malcolm Hulke
Guest starring: Lee Patterson, Lally Bowers, Patrick Holt, Mandy Miller

| | |
| --- | --- |
| 3. Man with Two Shadows | October 12, 1963 |
"Good morning Cathy, what's for breakfast?"
- John Steed
"Cook it and see!"
- Catherine Gale


Agent Borowski has been brainwashed by the enemy, but between moments of multiple-personality disorder he tells Steed that three 'doubles' have been created. Steed tracks down one likely replacement to a holiday camp, but then discovers that he, himself, is about to be replaced.
Director: Don Leaver, Writer: James Mitchell (VI)
Guest starring: Geoffrey Palmer, Terence Lodge, Paul Whitsun-Jones

| | |
| --- | --- |
| 4. The Nutshell | October 19, 1963 |


The Director of Operations (Disco) of the Nutshell, a subterranean World War III bunker, tells Steed and Cathy that Big Ben, a file giving details of all their double agents, has been copied. Security cameras point to a young girl, but she is later found dead. Evidence implicates Steed, and Disco orders that he be apprehended.
Director: Raymond Menmuir, Writer: Philip Chambers
Guest starring: Charles 'Bud' Tingwell, John Cater, Patricia Haines

| | |
| --- | --- |
| 5. Death of a Batman | October 26, 1963 |
"Hey where does he have his hand? Oh. An officer and a gentleman!"
- John Steed


At the reading of the will of Wrightson, Steed's former batman, the man's family are shocked to discover his estate is worth a fortune. Steed and Cathy set out to find out where a twenty pounds per week draughtsman acquired such a huge amount of money, and whether it was legal.
Director: Kim Mills, Writer: Roger Marshall
Guest starring: André Morell, David Burke, Katy Greenwood

| | |
| --- | --- |
| 6. November Five | October 26, 1963 |
Cathy Runs For Office
Steed Manages Her Campaign


Michael Dyter, the newly elected MP for South-East Anglia is shot shortly after making his acceptance speech in which he had threatened to expose a major scandal involving the government. Steed knows that the subject of this was the recent theft of a nuclear warhead near London. So was Dyter killed to keep him quiet, and if so, by whom?
Director: Bill Bain, Writer: Eric Paice
Guest starring: Ruth Dunning, Gary Hope, David Davies, Ric Hutton

| | |
| --- | --- |
| 7. The Gilded Cage | November 9, 1963 |
"The bowler? Custom made, Hemmingsford St James, beautifully bound, not a penny under 10 guineas. The umbrella, Bolton and Sons, 63 model, slightly weighted handle, perfect balance just right for a man of his height. And the suit? It's a dream. Cut by an artist. Possibly Drift Bros., definitely Sable Rose. 65 guineas 75."
- Fleming



Steed's trap for criminal mastermind J.P. Spaggs involves a brilliant plan to steal a million pounds in gold bullion. But when two detectives arrive at Steed's flat and arrest Cathy for Spagge's murder things don't seem to be going to plan.
Director: Bill Bain, Writer: Roger Marshall
Guest starring: Edric Connor, Norman Chappell, Margo Cunningham

| | |
| --- | --- |
| 8. Second Sight | November 16, 1963 |


The cornea grafts that will, hopefully, restore the sight of blind millionaire Marten Halvarssen fascinate Steed: they're rumoured to be coming from a live patient, one Hilda Brauer. Steed suspects that all is not what it seems and so sends Cathy to Switzerland to oversee the operation.
Director: Petter Hammond, Writer: Martin Woodhouse
Guest starring: Steven Scott, Judy Bruce, Peter Bowles, John Carson, Ronald Adam

| | |
| --- | --- |
| 9. The Medicine Men | November 23, 1963 |

Willis-Sopwoth, a top pharmaceutical firm, is being drained by cheap imitations of its products in foreign markets. The death of a member of staff while investigating the fraud brings Steed and Cathy face to face with a deadly artist and a plot to poison children.
Director: Kim Mills, Writer: Malcolm Hulke
Guest starring: Newton Blick, Harold Innocent, Monica Stevenson

| | |
| --- | --- |
| 10. The Grandeur That Was Rome | November 30, 1963 |
"What are they doing?"
- John Steed


Strange diseases are being reported in various parts of the world, and Steed's suspicion is that somebody has been tampering with the insecticides and fertilisers of United Foods and Dressings. Cathy Gale is captured whilst investigating, and will be the 'guinea pig' for a test on the new strain of bubonic plague.
Director: Kim Mills, Writer: Rex Edwards
Guest starring: John Flint, Hugh Burden, Colette Wilde

| | |
| --- | --- |
| 11. The Golden Fleece | December 7, 1963 |

Steed and Cathy eat at a Chinese restaurant, but, as ever, it's not just for fun: Steed suspects the owner, Mr Lo, of gold smuggling. He also seems to be allied with Army types who are smuggling ammunition to support ex-servicemen.
Director: Peter Hammond, Writer: Roger Marshall / Phyllis Norman
Guest starring: Tenniel Evans, Barry Linehan, Robert Lee, Barbara Yu Ling

| | |
| --- | --- |
| 12. Don't Look Behind You | December 12, 1963 |

Invited to spend the weekend at the home of medievel costume expert Sir Cavalier Resagne, Cathy finds herself alone in the house, pestered by a young man who claims to be a film director, and haunted by her past. And where is Steed?
Director: Peter Hammond, Writer: Brian Clemens
Guest starring: Maurice Good, Kenneth Colley, Janine Gray

| | |
| --- | --- |
| 13. Death A La Carte | December 21, 1963 |


Emir Abdulla Akaba is visiting London for his annual medical, and Steed suspects an assassination attempt. Despite Steed assumming the guise of a chef, the Emir seems to have been poisoned while eating a meal.
Director: Kim Mills, Writer: John Lucarotti
Guest starring: Gordon Rollings, Henry Lincoln, Paul Dawkins, Robert James



| | |
| --- | --- |
| 14. Dressed to Kill | December 28, 1963 |
"So much for the homme fatale."
- Catherine Gale

An incoming missile attack, which is detected by all but one of the country's early warning stations, proves to be a false alarm. Steed finds himself attending an exclusive New Year's Eve fancy-dress party on a train. The train terminates at a remote, deserted station, and a guest is killed with an arrow.
Director: Bill Bain, Writer: Brian Clemens
Guest starring: Alexander Davion, Anneke Wills, John Junkin

Everyone is dressed in fancy costumes to celebrate New Year's Eve, and Honor Blackman as Cathy addresses Anneke Wills wearing a pussy cat outfit as "Pussy"; a year later Sean Connery's James Bond was calling Honor "Pussy" in her classic role as Pussy Galore in Ian Fleming's Goldfinger (1964).

| | |
| --- | --- |
| 15. The White Elephant | January 4, 1964 |

The disappearance of an albino elephant from Noah Marshall's zoo seems to be linked to Steed's investigation of ivory dust in a gun shop. Steed sets out to rescue Cathy from the tiger's cage, find Snowy and investigate the ivory smugglers.
Director: Laurence Bourne, Writer: John Lucarotti
Guest starring: Godfrey Quigley, Edwin Richfield, Judy Parfitt

At the 8:40 mark into the episode, when Steed is talking to Cathy Gale, there is a fly walking back and and forth across the camera lens. The fly continues to walk back and forth to 9:37 mark when it flies away.

| | |
| --- | --- |
| 16. The Little Wonders | January 11, 1964 |
"You're very knowledgeable you know, Misses Gail."
- John Steed
Bibliotek are a criminal organisation who are fronted as a church. A coming 'Bible Class' will decide who runs Bibliotek. It could be Steed...
Director: Laurence Bourne, Writer: Eric Paice
Guest starring: Kenneth J. Warren, David Bauer, Lois Maxwell

The only episode to feature a kiss between John Steed and Catherine Gale.
Guest star Lois Maxwell is best know in The Neat Stuff Universe as "Miss Moneypenny" in 14 Bond movies. She is second only to Desmond Llewelyn for the number of appearances in "James Bond" movies. She appeared in 14 while he appeared in 17. Maxwell is another connection between the Bond films and the Avengers. Avengers' stars Patrick Macnee (A View To A Kill, 1985), Honor Blackman (Goldfinger, 1964), Diana Rigg (On Her Majesty's Secret Service, 1969) and Joanna Lumley (On Her Majesty's Secret Service, 1969) have made appearances in Bond films.



| | |
| --- | --- |
| 17. The Wringer | January 18, 1964 |


Six agents have died on an escape route through Hungary and Austria. Anderson, a friend of Steed's, has also gone missing. Steed finds his friend but is then accused of being a traitor and taken to a brainwashing unit in Scotland run by the Wringer.
Director: Don Leaver, Writer: Martin Woodhouse
Guest starring: Peter Sallis, Paul Whitsun-Jones, Barry Letts

| | |
| --- | --- |
| 18. Mandrake | January 25, 1964 |

After attending the funeral of an old friend in a lonely Cornish village cemetery, Steed discovers a plot to poison millionaires.
Director: Bill Bain, Writer: Roger Marshall
Guest starring: John Le Mesurier, Annette Andre, George Benson, Madge Ryan

Honor Blackman and Jackie Pallo, a wrestler, have a fight scene in a graveyard. In one take, Blackman inadvertently kicked Pallo in the face much too hard, and pushed him into an open grave, where he lay actually unconscious for several minutes. The incident garnered plenty of publicity in the British press.

| | |
| --- | --- |
| 19. The Secrets Broker | February 1, 1964 |


One of Steed's colleagues has been murdered, and the subsequent investigation takes Cathy to a top-secret research establishment and Steed to a wine merchants.
Director: Jonathan Alwyn, Writer: Ludovic Peters
Guest starring: Avice Landone, Jack May, Ronald Allen, John Stone

| | |
| --- | --- |
| 20. Trojan Horse | February 8, 1964 |


Jockeys and stable hands are being trained in the use of firearms and poisons, so Steed delves deep in the murky world of horse racing.
Director: Laurence Bourne, Writer: Malcolm Hulke
Guest starring: T.P. McKenna, Basil Dignam, Derek Newark

| | |
| --- | --- |
| 21. Build a Better Mousetrap | February 15, 1964 |


What does Cathy joining a motorcycle gang, two elderly ladies who own a watermill and claim to be witches, and all of the clocks stopping at a local atomic research station have in common? They're all present in Brian Clemen's first great step into the bizarre.
Director: Peter Hammond, Writer: Brian Clemens
Guest starring: Athene Seyler, Nora Nicholson, Harold Goodwin

| | |
| --- | --- |
| 22. The Outside-In Man | February 22, 1964 |

Arabian revolutionary Sharp is visiting Britain and Steed is put in charge of security. He thinks it is ironic that they are now protecting a man they were trying to kill five years before. Two agents were thought to have died during the violent bloodshed in Abarain but now one of them is very much alive.
Director: Jonathan Alwyn, Writer: Phillip Chambers
Guest starring: Ronald Radd, James Maxwell, William Devlin

"The Outside-In Man" features the only appearance of Quilpie (Ronald Radd, previously seen in "Bullseye"), one of the numerous superiors dispatching orders to Steed during the era before Mrs. Peel and prior to the final season introduction of Patrick Newell's Mother. Quilpie Operates behind an actual butcher shop and Steed always places his orders to go!

| | |
| --- | --- |
| 23. The Charmers | February 29, 1964 |


The opposition believe Steed is responsible for the death of their agent Vinkel. Steed, however, had nothing to do with the murder and, as a show of good faith, agrees to a swap of partners with Keller in a bid to find the real killer.
Director: Bill Bain, Writer: Brian Clemens
Guest starring: Warren Mitchell, Fenella Fielding, Brian Oulton

Some of the Steed/Gale episodes were remade with Steed/Peel: episode series 3, episode 23, "The Charmers" was remade into series 5, episode 9, "The Correct Way to Kill" and series 3, episode 12, "Don't Look Behind You" was remade into series 5, episode 15, "The Joker".

| | |
| --- | --- |
| 24. Concerto | March 7, 1964 |


Soviet-British trade talks are coinciding with the first London concert of the brilliant young pianist, Stefan Veliko. A young girl accuses Veliko of assault, and is then murdered. If someone wants to disrupt the talks by incriminating the pianist, they seem to be going about it in the right way.
Director: Kim Mills, Writer: Malcolm Hulke / Terrance Dicks
Guest starring: Nigel Stock, Sandor Elès, Dorinda Stevens

Nigel Stock has to be twice prompted to give the line "Did you get any information from the friend of the dead girl?", first by Patrick Macnee ("Now, the dead girl...") and then by an audible off-screen member of the production crew.

| | |
| --- | --- |
| 25. Esprit de Corps | March 14, 1964 |


The mysterious death of Corporal Craig of the Highland Guards sends both Steed and Cathy undercover into the army ranks. There, Steed finds himself under court-martial and Cathy becomes second in line to the throne.
Director: Don Leaver, Writer: Eric Paice
Guest starring: John Thaw, Roy Kinnear, Duncan Macrae, Pearl Catlin, Anthony Blackshaw



| | |
| --- | --- |
| 26. Lobster Quadrille | March 21, 1964 |
"Good bye Steed!"
- Catherine Gale

When an agent investigating radioactivity levels in shellfish is killed in a beach hut fire, Steed and Cathy get involved in the heady worlds of nightclubbing, chess and lobster fishermen.
Director: Kim Mills, Writer: Richard Lucas
Guest star: Burt Kwouk, Jennie Linden, Corin Redgrave



At the end of the Lobster Quadrille episode Cathy plans to take a holiday in the Bahamas, so Steed gives her a swimming costume, suggesting she investigate some trouble out there while "pussy footing" along the shores; she tells him firmly "Good bye". Honor Blackman went on, of course, to appear as Pussy Galore in Goldfinger (which guest star Kwouk also appears in). After Cathy leaves Steed calls someone on the telephone, "I've been busy", he says, (he obviously hasn't spoken to her in a while). Is it Mrs Peel on the other end of the line? In addition to being the last episode starring Honor Blackman as Dr. Catherine 'Cathy' Gale, this was also the last episode to be recorded on videotape.