"Mrs Peel, we're needed."
- W.J. Flywheel, Webporium Curator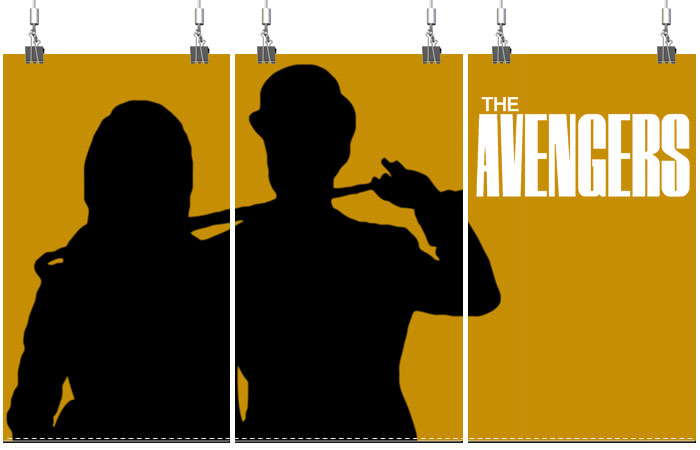 SERIES 5 - THE EMMA PEEL EPISODES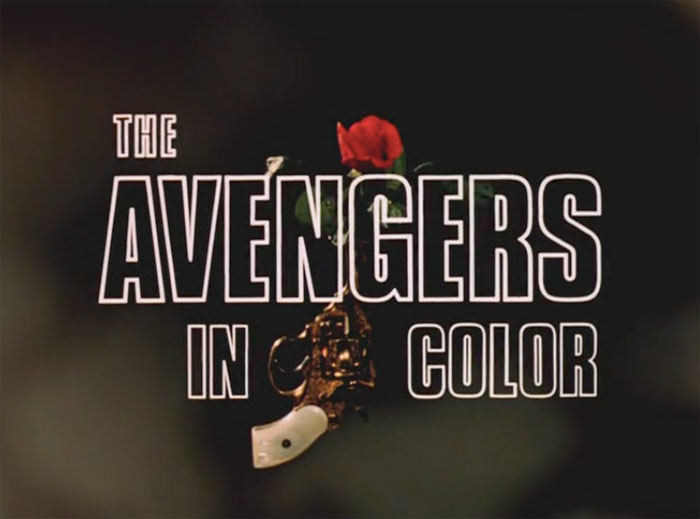 | | |
| --- | --- |
| | AV CLUB FEATURETTE DEPARTMENT |

This short film was made for broadcast in England to promote that The Avengers were going from Black & White to Color.

| | |
| --- | --- |
| 1. From Venus With Love | January 14, 1967 |
Steed is shot full of holes
Emma sees stars!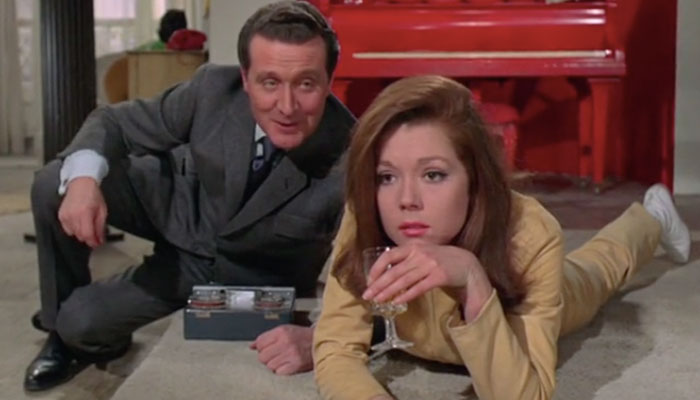 The strange deaths of several astronomers, left bleached white, pose a problem. Whilst Steed joins the stargazers, Emma chases a bright light, and finds herself in the hot seat.
Director: Robert Day Writer: Philip Levene
Guest starring: Barbara Shelley, Philip Locke, Jon Pertwee, Derek Newark, Jeremy Lloyd, Adrian Ropes, Arthur Cox, Paul Gilliard, Michael Lynch, Kenneth Benda

| | |
| --- | --- |
| 2. The Fear Merchants | January 21, 1967 |
Steed puts out a light
Emma takes fright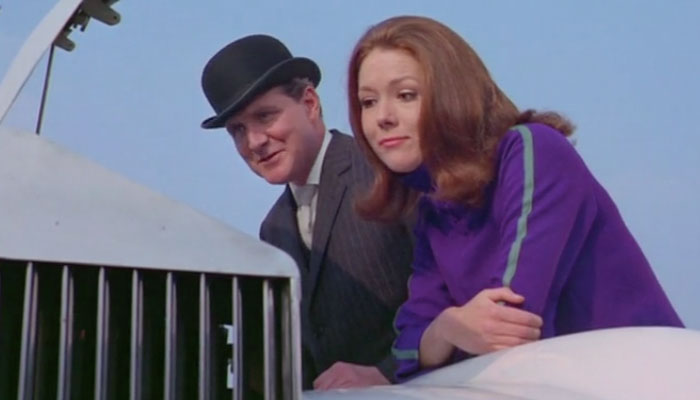 Four men involved in the production of ceramics suffer nervous breakdowns in everyday situations. All have recently turned down the opportunity to merge with the British Porcelain Company. Steed and Emma investigate the world of fear, with terrifying consequences.
Director: Gordon Flemyng Writer: Philip Levene
Guest starring: Patrick Cargill, Brian Wilde, Anette Carell, Garfield Morgan, Andrew Keir, Jeremy Burnham, Edward Burnham, Bernard Horsfall, Ruth Trouncer, Declan Mulholland, Phillip Ross

| | |
| --- | --- |
| 3. Escape in Time | January 28, 1967 |
Steed visits the barber
Emma has a close shave!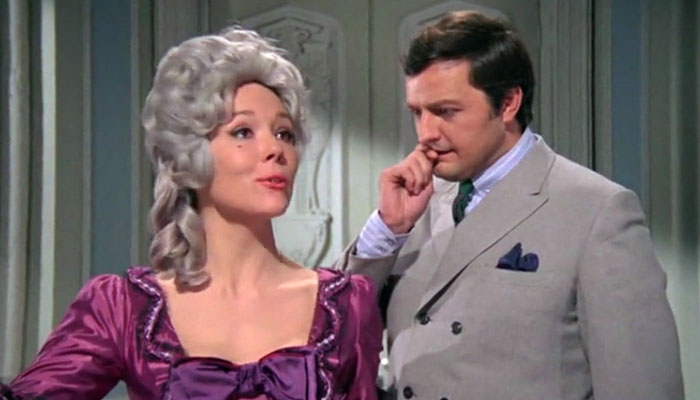 Several notorious criminals have vanished into thin air. A whisper has been received that the escape chain starts in London, but, when agent Paxton follows it, he winds up dead in the Thames with a 300-year-old bullet in him.
Director: John Krish Writer: Philip Levene
Guest starring: Peter Bowles, Geoffrey Bayldon, Judy Parfitt, Imogen Hassall, Edward Caddick, Nicholas Smith, Roger Booth, Richard Montez, Clifford Earl, Rocky Taylor

| | |
| --- | --- |
| 4. The See-Through Man | February 4, 1967 |
Steed makes a bomb
Emma is put to sleep!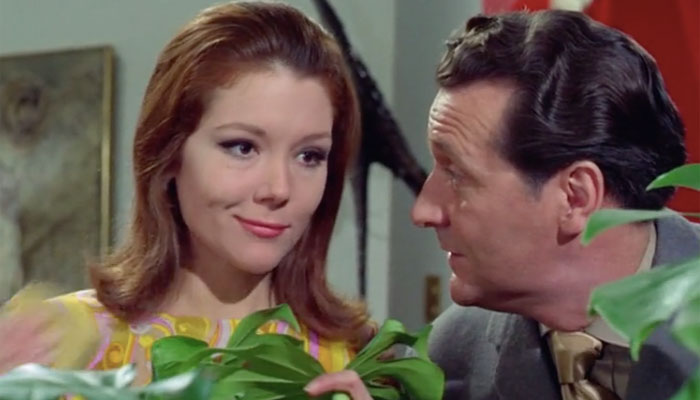 The Ministry has been broken into by, it seems, an invisible man. A trail leads via inventor Quilby to the Eastern Drug Company, a front organisation run by Soviet intelligence. Meanwhile, the crack spies Elena and Alexandre Vazin are in town. But nobody has seen anything of Alexandre...
Director: Robert Asher Writer: Philip Levene
Guest starring: David Glover, Roy Kinnear, Jonathan Elsom, John Nettleton



| | |
| --- | --- |
| 5. The Bird Who Knew Too Much | February 11, 1967 |
Steed fancies pigeons
Emma gets the bird


Emma and Steed investigate the mystery of how top secret things are being photographed from the air. Could it have something to do with the groovy world of fashion photography and a parrot called Captain Crusoe?
Director: Roy Rossotti Writer: Brian Clemens / Alan Pattillo
Guest starring: David Glover, Roy Kinnear, Jonathan Elsom, John Nettleton

| | |
| --- | --- |
| 6. The Winged Avenger | February 18, 1967 |
Steed goes bird watching
Emma does a comic strip...


Is a creature that can walk up walls clawing to death ruthless and powerful men? Does it have anything to do with Professor Poole's invention of boots that let you walk on the ceiling, or with cartoon superhero the Winged Avenger?
Director: Gordon Flemyng / Peter Duffell Writer: Richard Harris
Guest starring: A.J. Brown, William Fox, Donald Pickering, Nigel Green, Hillary Wontner

The villain is a Batman parody, and the episode itself is peppered with spoofs of the Batman TV show.

The strap hanging from the upside-down Mrs. Peel's outfit is stiff, clearly indicating that it is a prop attached to make it look like she was upside-down, when she really was standing upright on a ceiling set.
When Mrs. Peel is fighting the Winged Avenger, a chair is dislodged from Professor Poole's ceiling-mounted office. The chair wobbles in mid-air on its way down, indicating that it is, in fact, being pulled upwards by a wire.

| | |
| --- | --- |
| 7. The Living Dead | February 25, 1967 |
Steed finds a mine of information
Emma goes underground


Strange apparitions rise from the graveyard on the estate of the sixteenth Duke of Benedict. Did the mine disaster five years earlier really kill his predecessor and thirty men? When Emma is taken underground, Steed ventures into the giant secret that hides under the village.
Director: John Krish / Anthony Marriott Writer: Brian Clemens
Guest starring: Jack Woolgar, Jack Watson, John Cater, Pamela Ann Davy, Julian Glover, Vernon Dobtcheff, Alister Williamson, Edward Underdown

| | |
| --- | --- |
| 8. The Hidden Tiger | March 3, 1967 |
Steed hunts a big cat
Emma is badly scratched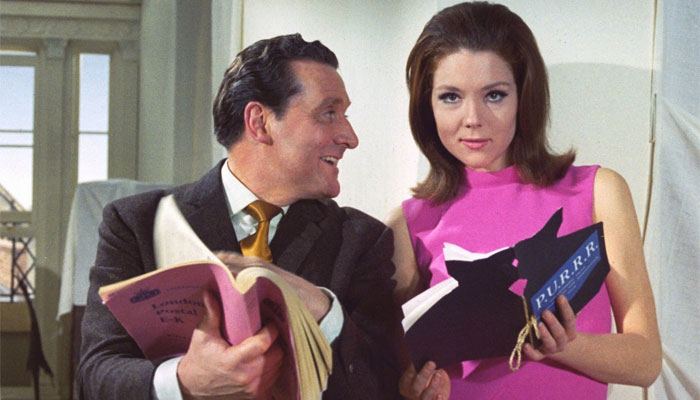 The mauling to death of several members of the committee of PURRR (the Philanthropic Union for the Rescue, Relief and Recuperation of Cats) exposes Steed and Emma to a diabolical scheme to take over the entire country.
Director: Sidney Hayers Writer: Philip Levene
Guest starring: Jack Gwillim, Stanley Meadows, Ronnie Barker, Gabrielle Drake, Lyndon Brook

Mrs Peel's "pussies galore" observation references the character of Pussy Galore played by her predecessor, Honor Blackman.

| | |
| --- | --- |
| 9. The Correct Way to Kill | March 11, 1967 |
Steed changes partners
Emma joins the enemy


Foreign agents are being killed, but not by British agents. Steed thinks it terribly unfair, and so does his opposite number, Nutski. They make an arrangement, and Steed and Emma find themselves with Soviet partners in an investigation of a group of very British killers.
Director: Charles Crichton Writer: Brian Clemens
Guest starring: Peter Barkworth, Graham Armitage, Michael Gough, Anna Quayle

| | |
| --- | --- |
| 10. Never, Never Say Die | March 18, 1967 |
Steed meets a dead man
Emma fights the corpse


An unfortunate motorist keeps knocking down and killing the same man: a man who's rampaging through the countryside, bulletproof and intent on destruction. A man who just happens to be identical to the urbane Professor Frank N. Stone.
Director: Robert Day Writer: Philip Levene
Guest starring: Christopher Lee, Patricia English, Jeremy Young, John Junkin, Peter Dennis

Emma is seen at the beginning of the show watching episode #4.3, "The Cybernauts" on TV.
"Never, Never Say Die" features the series debut of Sir Christopher Lee, who would be back for a Tara King classic, "The Interrogators." Lee and Patrick Macnee were lifelong friends for over 80 years (since 1931), who would work together again in 1990 (as Holmes and Watson, respectively) in two European television miniseries, "Sherlock Holmes and the Leading Lady" and "Incident at Victoria Falls."

Steed catches a falling star
Emma makes a movie


Three Hollywood veterans, led by an insane director, decide that Emma would be perfect for their latest movie, so they kidnap her and film some surreal and deadly footage.
Director: James Hill Writer: Brian Clemens
Guest starring: Isa Miranda, Peter Wyngarde, Kenneth J Warren

An unknown person sabotages Mrs. Peel's car by cutting one of the battery wires. When Mrs. Peel tries to start the car, the starter motor is heard. The starter motor of a car runs on the battery, so the starter motor should not have worked at all.

| | |
| --- | --- |
| 12. The Superlative Seven | April 8, 1967 |
Steed flies to nowhere
Emma does her party piece



Steed is invited to a party, and finds himself trapped in a remote-controlled aircraft, with six fancy-dressed specialists in various combat styles, en route to a distant island. There, they are pitted against each other in a deadly test.
Director: Sidney Hayers Writer: Brian Clemens
Guest starring: Terry Plummer, Donald Sutherland, Charlotte Rampling, Hugh Manning, James Maxwell, Gary Hope, Leon Greene, Margaret Neale

Canadian born Donald Sutherland was just a few years away from superstardom when he guest starred on The Avengers. In that same year he played the dopey but loyal Vernon Pinkley in the war film The Dirty Dozen (1967). The film also starred Lee Marvin, Charles Bronson, and Telly Savalas. The picture was an instant success, and Sutherland played upon this success by taking another role in a war film: MASH (1970) which landed Sutherland the starring role of Hawkeye Pierce alongside Elliott Gould's Trapper John. Hawkeye Pierce would later be played for 11 seasons on TV by Alan Alda. Alda's film Sweet Liberty (1986), would also star Linda Thorson who succeeded Diana Rigg as Patrick Macnee's partner on The Avengers. Donald Sutherland is the father of Kiefer Sutherland, who plays Jack Bauer in 24, another of televisions' long list of super secret agents.

| | |
| --- | --- |
| 13. A Funny Thing Happened on the Way to the Station | April 15, 1967 |
Steed goes off the rails
Emma finds her station in life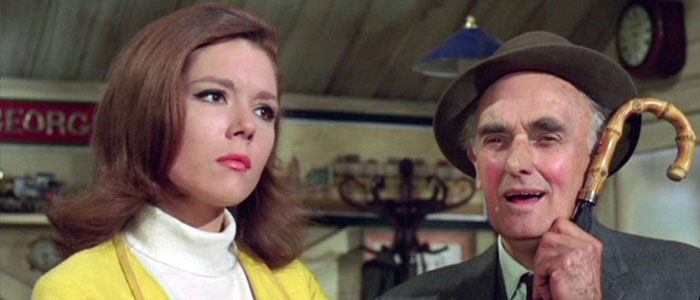 When Lucas, an agent investigating something subversive, gets off his train at the wrong station he is murdered. Has the crime got anything to do with a mole at the admiralty, a train ticket and a fiendish plot to kill the Prime Minister?
Director: Sidney Hayers Writer: Brian Clemens
Guest starring: Michael Nightingale, Richard Caldicott, Peter J. Elliott, James Hayter

| | |
| --- | --- |
| 14. Something Nasty in the Nursery | April 22, 1967 |
Steed acquires a nanny
Emma shops for toys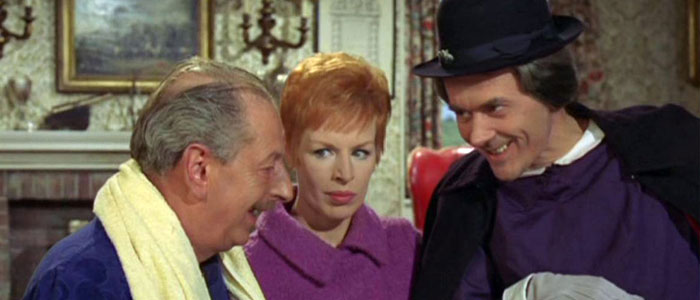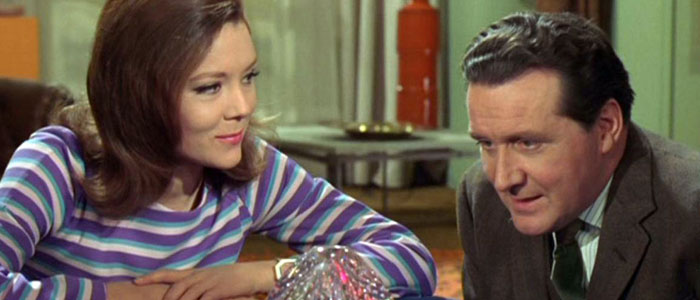 Secrets known only to a small group of trusted men have leaked, and the men are having strange dreams of their childhood, featuring their nannies and a bouncing ball. Emma checks out the toyshop, Steed explores a school for nannies.
Director: James Hill Writer: Philip Levene
Guest starring: Dennis Chinnery, Geoffrey Sumner, Paul Eddington, George Merritt, Clive Dunn, Yootha Joyce, Trevor Bannister,Patrick Newell, Paul Hardwick

| | |
| --- | --- |
| 15. The Joker | April 29, 1967 |
Steed trumps an ace
Emma plays a lone hand


Invited for the weekend to the home of a fellow Bridge Expert, Emma finds herself trapped in a house designed to send her mad. Her tormentor is Max Prendergast, a man she befriended and then betrayed in Berlin some time before. Then Steed came to the rescue but now he's at home nursing a sprained ankle.
Director: Sidney Hayers Writer: Brian Clemens
Guest starring: John Stone, Ronald Lacey, Sally Nesbitt, Peter Jeffrey

| | |
| --- | --- |
| 16. Who's Who? | May 6, 1967 |
Steed goes out of his mind
Emma is beside herself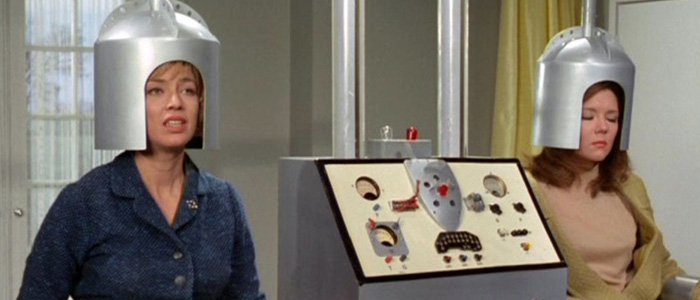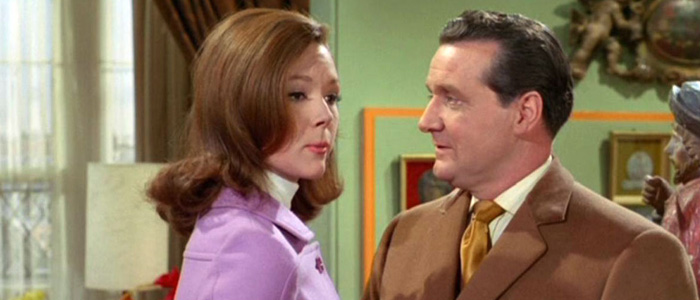 When one of the Floral Network of agents is found dead atop a pair of stilts, Steed and Emma's interest is piqued. That's the idea, because foreign agents Basil and Lola have a trap prepared for them: a machine that swaps their minds into the pair's bodies.
Director: John Llewellyn Moxey Writer: Philip Levene
Guest starring: Freddie Jones, Patricia Haines, Arnold Diamond, Peter Reynolds, Campbell Singer, Philip Levene, Malcolm Taylor

This was the final episode to feature the opening "Mrs. Peel We're Needed!" tag scenes. Reportedly the American network wanted more room for commercials, so these usually extraneous sequences were eliminated.
The only episode where Steed and Mrs. Peel are played by two other actors: Freddie Jones as the former, and Patricia Haines as the latter.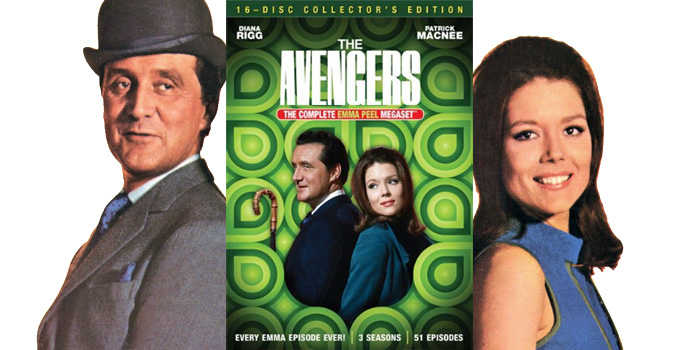 | | |
| --- | --- |
| 17. Return of the Cybernauts | September 30, 1967 |
Steed pulls some strings
Emma becomes a puppet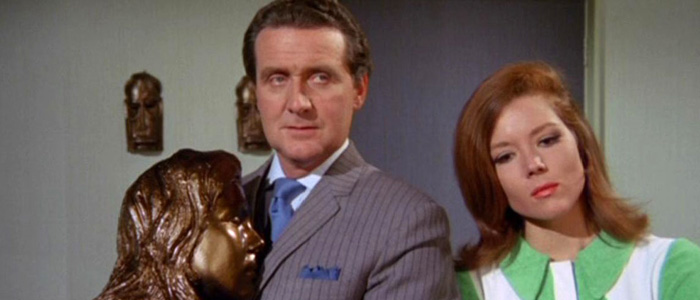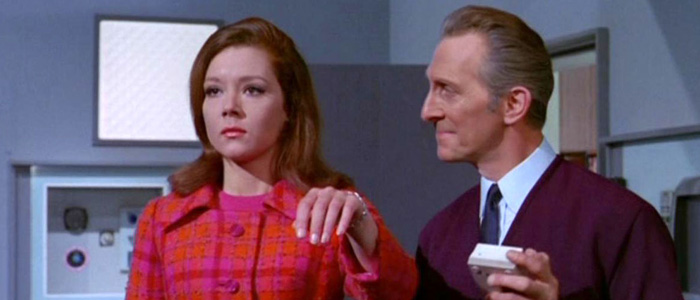 The brother of the late Clement Armstrong sets a deadly trap for Steed and Mrs. Peel, whom he blames for his brother's death at the hands of his murderous creations, the Cybernauts.
Director: Robert Day Writer: Philip Levene
Guest starring: Peter Cushing, Terry Richards, Frederick Jaeger, Roger Hammond, Aimi Macdonald, Michael Gough, Redmond Phillips, Noel Coleman

| | |
| --- | --- |
| 18. Death's Door | October 7, 1967 |
Steed relives a nightmare
Emma sees daylight


A European peace conference comes under the threat of sabotage when the British delegates begin to suffer from premonitions and nightmares. After Sir Andrew Boyd, who has witnessd his death in a dream, is killed, Steed and Emma must keep his replacement, Lord Melford, sane and alive.
Director: Sidney Hayers Writer: Philip Levene
Guest starring: Michael Faure, William Lucas, Clifford Evans, Allan Cuthbertson, Paul Dawkins, Terry Maidment, Terry Yorke

At one point in the episode our heros find a key dropped by the bad guys with a tag on it with the address of their secret headquarters. Kind of sloppy planning on the the part of our villains to leave such an obvious clue. I mean if you can't hire henchmen who can remember the address of your secret headquarters maybe you should rethink the whole operation.

| | |
| --- | --- |
| 19. The £50,000 Breakfast | October 14, 1967 |
Steed dabbles in tycoonery
Emma in chicanery


The accidental death of a ventriloquist reveals that he had been carrying a fortune in gems inside his stomach. Steed stoops to blackmail and Emma goes shopping for ties in the search through the business community for a rich Borzoi.
Director: Robert Day Writer: Roger Marshall / Jeremy Scott
Guest starring: Christopher Greatorex, Richard Curnock, Richard Owens, Yolande Turner, Nigel Lambert, Jon Laurimore, Cardew Robinson, Cecil Parker, David Langton

| | |
| --- | --- |
| 20. Dead Man's Treasure | October 21, 1967 |
Steed rallies around
Emma drives for her life


The search for a small despatch box containing secret information hidden by a dying agent leads Steed and Emma into a race (quite literally) for the 'treasure'. In the process they must face foreign agents, new partners and a car simulator that electrifies its guests.
Director: Sidney Hayers Writer: Michael Winder
Guest starring: Rio Fanning, Neil McCarthy, Arthur Lowe, Edwin Richfield, Valerie Van Ost

| | |
| --- | --- |
| 21. You Have Just Been Murdered | October 28, 1967 |
Steed chases a million
Emma runs off with it


Various millionaires are withdrawing large sums of money from the bank. Steed suspects blackmail but none of the men is willing to talk. Then he gets a call from Gilbert Jarvis, who tells Steed that he, Jarvis, has 'just been murdered'. Again.
Director: Robert Asher Writer: Philip Levene
Guest starring: Geoffrey Chater, Simon Oates, Clifford Cox, Leslie French, George Murcell

During the fight in the lake, Mrs. Peel's hair goes from wet to dry and then back to wet. Also, as Mrs. Peel follows the baddie back to his leader, the camera dolly is visible in the lower corner of the screen.

| | |
| --- | --- |
| 22. The Positive Negative Man | November 4, 1967 |
Steed makes the sparks fly
Emma gets switched on


When a scientist is found embedded in a wall, Steed and Emma pursue a man in make-up and wellies, whose appearance is terribly shocking.
Director: Robert Day Writer: Tony Williamson
Guest starring: Bill Wallis, Michael Latimer, Caroline Blakiston, Joanne Dainton, Sandor Elès

| | |
| --- | --- |
| 23. Murdersville | November 11, 1967 |
Emma marries Steed
Steed becomes a father


Emma's old friend, Paul Croft, returns from abroad to retire to Little Storping-in-the Swurf. Unfortunately, the village seems to be run along very strange lines. Threatened by yokels, Emma finds herself outnumbered.
Director: Robert Asher Writer: Brian Clemens
Guest starring: John Ronane, Colin Blakely, Peter Clay, Eric Flynn, Norman Chappell, Gareth Thomas, Andrew Laurence, Sheila Fearn, John Sharp, Ronald Hines, Geoffrey Colville

The town where this episode was shot was also used in The Dirty Dozen, where it is the scene of some of the war games. The establishing shot is almost identical to the one at the opening of this episode.

When Mrs Peel awakes in the pub after being knocked out, she is wearing a purple and blue jumpsuit. She them leaves with Dr Haynes to go back to Forbes' house. While they drive there in the car, she is wearing a Red and Black jump suit. When she arrives at Forbes' house, she is back in the purple and Blue suit.

| | |
| --- | --- |
| 24. Mission: Highly Improbable | November 18, 1967 |
Steed falls into enemy hands
Emma is cut down to size


When Sir Gerald Bancroft and his Rolls-Royce vanish whilst being escorted at a military base, Steed is called upon to solve the puzzle. But before he can he experiences that old shrinking feeling.
Director: Robert Day Writer: Philip Levene
Guest starring: Nigel Rideout, Nicholas Courtney, Kevin Stoney, Francis Matthews, Jane Merrow, Noel Howlett

Jane Merrow played Susan Rushton in The Avengers' "Mission . . . Highly Improbable" in 1967. In 1970 she played Lady Cora Weston in Mission: Impossible's "Lover's Knot". She did the spoof/homage/ show first.

| | |
| --- | --- |
| 25. The Forget-Me-Knot | September 25, 1968 |
"Always keep your bowler hat on in times of trouble, and beware diabolical masterminds."
- Emma Peel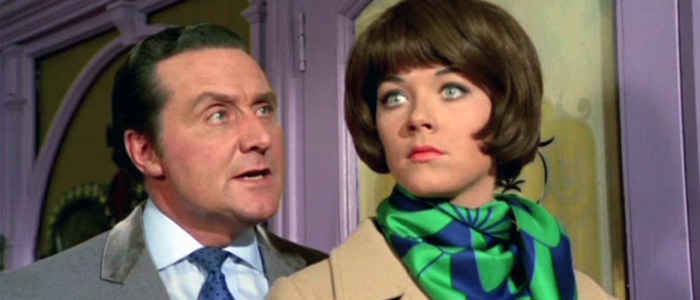 Steed's colleague Sean Mortimer comes to see him in a very confused state. He knows there is a traitor in the organization but he has been drugged to put him in an amnesiac state and he can remember little else. Mrs. Peel investigates but she too falls prey to the drug as she and Sean are abducted by bikers. It is down to trainee agent 69, Tara King, to whom Steed is introduced by spymaster 'Mother' to help him save the day.

This was the last episode to feature Emma Peel and the first, introducing Tara King played by Canadian actress Linda Thorson. Steed is waiting to see Mother when the agent who attacked him earlier on the agent training course appears from behind a curtain and introduces herself as Tara King - she seems surprised when he doesn't say "Ra boom di ay!" after hearing her first name, "Everyone does!", she complains. At the end of the episode Emma is about to be reunited with her long lost husband Peter Peel, she arrives at Steed's apartment to say goodbye, saying Peter will pick her up in a few minutes. She fights back a tear and tells him, "Always keep your bowler on nice and straight; watch out for diabolical masterminds", and kisses him tenderly on the cheek. "Emma - thanks", he murmurs bravely and she gives him one last mournful smile and leaves. Coming down the stairs, Emma passes Tara on the landing and tells her, "He likes his tea stirred anti-clockwise". Tara grins and heads upstairs. Steed is watching her leave from the window and is astonished to discover that Peter Peel is the spitting image of himself (Patrick Macnee and his stunt double, Peter Weston, played the part). Emma waves as the car drives away and Tara enters saying, "Mother sent me". "Ra boom di ay!", replies Steed.
Director: James Hill Writer: Brian Clemens
Guest starring: Linda Thorson, Patrick Newell, Alan Lake, Douglas Sheldon, Tony Thawnton, Edward Higgins, Jeremy Young, Beth Owen, John Lee




Emma Peel's final episode, #7.1, "The Forget Me Knot", had already been filmed prior to the announcement that Diana Rigg would leave the series. After her announcement, fresh footage introducing trainee spy Tara King was filmed and these scenes spliced in with the existing footage shot for "The Forget Me Knot" in order to set up Steed's replacement partner. As she had already left the series, Rigg does not appear in this new footage - King's scenes only feature Patrick Macnee as Steed - however, Rigg did agree to return to film one brief scene where it is hurriedly explained that her husband Peter, a test pilot whose plane disappeared in the Amazon, had returned from being missing in the jungle and that Emma is returning to him. It is in this tag scene that the only meeting of Emma and Tara takes place (Emma advises that Steed prefers his tea stirred anti-clockwise), and is also the only time Steed calls Mrs. Peel "Emma".
Two changes are made to the opening credits for this one occasion: no teleplay writer credit is given, and Steed is shown doing a golf swing with his umbrella rather than the fighting-stick poses done in every other opening credit sequence of Season 5.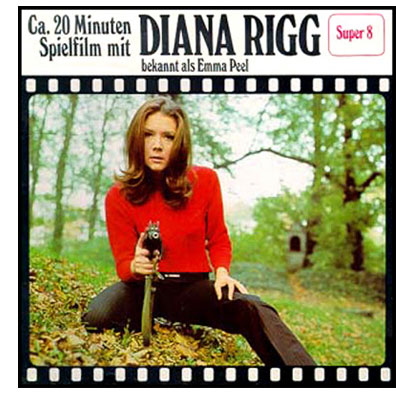 After leaving the series, Rigg played Emma Peel in two unofficial German short films produced for the 8mm market: The Diadem and The Mini-Killers. Little information has survived regarding these films, though the films themselves survive.

In 1969, a Spanish/West German company offer Rigg big bucks (Rigg is on record as saying they paid her 'not less' than Eon did for On Her Majesty's Secret Service!) to come and film a series of vignettes in the exotic locale of Lloret del Mar, Spain, trading on your image as the sophisticated high kicking Avenger for the Super 8 home projection market. The films are without any dialogue and accompanied by a 'groovy' trumpet based Spanish sounding score that occasionally and somewhat cheekily riffs on Laurie Johnson's 'Mrs Peel, We're Needed' theme from The Avengers. The lack of dialogue is apparent for two reasons; one because this is clearly a Euro pudding and two, because the home projectors weren't equipped for sound! Over the 30 minute running time of four 'minikiller' episodes, Rigg investigates, battles and evades a swarthy moustachioed twat, his bald henchman and their deadly army of toy dolls!