"Missed it by this much!"
- W.J. Flywheel, Webporium Curator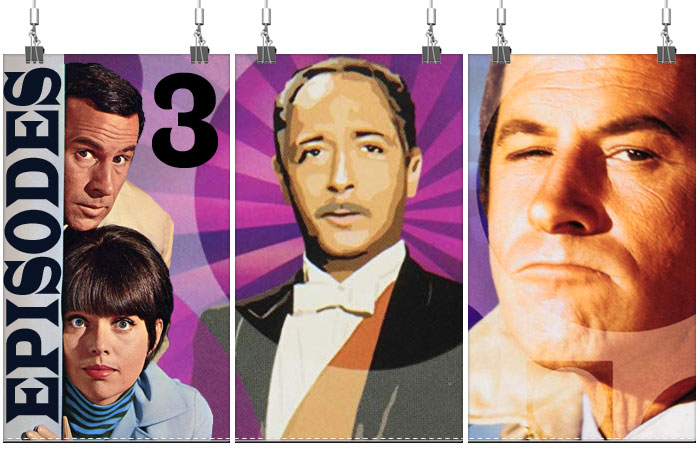 GET SMART - THIRD SEASON EPISODE GUIDE

| | |
| --- | --- |
| 1. The Spy Who Met Himself | September 16, 1967 |
"I certainly hope I shot the right one of me."
- Maxwell Smart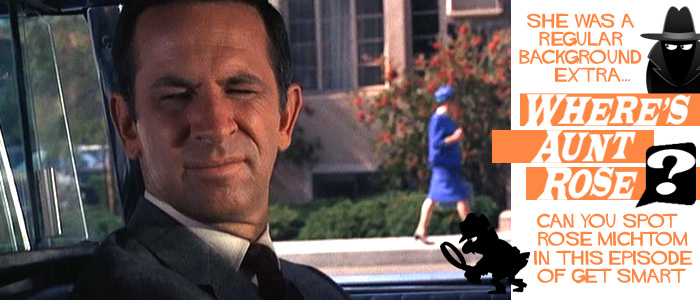 KAOS's League of Impersonators are serving as duplicates for CONTROL agents, trying to steal the plans for a warhead and wreak havoc at CONTROL. After the real Max kidnapped and is replaced by an impostor, he manages to escape and a committee has to determine which is the real Max!
Director: Gary Nelson, Writer: Keith Fowler / Phil Leslie
Guest starring: Bernie Kopell, Del Moore, Larry Barton, Martin Ashe, Paul Hahn, David Ketchum

Final appearance of David Ketchum as Agent 13.

| | |
| --- | --- |
| 2. Viva Smart | September 23, 1967 |
"But we don't have anything to worry about, 99,
we're not citizens, we're just spies."
- Maxwell Smart


Max and 99 travel to San Saludas after being contacted by the daughter of the President of San Saludas who is being held prisoner by General Pajarito. Max and 99 meet their contact who tells them that the President is in the dungeon.
Director: James Komack, Writer: Sam Bobrick / Norman Paul
Guest starring: Monte Landis, Jana Taylor, Jack Ragotzy, Edward Colmans, Lewis Charles, Ralph Smiley, Ralph Manza, Joseph Corey, Joey Bishop, Nicholas Georgiade

| | |
| --- | --- |
| 3. Witness for the Persecution | October 7, 1967 |
"I was, how do you think I got like this? They shot at me twice,
tried to stab me and run me over with a vegetable truck."
- Maxwell Smart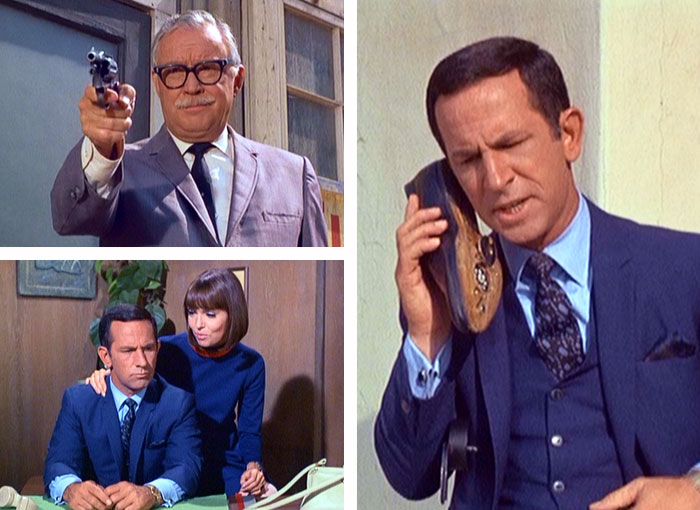 Max is set to testifie against Kaos Agent Elwood Tudbury.However Kaos is determined to stop him at all cost.
Director: James Komack, Writer: Sam Bobrick / Bill Idelson
Guest starring: George Ives, Patty Regan, Henry Hunter, James Nolan, Billy Curtis, Kathryn Minner

Edward Platt did not appear in this episode or the previous one due to back problems. He would miss the next weels episode as well. This episode revealed the the new decoration/color scheme of Maxwell Smart's apartment.

There is a boom shadow in the scene where Smart is in the bedroom and 99 lets him know he's being watched on closed circuit TV. It's very obvious as he steps away from the wall.

| | |
| --- | --- |
| 4. The Spirit is Willing | October 14, 1967 |
"He's the head of the Creative Entertainment Bureau. That's a theatrical agency which is actually a front for KAOS. Hmm, he's the best agent in showbusiness."
- Maxwell Smart


Max's new informer promises to deliver evidence implicating the top leader of KAOS, though it turns out that the informant has long been dead. Max must hold a seance to get his evidence.
Director: Norman Abbott, Writer: Arne Sultan
Guest starring: Byron Morrow, Peggy Mondo, Len Lesser, Than Wyenn, Ina Balin, Kay Michaels

| | |
| --- | --- |
| 5. Maxwell Smart, Private Eye | October 21, 1967 |
"Don't give it another thought, gentlemen. I wouldn't want Trinka to worry that you were worried that she was worried. So don't worry."
- Maxwell Smart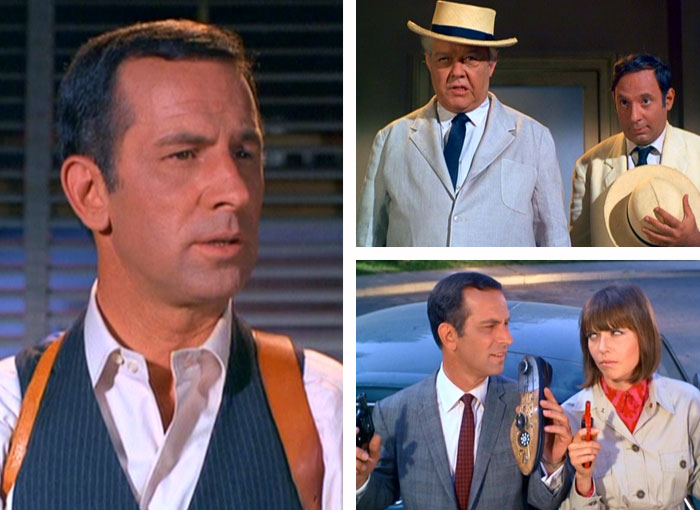 With a cutback at control, everyone is taking on extra jobs so Maz does his best Bogart and opens his own detective agency. It''s not too long before he is paid a visit by Mr Sydney and Mr Peter and their hired gun Wilbur (Buddy Hackett above right in a uncredited cameo).
Director: Bruce Bilson, Writer: Elroy Schwartz
Guest starring: Philip Roth, Roxane Berard, Berry Kroeger, Lynn Borden, Don Ross, Ralph Leabow, Gordon Jump, Buddy Hackett

This episode begins at the airport where Aunt Rose seems to have found steady employment. Over the PA System at the airport a page is broadcast, "Mr. Buck Henry, please claim your poodle at the baggage counter. Mr. Buck Henry, your poodle is waiting." Buck Henry is one of the creators of Get Smart.

| | |
| --- | --- |
| 6. Supersonic Boom | October 21, 1967 |
"I'm trying to get my foot loose. I figure if I can get my shoe-phone up high enough, you might be able to dial it with your nose."
- Maxwell Smart


KAOS attacks the CONTROL headquarters with a sonic boom and threatens to use it on New York City.
Director: James Komack, Writer: Art Baer / Ben Joelson
Guest starring: Farley Granger, Alex Rocco, Damian London, Julie Bennett, Bill Dana

Actor Bill Dana makes a cameo appearance as a man-in-the-street. He is a brother of series' composer/conductor Irving Szathmary. Don Adams was a longtime friend of Dana and co-starred on "The Bill Dana Show" playing a hotel house detective. Adams played this character with the same crotchets and vocal delivery that he would later employ so successfully as Maxwell Smart in "Get Smart".

If sound travels at 1,100 feet per second, and Control Headquarters is 10 miles from the car wash (52,800 feet, one mile is 5,280 feet), it would take the sonic boom 48 seconds to reach Control Headquarters. It took only a couple of seconds after the Kaos agent pushed the firing button.

| | |
| --- | --- |
| 7. One of Our Olives is Missing | November 4, 1967 |
"Well face it, you ain't no Sean O'Connery. You know, all handsome and confident. Well, just take a look into the mirror, puddin'."
- Ozark Annie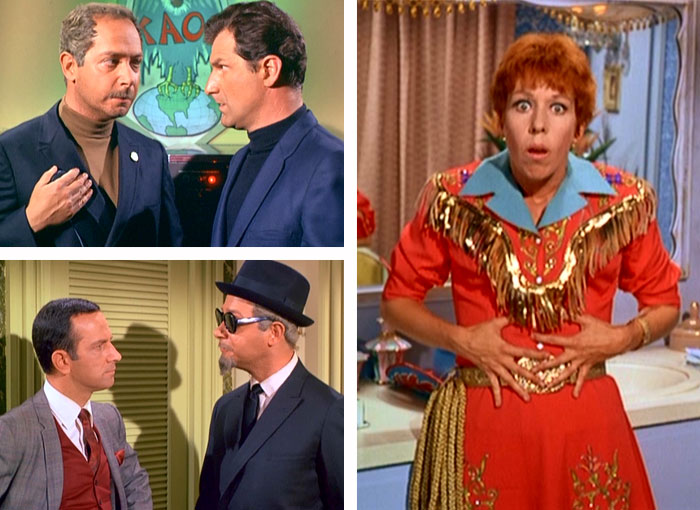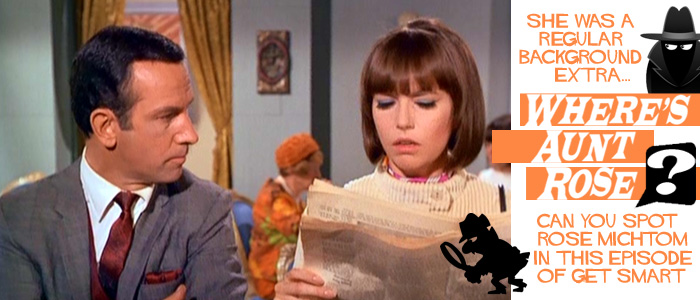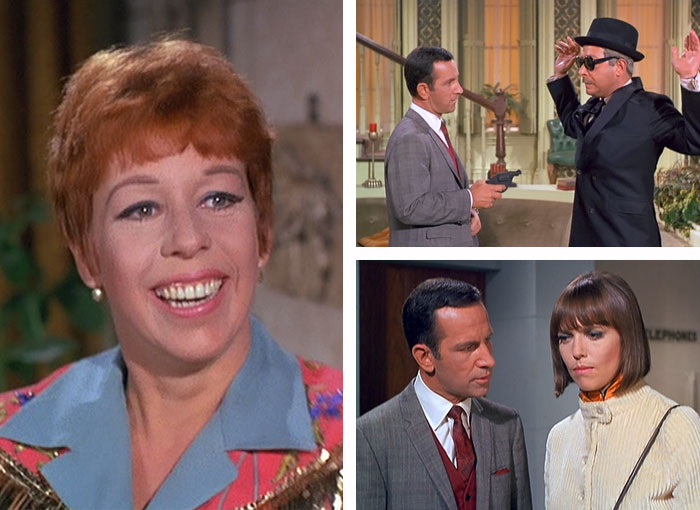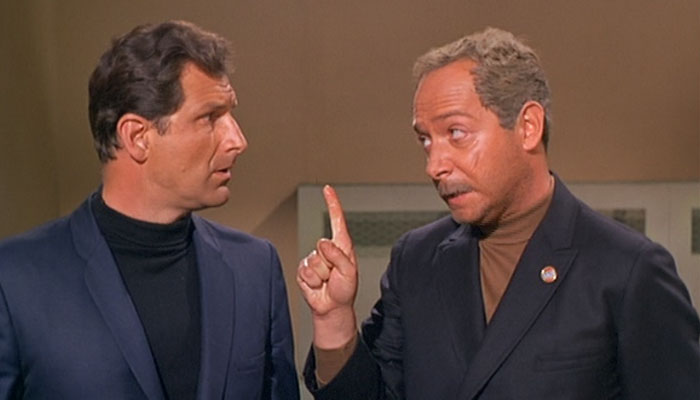 A country singer accidentally swallows a KAOS transmitter disguised as an olive. Max has to protect her from KAOS agents.
Director: Jess Oppenheimer, Writer: Jess Oppenheimer
Guest starring: Bernie Kopell, Carol Burnett, King Moody, Cary Nodella, Doug Rowe, John Francis, Michael Ross, Gary Nodella

While trying to find Siegfried in the hotel, Max tells 99 about the "Oppenheimer Case"... a nod to writer/director Jess Oppenheimer. Show producer Burt Nodella appears as the KAOS doctor. He chose to be credited as "Cary Nodella" in honor of his daughter, Cary. Though identified as Shtarker by Siegfried during the show, King Moody's character is credited in the closing credits as "KAOS Scientist". Amusing, because there is now what you mistake Shtarker for a scientist.

| | |
| --- | --- |
| 8. When Good Fellows Get Together | November 18, 1967 |
" I hate to say it, but Hymie is depreciated. According to the latest Control blue book, we can trade Hymie even for a 1956 Edsel."
- Maxwell Smart


KAOS designs the world's strongest robot.
Director: Sidney Miller, Writer: Gary Clarke
Guest starring: Richard Gautier, Ted de Corsia, H.B. Haggerty, Jim Boles, Martin Ashe, Byron Morrow, Pete Sotos

This is the only episode in the entire series in which both 99 and the Chief do not appear.

| | |
| --- | --- |
| 9. Dr. Yes | November 25, 1967 |
"Eh, yes. Well it is also said that he who lives by the sword...
[turns to 99] How does it go, 99?"
- Maxwell Smart


Max and 99 go to Lost Lake to track down the person who is sabotaging missile launches.
Director: James Komack , Writer: William Raynor / Myles Wilder
Guest starring: Donald Davis, Todd Martin, Andre Phillippe, Margaret Mason, Robert Terry, Ref Sanchez, Will Warren, Wally Cox

Although Max and 99 wear dark wet suits, when they show the footage of them underwater they are wearing white wet suits. The same thing goes for Himmel and Toulouse earlier.

| | |
| --- | --- |
| 10. That Old Gang of Mine | December 2, 1967 |
"The umbrella of silence?"
- Maxwell Smart


The British CONTROL needs Max to go undercover.
Director: James Komack, Writer: Jack Hanrahan / Phil Hahn
Guest starring: Danny Thomas, Iggie Wolfington, Diahn Williams, Sid Haig, Raoul Franck, Larry Duran, Eric Brotherson, Karen Arthur, Larry Grant, Roy Dean

| | |
| --- | --- |
| 11. The Mild Ones | December 9, 1967 |
"Of course, The Purple Knights! The Purple Knights, it's got to be The Purple Knights. It's so clear now. Who else could it be but the Purple Knights?
Eh, one question, Chief... Who are The Purple Knights?"
- Maxwell Smart


Max & 99 have to infiltrate a motorcycle gang called the ""Purple Knights"", because Control believes they kidnapped the Prime Minister of a foreign country while Max was guarding him.
Director: Gary Nelson, Writer: William Raynor / Myles Wilder
Guest starring: Michael Bell, Susan Albert, Wayne Sutherlin, Steve Allen

| | |
| --- | --- |
| 12. Classification: Dead | December 23, 1967 |
"Well, I really didn't pay that much attention to her, 99.
Let's see, she was about 5 foot 6, eh, soft blond hair, 38, 23, 36
measurements, deep blue eyes and delicious lips."
- Maxwell Smart
"Max! She tried to poison you."
- Agent 99
"Well it's not all gravy, you know."
- Maxwell Smart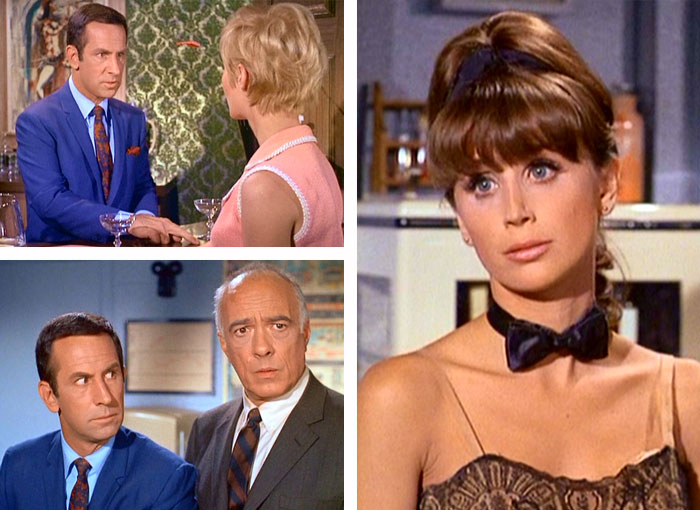 Max gets poisoned by a female KAOS agent and has to search for an antidote.
Director: Norman Abbott, Writer: Bruce Shelly / David Ketchum
Guest starring: John Fiedler, Ellen Weston, Kris Tel, Anthony Jochim, Allison Price, Mousie Garner

As Smart steps out of Dr. Abbott's office, his image freezes, and we hear his voice-over dialogue with the physician. This is a parody of NBC's concurrent series, Run for Your Life (1965), starring Ben Gazzara.

| | |
| --- | --- |
| 13. The Mysterious Dr. T | December 30, 1967 |
"Of course. The old microphone in the squeegee trick."
- Maxwell Smart


When a top CONTROL scientist dies, it turns out that he wasn't the real brains behind the operations.
Director: Gary Nelson, Writer: William Raynor / Myles Wilder
Guest starring: Bernie Kopell, Craddock Munro, Peter Robbins, Bill Erwin

Peter Robbins, who plays Tyler Tattledove in this episode, was the original child actor selected to perform the voice of Charlie Brown in A Charlie Brown Christmas (1965) and several of its successors, including the full-length A Boy Named Charlie Brown (1969). His voice became the standard that producers of later Peanuts animation used when casting child actors for the part, so that there would be as little noticeable change as possible in Charlie Brown's voice.

The Chinese gong which appears as a prop in the restaurant scene was used just a few weeks earlier by the villain Dr. Yes.

| | |
| --- | --- |
| 14. The King Lives? | January 6, 1968 |
"Half brothers are always called Basil."
- Maxwell Smart



Max travels to Coronia to protect the King of Coronia from the King's evil half-brother Basil.
Director: Gary Nelson, Writer: Don Adams / Gloria Burton
Guest starring: John Doucette, Michael Forest, Richard Angarola, Judith McConnell, Johnny Carson

Max imitates Ronald Colman from The Prisoner of Zenda (1937) while posing as the King of Coronia. Don Adams was known for his impression of Colman in his stand-up act.

Johnny Carson makes his second and final appearance on the series, this time as the servant who announces the King's visitors.



| | |
| --- | --- |
| 15. The Groovy Guru | January 13, 1968 |
"I pulled the plug, Max. You asked me not to tell you that, didn't you? "
- Agent 99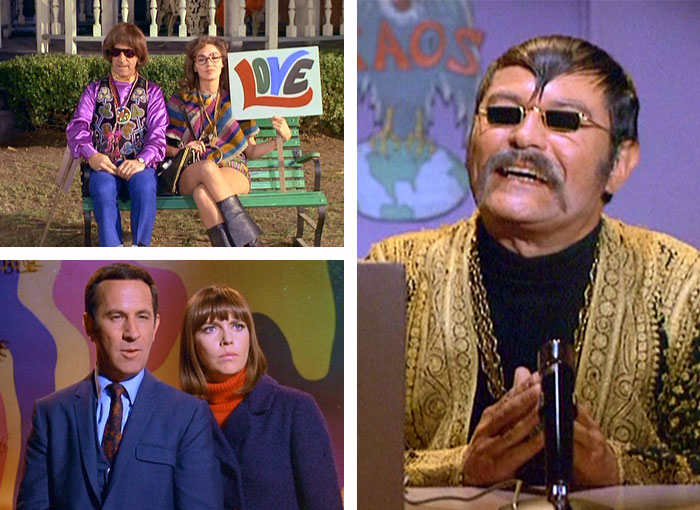 Many of the country's teenagers are dancing constantly, under the spell of the Groovy Guru, who is helping KAOS take over the country via its teenagers. The Guru plans to incite the nation's youth to riot and destroy all government institutions. The Groovy Guru, Larry Storch, was a childhood friend of Don Adams.
Director: James Komack, Writer: Burt Nodella / Norman Paul
Guest starring: Larry Storch, Ellen Weston, Sharon Vaughn, Barry Newman, Mickey Morton

| | |
| --- | --- |
| 16. The Little Black Book (Part 1) | January 27, 1968 |
| 17. The Little Black Book (Part 2) | February 3, 1968 |
"What do you mean what's my angle? I wanna defend my country too.
And you happen to be my buddy. And besides, I happen to know that every secret agent gets all the broads."
- Sid Krimm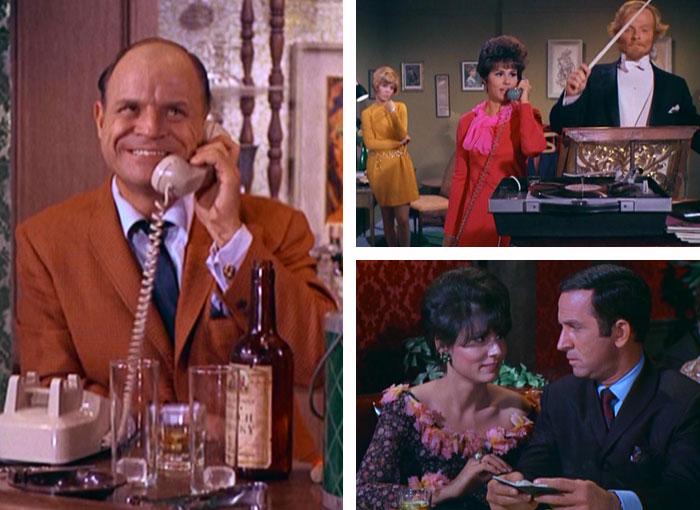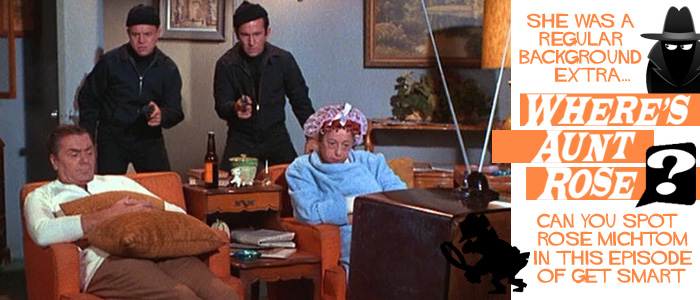 Max receives a visit from his Army buddy Sid Krimm. Before he arrives however, a woman defecter from Kaos shows up to give Max a little Black Book that contains the names of various Kaos Agents. After Sid unwittingly gives what he thought was an ordinary Black Book to Kaos Agents he accompanies Max on their search for the Book, and the infamous Maestro, a Top Kaos Assassin.
Director: James Komack, Writer: Jack Hanrahan / Phil Hahn
Guest starring: Don Rickles, Arlene Golonka, Ann Prentiss, Robert Easton, Donna Danton, Eddie Ryder, Joey Forman, Corbett Monica, Allan Drake, James Komack, Ernest Borgnine

Don Rickles' guest appearance was supposed to be for only one episode. But the constant ad-libbing between Rickles and Don Adams provided so much material that the episode was made into a two-parter. Rickles and Adams were old friends and would go on to do TV Specials together, Hooray for Hollywood in 1970 and A Couple of Dons in 1973. After Get Smart ended it's run there was even talk of doing a sitcom together for NBC but Rickles was already committed to projects at CBS. Adams would go on to star in the short lived, The Partners for NBC.



| | |
| --- | --- |
| 18. Don't Look Back | February 10, 1968 |
"Your honor, ladies and gentlemen of the jury. For the past twenty minutes I have sat idly by while my worthy opponent, the prosecuting attorney has stood up here and made a complete jackass out of himself. Now it's my turn."
- Maxwell Smart


In this take-off of The Fugitive series Max is framed by Kaos. He is charged with Bank Robbery,and Murder. This comes about when a one-handed Man (in a Maxwell Smart facemask) shoots the Bank Guard, in front of witnesses who could identify him.
Director: Don Adams, Writer: Jack Hanrahan / Phil Hahn
Guest starring: Bruce Gordon, Alan Jaffee, Stuart Nisbet, Larry Anthony, Paul Condylis, Tom Falk, Murray Alper, Leonard Bremen, Milton Berle, Larry Gelman, Pat O'Hara

When Max is riding in the police car after the trial, the framing of the shot is set too low. You can clearly see that the car has no dashboard and the steering wheel is just mounted on a stand.

| | |
| --- | --- |
| 19. 99 Loses CONTROL | February 17, 1968 |
"Susan Hilton. I don't like it. I like 99 a lot better."
- Maxwell Smart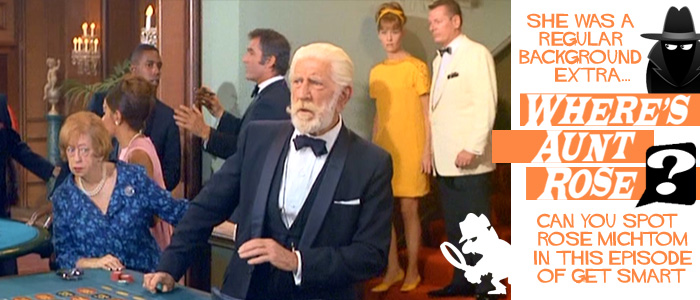 Feeling that she has no future at Control, and no future with Max, 99 decides to leave, and accept the marriage proposal with handsome, wealthy Victor Royale. Max, feeling jealous, goes to pursue 99. Having saved Royale from an assassination attempt, Royale offers Max a job as his bodyguard.
Director: Bruce Bilson, Writer: William Raynor / Myles Wilder
Guest starring: Jacques Bergerac, Maurice Marsac, Alfred Dennis, Stephen Hart, Bob Hope

Victor Royal's Casino is a reference to Ian Fleming's first 007 novel "Casino Royale" which at the time had already been adapted for television once and was about to hit cinema's as a spoof.

99 states that her real name is Susan Hilton, but at the end of the episode, she tells Max that it is not her real name but just a cover name she was using. Despite this, many trivia books and games give "Susan Hilton" as the answer to "What was Agent 99's real name?"

| | |
| --- | --- |
| 20. The Wax Max | February 24, 1968 |
"The old inflatable head in the cloak trick, 99."
- Maxwell Smart


Max,and 99 enjoy their day off at an amusement park.Little do they realize that the Amusement Park is actually a Kaos drop-off place for secret messages.
Director: James Komack, Writer: James Komack
Guest starring: Richard Devon, Robert Ridgely, Robert Lussier, Simmy Bow, J.S. Johnson

| | |
| --- | --- |
| 21. Run, Robot, Run | March 2, 1968 |
"Alright, men. The eyes of the free world are on you today.
So I want you to remember to keep your heads and your shorts up."
- Maxwell Smart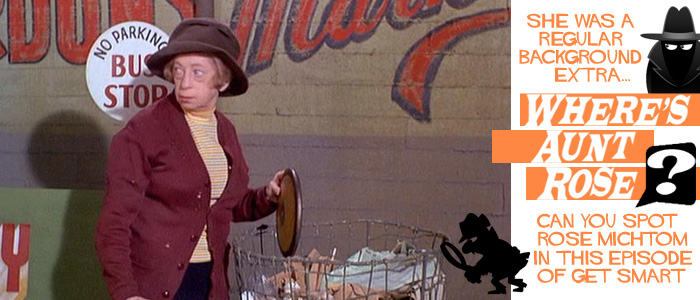 KAOS agents, Donald Snead and Mrs. Emily Neal, disrupt an international track meet by injuring the U.S. athletes so Hymie has to run in their place. KAOS's British Baddies, "Mr. Snead" & "Mrs. Neal" are a parody of "Mr. Steed" & "Mrs. Peel" of The Avengers. The title of the episode is a spoof of Leonard Stern's other series, Run, Buddy, Run (1966–1967). Aunt Rose is easy to spot in this episode. She actually has something to do besides mill around in the background or sit behind a counter at the airport. Playing a bag lady, she retrieves from the trash, the discus that Hymie the Robot tosses out of the stadium during the Olympiad.
Director: Bruce Bilson, Writer: Gary Clarke
Guest starring: Richard Gautier, John Orchard, Lyn Peters, Tim Burns, Dort Clark

| | |
| --- | --- |
| 22. Operation Ridiculous | March 9, 1968 |
"Every open and shut case has its loophole."
- Maxwell Smart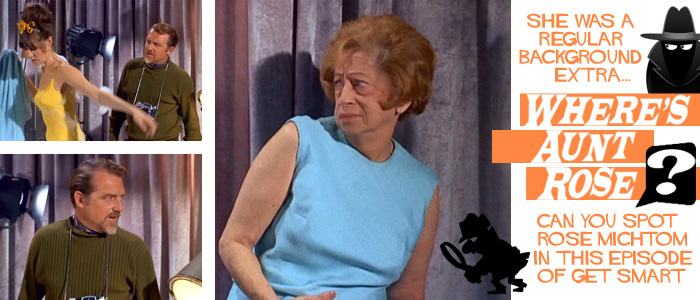 The Chief tells Max & 99 'Weeknews' magazine is doing a story on Control. Mr Fitzmaurice wants to accompany two Control agents on a case for his story. The Chief selects Max & 99. This is another easy one to find Aunt Rose. In the opening segment 99 is sitting in a bathtub in a swimsuit, working undercover as a model. When the Chief calls her to report to headquarters 99 has to walk out on the photographer. Luckily, he has an understudy standing by; none other than his mom, played by Aunt Rose, though she doesn't look too thrilled with the idea.
Director: James Komack, Writer: Norman Paul
Guest starring: Max Kleven, Patti Gilbert, Ellen Weston, George Macready

Near the end of this episode, Maxwell Smart (Don Adams) and Mr. Fitzmaurice (George Macready) are preparing to enter the lovely Dr. Steele's dressing room. Max knocks and calls out, "Dr. Steele, are you decent?" This is a clear reference to the movie Gilda (1946). In that movie, George Macready played the husband of Gilda (Rita Hayworth). When he took his friend Johnny Farrell (Glenn Ford) to meet her, he called out "Gilda, are you decent?" This is one of the most memorable lines not only in the movie, but also in Hayworth's and Macready's careers.

This episode gives a nod to George Macready's performance in Paths of Glory (1957). In that movie, Colonel Dax ('Kirk Douglas') offers General Mireau (Macready) the opportunity to peek out of a World War I trench using a periscope. Dax: "I imagine you'd like a look around, wouldn't you?" Mireau: "Yes, Colonel." Here, Maxwell Smart (Don Adams) tells Mr. Fitzmaurice (Macready) that the rainspout on the side of a building is actually a periscope. Max: "Would you like to take a look?" Fitzmaurice: "I should be delighted!" Of course, Fitzmaurice gets a face full of rainwater for his trouble.

| | |
| --- | --- |
| 23. Spy, Spy, Birdie | March 16, 1968 |
"The old long-playing, high frequency, ultrasonic, stereophonic, strike the match against the sounding board trick."
- Maxwell Smart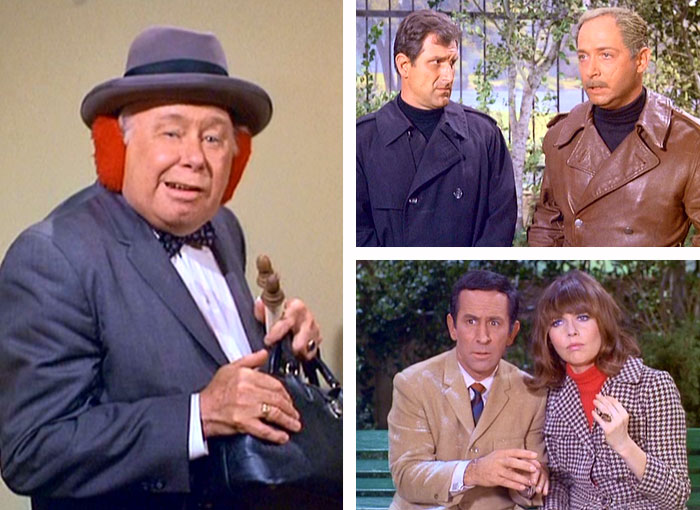 Albert Pfister starts to blow up the world using his new silent explosive forcing Max and 99 to join forces with Siegfried and Starker to stop him and save the world... and their jobs.
Director: James Komack, Writer: William Raynor / Myles Wilder
Guest starring: Bernie Kopell, King Moody, Percy Helton

| | |
| --- | --- |
| 24. The Hot Line | March 23, 1968 |
"There's no time to wait, 99. I wanna catch them red-handed.
Besides, my phone is melting."
- Maxwell Smart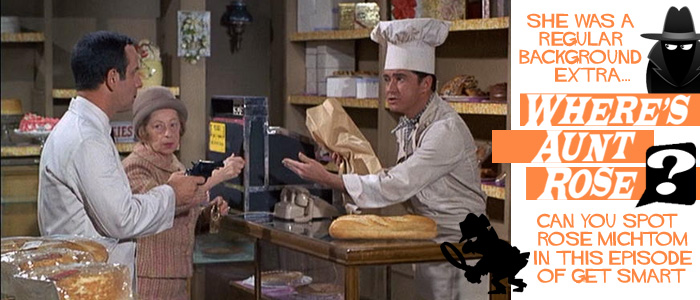 The Chief is relieved of Duty as Chief,when he receives a call from what he believes is the President; (actually it is Gorshen a Kaos voice impersonator) informing the Chief as of Today Max is the New Chief. This part of Kaos's plan to infiltrate, and then destroy Control. With Max being in charge Kaos really don't need to plan.
Director: Gary Nelson / Red Benson, Writer: Jack Hanrahan / Phil Hahn
Guest starring: John Byner, Richard Yarmy, Robert DoQui, Regis Philbin, Rose Michtom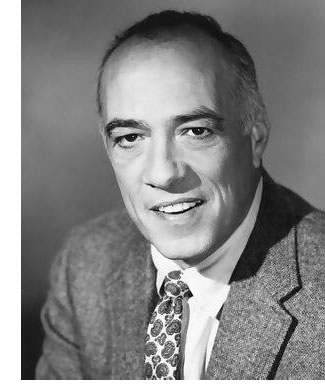 When Edward Platt sings "Alouette" in that amazing deep barrel voice it was really him singing.

Platt will be forever and fondly remembered as Don Adams' foil on the popular Mel Brooks/Buck Henry spy series Get Smart (1965). Character actor Platt (also billed as Edward C. Platt) had been around for two decades prior to copping that rare comedy role. Born in Staten Island, New York, he inherited an appreciation of music on his mother's side. He majored in romantic languages at Princeton University but left a year later to study at the Conservatory of Music in Cincinnati after his thoughts turned to a possible operatic career. He later was accepted into Juilliard.

Early in his career Platt became a band vocalist with Paul Whiteman and Orchestra. He then sang bass as part of the Mozart Opera Company in New York, and with the Gilbert and Sullivan Opera Company in 1942, he appeared in the operettas "The Mikado," "The Gondoliers" and "The Pirates of Penzance".

During WWII Platt served as a radio operator with the army and would find himself on radio again in the post-war years where his deep, resonant voice proved ideal. A number of musical comedy roles also came his way again. In 1947, he made it to Broadway with the musical "Allegro." Star José Ferrer took an interest in Ed while they both were appearing in "The Shrike" on Broadway in 1952. Around 1953, Edward moved to Texas to be near his brother and began anchoring the local news and kiddie birthday party show called "Uncle Eddie's Kiddie Party." Ferrer remembered Platt and invited him to Hollywood where Ferrer was starring in the film version of The Shrike (1955). Ed recreated his stage role. He also earned fine notices as James Dean's understanding juvenile officer in the classic film Rebel Without a Cause (1955). This led to a plethora of film and TV support offers where the balding actor made fine use of his dark, rich voice, stern intensity and pragmatic air, portraying a slew of professional and shady types in crime yarns, soap dramas and war pictures, everything from principals and prosecutors to mobsters and murderers.

After years of playing it serious, which included stints on the daytime drama General Hospital (1963), Ed finally was able to focus on comedy as "The Chief" to Don Adams klutzy secret agent on Get Smart (1965), a show that inevitably found a cult audience. Picking up a few occasional guest spots in its aftermath, he later tried producing. He was married twice and the father of four. He died in 1974 at the age of 58. Platt's death was originally reported as a heart attack. However, one of his sons later confirmed that Platt committed suicide after suffering from an undiagnosed and untreated depression that was further sparked by financial troubles.

| | |
| --- | --- |
| 25. Die, Spy | March 30, 1968 |
"Oh Max, the funeral of a double agent is a sad thing."
- Agent 99
"Yes, particularly in this case. Johan was working for both KAOS and Control.
Now part of him is up there and part of him is down there."
- Maxwell Smart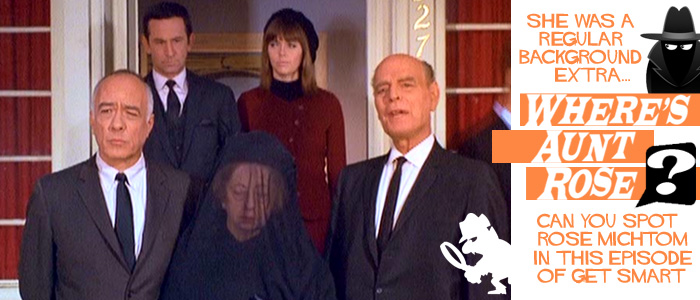 While attending a funeral for a murdered double agent, someone attempts to murder both the Chief and his KAOS counterpart. Following the attack, Max informs both chiefs that it was the work of Atrocities, Cruelties and Brutalities, better known as ACB, a third spy network bent on destroying both CONTROL and KAOS. Max is assigned to find ACB's leader Kubacek, a former KAOS agent who tried to defect to CONTROL but was rejected. Kubacek also happens to be an ambidextrous table tennis player and master of disguise, which makes identifying him all the more difficult. Max is also given a new partner in a jive talking rookie by the name of Samuels. He also is given the cover of the Masked Marvel, the only player to have ever beaten Kubacek in a match. Max, 99 and Samuels eventually go on a world wide tour in an attempt to ferret out Kubacek before he kills any more agents.
Director: Gary Nelson / Dee Caruso, Writer: Jack Hanrahan / Phil Hahn
Guest starring: Stu Gilliam, Robert Culp, Poupee Bocar, Paul Camen, Anthony Eustrel

The name of the third spy network, Attrocities Cruelties and Brutalities (ACB) is a direct reference to ABC (the American Broadcasting Company), which was the number-three network in terms of rankings at the time this was filmed.

As a tribute to the recently canceled "I Spy" (1965). The star of that series, Robert Culp has a small cameo as the drunken waiter. "I Spy" premiered three days before "Get Smart" in 1965 and that show's final episode aired two weeks following the airing of this episode.

| | |
| --- | --- |
| 26. The Reluctant Redhead | April 6, 1968 |
"We don't have much on her. We know that she writes children's books.
She wrote The Tiger that Couldn't, The Elephant that Wouldn't,
and The Pussy that Would Like To."
- The Chief


CONTROL tries to get files that contain a list of KAOS informers and agents.
Director: James Komack, Writer: Leonard Stern
Guest starring: Noam Pitlik, Julie Sommars, Cesar Romero, Alan Baxter

First episode to use the "puzzle piece" graphic to fade into and out of commercial breaks, a move that characterized all of the episodes during the series' last two seasons.

When the Chief informs Max that Grubnik of KAOS is after Mimsy, 99 responds by saying that she thought he was with THRUSH. This, of course, was a sly nod to the recently canceled "The Man from U.N.C.L.E (1964).

Guest star Cesar Romero guest starred as a THRUSH agent in The Man From U.N.C.L.E. on an episode (season one The Never-Never Affair) that also featured Barbara Feldon.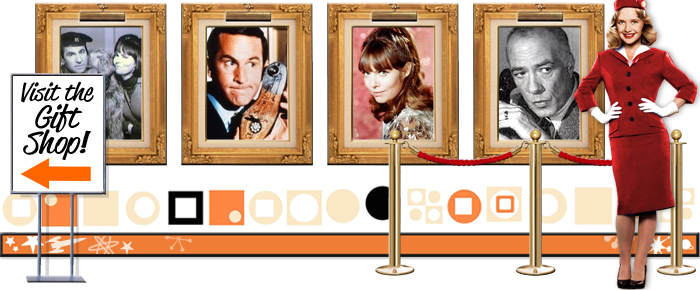 Content intended for informational and educational purposes only under the GNU Free Documentation Areement.
Get Smart copyright © Talent Associates, Columbia Broadcasting System (CBS), National Broadcasting Company (NBC), Paramount Television, Sony Pictures Home Entertainment and Worldvision Enterprises.