"Watching Get Smart, and, loving it!"
- W.J. Flywheel, Webporium Curator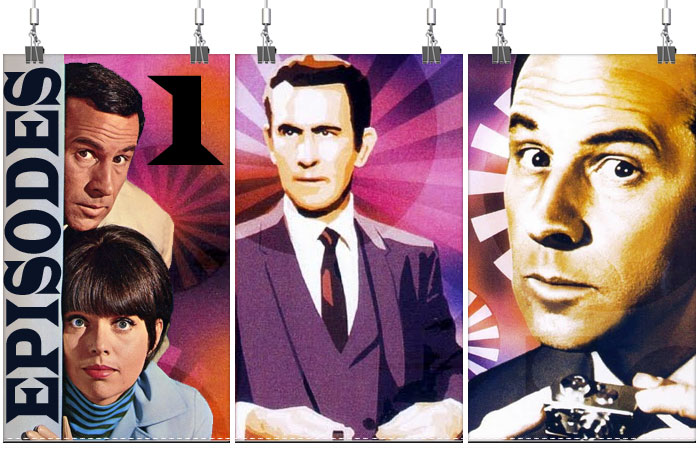 GET SMART - FIRST SEASON EPISODE GUIDE

| | |
| --- | --- |
| 1. Mr. Big | September 18, 1965 |
"Would you believe seven coast guard cutters are converging on this boat?"
- Maxwell Smart



Mr. Big is blackmailing CONTROL: unless they pay him $100,000,000 he will use the "Inthermo Ray" to destroy the Statue of Liberty. Max teams up with Fang and a new partner, Agent 99, to stop Mr. Big.
Director: Howard Morris, Writer: Mel Brooks / Buck Henry
Guest starring: Michael Dunn, Karen Norris, Vito Scotti, Kelton Garwood, Janine Gray

Tom Poston (Newhart) was scheduled to play Smart when the pilot was first offered to ABC. When ABC turned it down, NBC picked it up on condition that Don Adams play the role of Smart. Barbara Feldon was the producers' first and only choice to play 99. Later the pilot episode was adapted into a 1967 stage play by Christopher Sergel.

| | |
| --- | --- |
| 2. Diplomat's Daughter | September 25, 1965 |
"Sorry about that."
- Maxwell Smart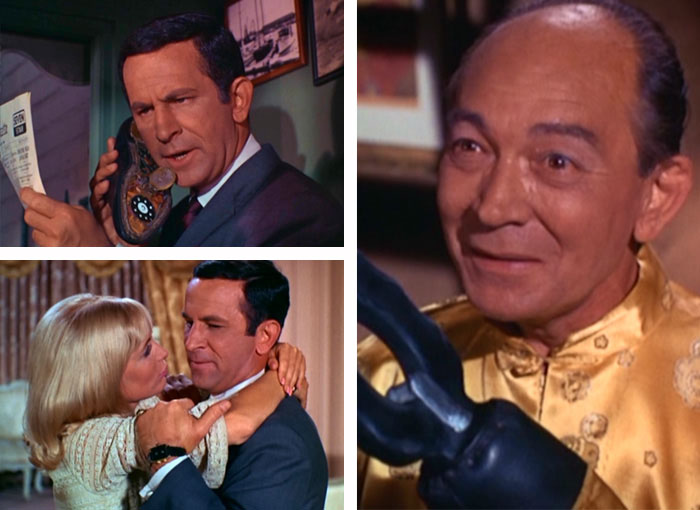 Maxwell Smart is on a new assignment, he has to guard Princess Ingrid (aka Ingrid Svensson), the daughter of an important ambassador of Scandinavia. All goes well, until they are followed by Oriental members of KAOS. While Agent 99 guards the girl, Maxwell follows them to their hideout. There he meets the The Claw, head of the oriental branch of KAOS who has a mechanical claw attached to his right arm. He has his henchman, Bobo torture Maxwell Smart. Smart avoids them by accidentally releasing a smoke pellet which floods the room with intense smoke. Max breaks into a dance club that The Claw was using as a KAOS front. The Princess coincidently arrives at the club looking for fun but Max and 99 capture The Claw before any harm comes to her. This episode fetured the first use if the catchphrase, "Sorry about that."
Director: Paul Bogart, Writer: Dee Caruso / Gerald Gardner
Guest starring: Frank DeVol, Inger Stratton, Leonard Strong, Lee Kolima, Bill Saito

| | |
| --- | --- |
| 3. School Days | October 2, 1965 |
"Well, there you have it, gentlemen, another wonderful theory down the drain."
- Maxwell Smart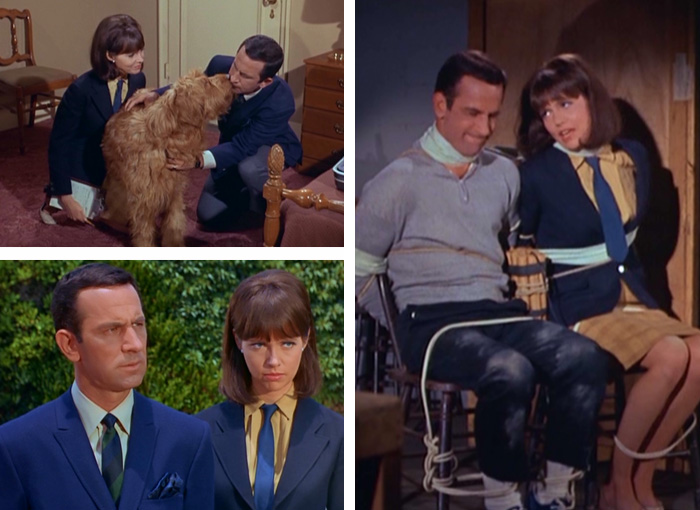 Max and 99 go undercover - as a student and instructor respectively - at the CONTROL Training School when it is suspected that one of the trainees is a KAOS infiltrator.
Director: Paul Bogart, Writer: Stan Burns / Mike Marmer
Guest starring: Kitty Kelly, Byron Morrow, Henry Brandon, Leo Gordon, Ben Wright, Philip Roth

This was Robert Karvelas' first TV appearance. In early episodes Don Adams real life cousin played minor roles. Mostly KAOS agents standing in the background. Later he whould join Control playing Larrabee.

| | |
| --- | --- |
| 4. Our Man in Toyland | October 9, 1965 |
"The secret frisk trick."
- Maxwell Smart


KAOS is secretly smuggling secrets out of the country. 99 discovers they are using a Department Store as a front and Polly Dollys to smuggle out the secrets. When one pulls the doll's string, Polly reveals top secrets. Max and 99 get caught by KAOS. Using children's toys, Max and 99 attempt to fight their way to safety and stop KAOS' smuggling ring.
Director: Don Richardson Writer: Stan Burns / Mike Marmer
Guest starring: Lou Nova, Helen Kleeb, Buck Kartalian, John Hoyt

Rose Michtom was born on July 18, 1897 in New York, USA. She was an actress, known for The Fortune (1975), Love at First Bite (1979) and In God We Tru$t (1980). She died on April 1st, 1986 in Los Angeles, California, USA. Rose was the daughter of the Morris and Rose Michtom who invented the Teddy Bear in 1902, and founded the Ideal Toy Company four years later. Leonard Stern, the producer of Get Smart (1965), was her nephew, and she appeared in at least 44 episodes – usually as a background extra with no speaking role. In the season 1 episode "Too Many Chiefs" when she is shown in a photograph, Max refers to her as "my Aunt Rose," but the Chief corrects Max by saying that it's actually KAOS agent Alexi Sebastian disguised as Max's Aunt Rose. Fans refer to her as "Aunt Rose" in all of her dozens of appearances, even though her character is never actually named in most of them.

It's the Get Smart version of Where's Waldo? Where's Aunt Rose? There she is in the Season One episode, "Our Man In Toyland." We'll give you this one but see if you can find the rest as you look through the Neat Stuff Hall of Fame Get Smart Episode Guide.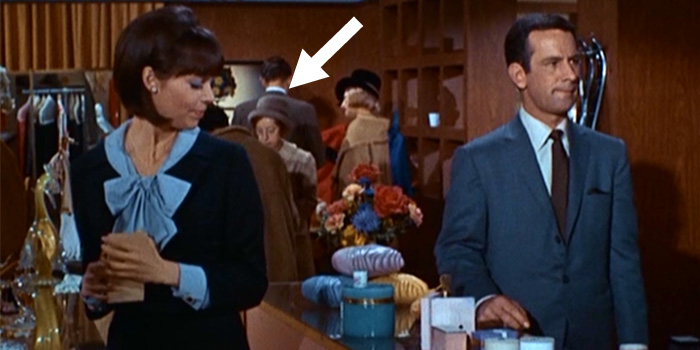 She's by the arrow. We told you we would give you the first one. We'll play again on Episode 8.

| | |
| --- | --- |
| 5. Now You See Him... Now You Don't | October 16, 1965 |
"Sorry about that Chief."
- Maxwell Smart


A doctor meets Max at his apartment and convinces him that he has escaped from KAOS with an invisibility ray. KAOS then attempts to kidnap Max as tries to figure out if the ray is real.
Director: Paul Bogart, Writer: Marvin Worth / Arne Sultan
Guest starring: Donna Walsh, John Sebastian, Val Avery, Gregory Morton, Joseph Ruski

Max's "shoe phone" was a Florsheim size 9-D shoe for the left foot.

| | |
| --- | --- |
| 6. Washington 4, Indians 3 | October 23, 1965 |
"That's the second biggest arrow I've ever seen."
- Maxwell Smart

Indians threaten to use a bomb if they don't get all of their land back. Smart then goes into their camp and foils their plan.
Director: Richard Donner, Writer: Dee Caruso / Gerald Gardner
Guest starring: Armand Alzamora, Roberto Contreras, Barry Russo, Donald Curtis, Bill Zuckert, Willis Bouchey, Monroe Arnold, Adele Palacios, Anthony Caruso

The book Max is reading at the beginning is "Recommended Torture Methods" by James Harris. James Harris was the property master for the show.

| | |
| --- | --- |
| 7. KAOS in CONTROL | October 30, 1965 |
"Good idea 99."
- Maxwell Smart

Conrol hosted a conference for some of the smarted scientists on the planet, but KAOS has other plans which include a retrogressor gun.
Director: Don Richardson, Writer: Hal Goldman / Al Gordon
Guest starring: Bob Karvelas, Donald Lawton, Ed Peck, Barbara Bain, Robert Cornthwaite

The only time in the series, Robert Karvelas appears wearing a mustache.



| | |
| --- | --- |
| 8. The Day Smart Turned Chicken | November 6, 1965 |
"Missed it by that much."
- Maxwell Smart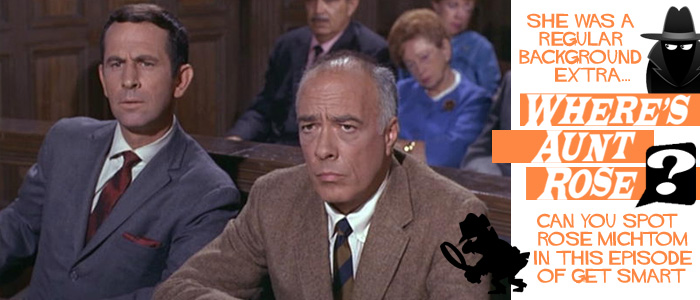 Smart is to testify against KAOS soon, so they devise situations to show that Smart is losing his mind.
Director: Frank McDonald, Writer: Ron Friedman / Pat McCormick
Guest starring: Howard Caine, Phillip Pine, Simon Oakland, Don Brodie, George J. Lewis, Richard Karlan, Frank Biro, Iris Adrian

This is the first time Smart says one of his catchphrase lines "Missed it by (holds finger and thumb about an inch apart) that much." The Chief while under oath is coaxed by Max to reveal his real first name, Thaddeus. 99 does not appear in this episode but an oil painting of Barbara Feldon can be seen in Max's bedroom. Pat McCormick was inspired to write this episode based on his own habit of wearing chicken costume to parties.

| | |
| --- | --- |
| 9. Satan Place | November 13, 1965 |
"Just as I thought: electric grass."
- Maxwell Smart

KAOS kidnaps the Chief and prepare to give him mind-control surgery. Max pretends to be a doctor in order to try to free the Chief from Harvey Satan.
Director: Frank McDonald, Writer: Stan Burns / Mike Marmer
Guest starring: Jack Perkins, Len Lesser, Robert Cornthwaite, Joseph Sirola

The Chief's car is a "Zebra Mustang", custom made by George Barris. It would reappear on the show as Max's car in later episodes.

| | |
| --- | --- |
| 10. Our Man in Leotards | November 20, 1965 |
"Windish? One question. Just what is Immobilo and how does it work?"
- Maxwell Smart

Enilio Naharana steals a new drug invented by CONTROL named Immobilo, in order to use it against the Ambassador of Pinerovia. Max and 99 disguise themselves in order to save the day.
Director: Richard Donner, Writer: Mel Brooks / Gary Belkin
Guest starring: Robert Karvelas, Robert J. Stevenson, Fernando Roca, John Stephesnson, Nestor Paiva, Edward Colmans, Robert Carricart, Robert Cornthwaite, Michael Pate

| | |
| --- | --- |
| 11. Too Many Chiefs | November 27, 1965 |
"Here's a good one. I'll say: 'The migrating birds fly low over the sea'. You say: 'Shadeless windows admit no light'. Then I'll say: 'The wingless dove protects its nest' and you'll say: 'The toothless tiger rules the restless jungle'. Have you got that?"
- The Chief

Alexi Sebastian, a master impersonator, attempts to kill someone who was about to reveal the secret of the KAOS coding system. Alexi disguises himself as the Chief to confuse the situation even more.
Director: Bruce Bilson, Writer: Dee Caruso / Gerald Gardner
Guest starring: Robert Karvelas, Harry Basch, Victor French, Susanne Cramer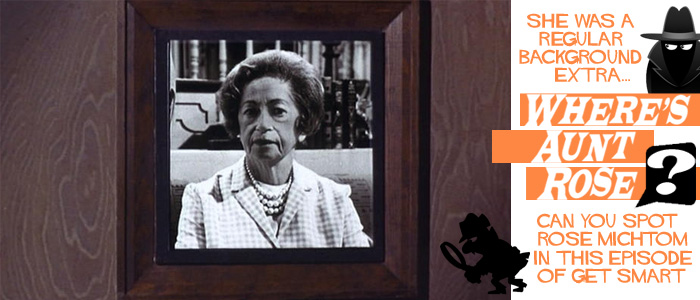 This should be an easy one. During a briefing the Chief shows Max a group of slides. One slide features Aunt Rose. But would you believe it's not Aunt Rose at all, it's a picture of KAOS's Master of Disguise Alexei Sebastian.

The first appearance of Victor French (best known for Little House of the Prairie) in the series, before he played Agent 44 in six episodes.
The KAOS secret code goes as follows: The first vowel after every second consonant is superimposed on the vowel immediately preceding it in the alphabet. The first word after every proposition, if it is not introduced by an article or a personal pronoun, is inverted. The letter T stands for F, except after E it counts for double. The first number after every second adverb is the third digit after a multiplying adjective. Proper names and countries equal the word 'marmalade'.

| | |
| --- | --- |
| 12. My Nephew the Spy | December 4, 1965 |
"Max, take your uncle's advice: get out of the shoe business before it kills ya!"
- Uncle Abner
Max stumbles upon a shoe store that just happens to be a KAOS communications center. Max is follwed by a KAOS agent who wants to kill him. The arrival of Max's aunt and uncle foil the KAOS agent's plan.
Director: Bruce Bilson, Writer: Marvin Worth / Arne Sultan
Guest starring: Charles Lane, Maudie Prickett, Vincent Beck, Conrad Janis

| | |
| --- | --- |
| 13. Aboard the Orient Express | December 11, 1965 |
"Would you believe I saw through it in only one minute?"
- Maxwell Smart

CONTROL couriers are aboard the Orient Express are being murdered in order to prevent them from delivering important information. Max and 99 get into a sticky situation while trying to solve the mystery.
Director: Frank McDonald, Writer: Earl Barret / Robert C. Dennis
Guest starring: Johnny Carson, Maurice Marsac, Jack Donner, Del Close, Bill Glover, Theodore Marcuse, Carol Ohmart

The title refers to the original Orient Express train service that ran from Paris to Istanbul and became synonymous with intrigue and luxury travel often being used in spy (From Russia with Love (1963) and mystery (Murder on the Orient Express (1974) stories and movies.

According to Buck Henry, guest star Del Close came casting director Pat Harris's office in character with an electrical device. Close told Harris to touch the device which was rigged to electrocute her. Harris was taken to a hospital but still cast Close in the role. Del Close (film credits include Ferris Bueller's Day Off (1986), The Untouchables (1987) and American Graffiti (1973)), once played "Polonious" in "Hamlet". He won a Joseph Jefferson Award for it, but the role he really wanted to play was "Yorick". Close, who died March 4th, 1999, may get his wish. Under the terms of his will left his skull to the Goodman Theatre.

| | |
| --- | --- |
| 14. Weekend Vampire | December 18, 1965 |
"And now Mr. Smart, it is your turn to hear my senato of death.
But before I begin, do you have any last request?"
- Dr. Drago
"Do you know any showtunes?"
- Maxwell Smart


CONTROL agents are found murdered with mysterious puncture marks on their necks. The investigation leads to the mysterious Dr. Drago.
Director: Bruce Bilson, Writer: Dee Caruso / Gerald Gardner
Guest starring: Don Ross, William Baskin, Ford Rainey, Roger Price, Martin Kosleck



| | |
| --- | --- |
| 15. Survival of the Fattest | December 25, 1965 |
"The old finger in the gun trick."
- Maxwell Smart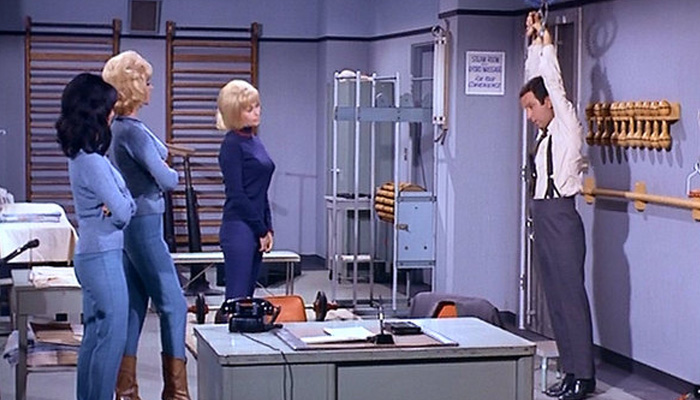 Max has to protect an Arab prince, who must remain fat to retain his power. The title is from the common idiom "survival of the fittest."
Director: Frank McDonald, Writer: Mel Brooks / Ronny Pearlman
Guest starring: Ned Romero, Arthur Adams, Karen Steele, Patti Gilbert, Tania Lemoni, Dan Seymour

| | |
| --- | --- |
| 16. Double Agent | January 8, 1966 |
"Now Max, remember. Acting as a double agent is the most dangerous game in the world. These men are killers, they'll stop at nothing. You'll be living in constant danger every moment."
- The Chief
"And... loving it!"
- Maxwell Smart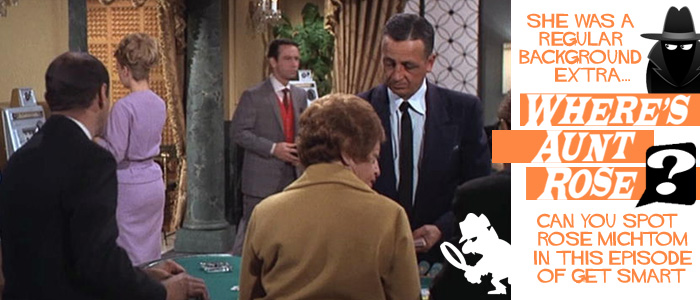 Max has to become a broken, drunk agent so that KAOS will probably try to recruit him as one of their agents. He eventually is and has a difficult task.
Director: Frank McDonald, Writer: Joseph C. Cavella / Carol Cavella
Guest starring: Clay Tanner, Dave Barry, Arthur Batanides, Fabian Dean, Gregg Palmer, Jack Orrison, Robert Ellenstein

Do the math! 99 offers to loan Max the $400,000 to repay Control for the fly he destroyed. He offers to repay it $10 a week. 99 states that will only take 900 years. It would only take 769 years.

| | |
| --- | --- |
| 17. Kisses for KAOS | January 15, 1966 |
"Would you believe 25 CONTROL agents are converging on this building?"
- Maxwell Smart

After several buildings are inexplicably blown up, Control follows the trail to an art gallery where a former chemist, debonair Rex Savage, has teamed up with painter Mondo to produce a series of explosive paintings. 99 disguises as an art expert with Max as her driver/butler as they try to get Savage's fingerprints and photograph, something that turns out to be a little more complicated than expected.
Director: Gary Nelson, Writer: Stan Burns / Mike Marmer
Guest starring: Ray Kellogg, John Abbott, Michael Dante

| | |
| --- | --- |
| 18. The Dead Spy Scrawls | January 22, 1966 |
"Would you believe I was the pool champion of the entire east coast?"
- Maxwell Smart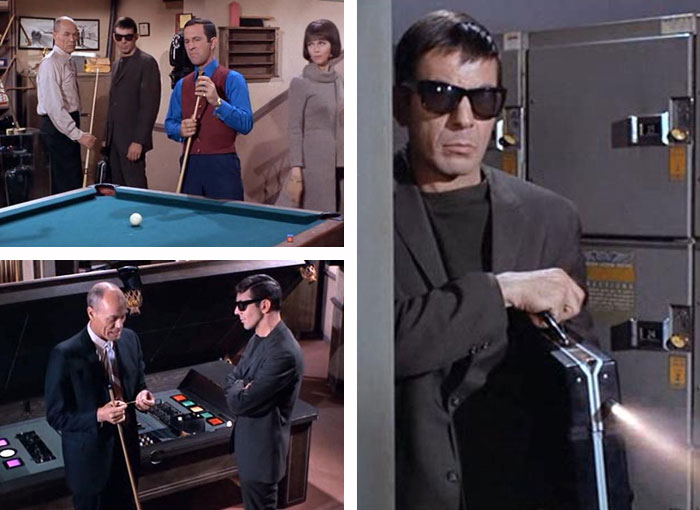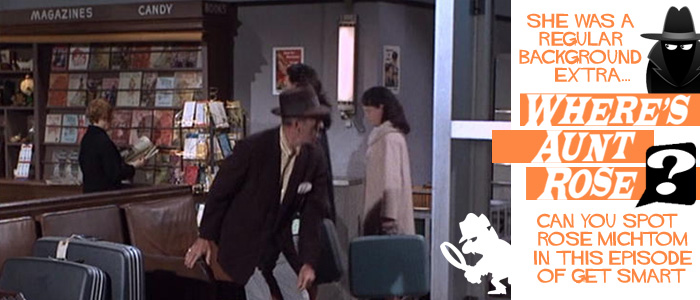 CONTROL tries to find the location of a KAOS communications center, which turns out to be in a pool hall.
Director: Gary Nelson, Writer: Stan Burns / Mike Marmer
Guest starring: Clive Wayne, Roy Engel, Don Brodie, Harry Bartell, Leonard Nimoy, Jack Lambert

The character of the Shark makes a reference to a famous pool player named "Three Fingers" Yarmy. Don Adams' real last name, in fact, is Yarmy.

Although Max is depicted in this episode as a buffoon when it comes to pool, according to Barbara Feldon in her introduction to Time-Life's DVD of this episode, Don Adams was actually an expert pool player. This can be seen when Max sinks some difficult pool shots - supposedly with the help of a remote-controlled cue ball - and the camera angle shows that it is Don Adams, and not a stand-in, actually making the shot.



| | |
| --- | --- |
| 19. Back to the Old Drawing Board | January 29, 1966 |
"I know that under that metal body of yours, there beats the mechanical heart of a really nice guy."
- Maxwell Smart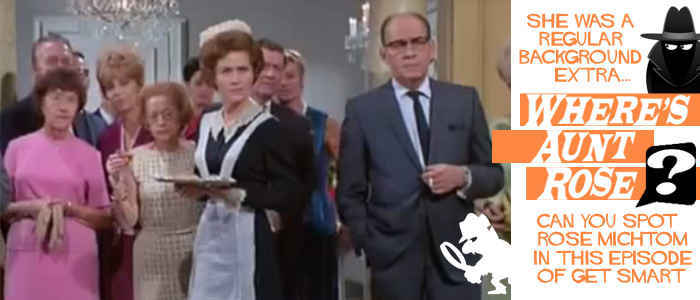 KAOS is interested in capturing Dr. Shotwire, a brilliant scientist whose work has been set 6 months back thanks to his bodyguard's helping hands (no other than 86). The KAOS agent in charge of the kidnapping, Natz, also has a vendetta with Max who sent him to prison in the past. Natz's plan involves the latest creation of rogue Dr. Ratton: Hymie a humanoid robot who enters Control as a newbie agent. However no one knows what to expect when Hymie has a drink and gets some quality time with Max.
Director: Bruce Bilson, Writer: Gary Clarke
Guest starring: Dick Gautier, Ted de Corsia, Patrick O'Moore, Bruce Gibson, Jim Boles

| | |
| --- | --- |
| 20. All in the Mind | February 5, 1966 |
"And so it must always end... for those who use the human brain for evil... instead of friendliness."
- Maxwell Smart


Max poses as an insane colonel in order to prove that a KAOS psychiatrist is revealing confidential information.
Director: Bruce Bilson, Writer: Dee Caruso / Gerald Gardner
Guest starring: Merry Anders, Janet Waldo, William Tannen, Robert F. Simon, Torin Thatcher, King Moody

King Moody appears in this episode as Markovich. He would later become a regular as the KAOS henchman Shartker.

| | |
| --- | --- |
| 21. Dear Diary | February 5, 1966 |
"Would you believe ten killers with machine guns?"
- Maxwell Smart


A retired agent and his secret diary are missing and CONTROL must track it down before KAOS can get it.
Director: Murray Golden, Writer: Stan Burns / Mike Marmer
Guest starring: Ted Gehring, Burt Mustin, Byron Foulger, Ellen Corby, William Keene, Vaughn Taylor

| | |
| --- | --- |
| 22. Smart, the Assassin | February 19, 1966 |
"The old time bomb in the roll trick."
- Maxwell Smart


After being hypnotized by KAOS, Max finds himself in a difficult situation while playing a game of chess.
Director: Bruce Bilson, Writer: Budd Grossman
Guest starring: Tony Lo Bianco, Ken Scott, Eileen O'Neill, Murray Matheson

| | |
| --- | --- |
| 23. I'm Only Human | February 26, 1966 |
"Because, as soon as you're gone, by the use of sheer brute strength,
I shall be able to rip these chains from the wall in one minute!
Would you believe it? 1 minute! "
- Maxwell Smart


Max convinces the Chief of taking Fang out of retirement after some Control agents are killed by their own dogs. Each of those agents had left their pets at an animal spa while they were travelling. What they ignored was that the animals were being brainwashed before being returned to their owners. When Fang goes MIA Max disobeys orders and goes after him which causes the Chief to go rescue Max.
Director: Murray Golden, Writer: Ron Friedman / Stan Burns
Guest starring: Logan Field, Gregg Palmer, Frank DeVol, Oscar Beregi

After KAOS agents have chained Max and 99 to the wall at the animal hospital, Max inexplicably loses the black leather glove on his left hand (at around 18 minutes). He soon regains it (at around 18 minutes, 30 seconds), but then loses it again (at around 21 minutes) for the rest of the episode.

| | |
| --- | --- |
| 24. Stakeout on Blue Mist Mountain | March 5, 1966 |
"Would you believe a Jolson medley?"
- Maxwell Smart


A horde of KAOS agents are taking flights to Washington. Each one carries a piece of a bomb which is meant to explode near an American base. Max and the Chief capture one of KAOS's agents and fool-force confidential information out of him. They end up in Blue Mist Mountain and it's up to 86 to dismantle the bomb before it goes off. All the help he has is Parker on the shoe-phone, a coin, and a very expensive tie.
Director: Murray Golden, Writer: Stan Dreben / Howard Merrill
Guest starring: Jason Wingreen, Lew Gallo, Ted Knight, Jack Denton, Victor French


Here Aunt Rose tries to trick us by wearing a different coat in separate scenes at the airport above. Below Aunt Rose is seen on the street in yet another different colored coat.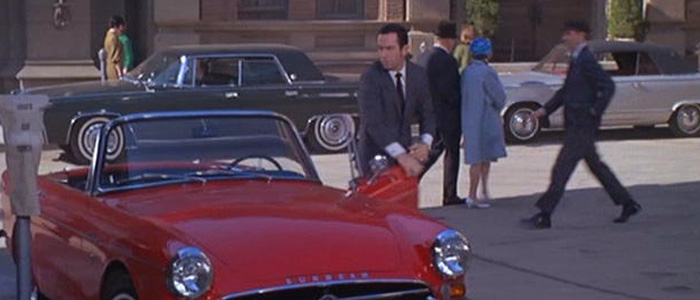 | | |
| --- | --- |
| 25. The Amazing Harry Hoo | March 12, 1966 |
"Two possibilities. One: he was killed by a 22 caliber pistol at long range by a short man who was a stranger to him. (or) He was killed at close range by a knife used by a woman he knew who was over six feet tall."
- Maxwell Smart


The Claw is back, and planning to lead Max into his deadly trap. His scheme leads Max and 99 to San Francisco as they follow a Chinese agent (Number 3) in the hopes that this will lead them to Number One (Claw), the mastermind behind a smuggling operation that uses a laundromat as facade (though the real money is actually in the laundry). However Max gets help from Harry Who, a chinese police inspector with a keen eye for detail and two possibilities to explain anything.
Director: Gary Nelson, Writer: Dee Caruso / Gerald Gardner
Guest starring: Vince Howard, Harvey Gardner, James Millhollin, Lee Kolima, Joey Forman, Leonard Strong

The man Smart is following at the beginning of the episode and who later is identified as KAOS agent 'Number 3' was played by Robert Ito who is possibly best known for his role in Quincy M.E. (1976) as Sam Fujiyama. He was not credited.

Last appearance for The Claw/The Craw. Leonard Strong appeared as a different character, Lin Chan, in Get Smart: The Laser Blazer (1968).

The character in the title is a parody of Charlie Chan, a fictional Chinese-American detective created by Earl Derr Biggers in 1923 and was used in a movie series in the 1930's and 1940's. Comedian Joey Forman, who played Detective Hoo, clothing and Asiatic facial makeup was made in the same vein as as those old Charli Chan films, something that would not be acceptable in movies or TV today.

| | |
| --- | --- |
| 26. Hubert's Unfinished Symphony | March 19, 1966 |
"I may never get to play with the Philharmonic, but on the other hand...
Is Leonard Bernstein licensed to kill?"
- Maxwell Smart


Max and the Chief disguise themselves as concert critics as they go in the aid of Hubert, a violin virtuoso who has been working undercover to find the identity of KAOS's Big Boss. Just before Hubert is able to give his report he is killed but first hides a clue in the form of writen music. Max must then stop pianist Wolenska from being killed by a bomb planted in the piano on which he will perform Hubert's last symphony, a desperate attempt of the Big Boss to keep his identity secret.
Director: Gary Nelson, Writer: Stan Burns / Mike Marmer
Guest starring: Richard Webb, Andre Phillippe, Sarah Marshall, John Myhers, Bert Freed

| | |
| --- | --- |
| 27. Ship of Spies (Part 1) | April 2, 1966 |
"Listen 99, just remember this: a coward is a frightened man who's
scared to be brave. But a brave man is only a coward
who isn't scared to be frightened."
- Maxwell Smart


Ahoy mate! Max's new assignment has him in a boat where he must find the blueprints of a super weapon while watching his back from a mysterious killer who makes a peculiar clip-clop sound, which is not that much help as every single passenger and crew member make that sound.
Director: Bruce Bilson, Writer: Buck Henry / Leonard Stern
Guest starring: Murray Alper, Viviane Ventura, Jan Arvan, Paul Lukather, Harold J. Stone

| | |
| --- | --- |
| 28. Ship of Spies (Part 2) | April 9, 1966 |
"The old gun in the peg leg trick. That's the second time I've fallen for it."
- Maxwell Smart


99's quick and clever reactions save Max from drowning. Back on the ship, Max talks with the captain who offers his assistance after finding out the reason he can never understand his aide. To make matters worse, 44 has finally had it. Not only Max cracks his super secret message, but he's tired of working hidden, not being able to eat at the captain's table, it's a boring job... As if it wasn't bad enough, he gets shot and Max finally discovers who the killer is, though it may be too late for him.
Director: Bruce Bilson, Writer: Buck Henry / Leonard Stern
Guest starring: Fuji, Paul Lukather, Harold J. Stone

This two-parter won writers Buck Henry and Leonard Stern the Emmy award in June, 1967 for Outstanding Writing Achievement in Comedy. This episode was also th final appearance of Victor French as Agent 44.

| | |
| --- | --- |
| 29. Shipment to Beirut | April 23, 1966 |
"Just look for a man who smells like a woman."
- Maxwell Smart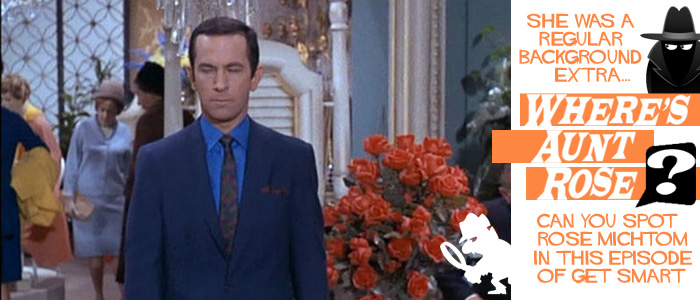 Fashion model Mildred Spencer telephones Smart that the supersonic plans are sewn into a dress.
Director: David Alexander, Writer: Arne Sultan
Guest starring: Judy Lang, Lee Bergere, Allen Emerson, Tim Herbert, Alice Reinheart, Regina Groves, Greta Lor-Worth

| | |
| --- | --- |
| 30. The Last One in is a Rotten Spy | May 7, 1966 |
"Would you believe I once trained a girl to swim across the
English Channel four times?"
- Maxwell Smart


A swimmer on the Russian national team calls Max for help, but unfortunately he forgets her name.
Director: David Alexander, Writer: Stan Burns / Mike Marmer
Guest starring: John Milford, Alice Ghostley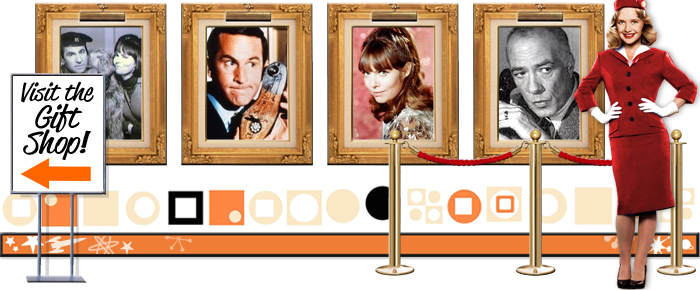 Content intended for informational and educational purposes only under the GNU Free Documentation Areement.
Get Smart copyright © Talent Associates, Columbia Broadcasting System (CBS), National Broadcasting Company (NBC), Paramount Television, Sony Pictures Home Entertainment and Worldvision Enterprises.