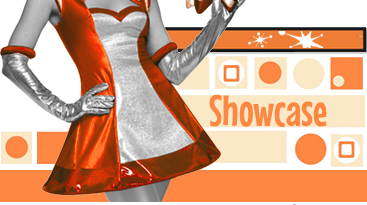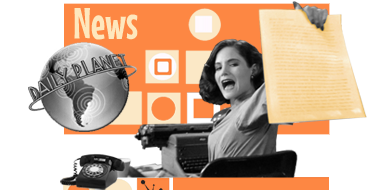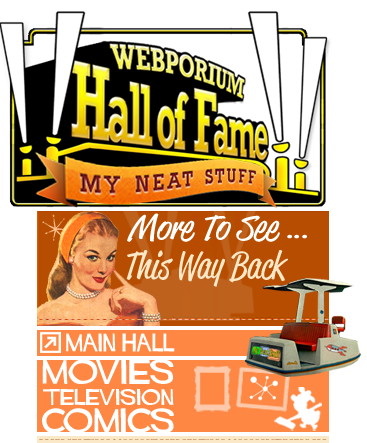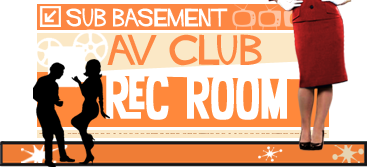 | | |
| --- | --- |
| | |
| | |
| --- | --- |
| | |
| | |
| --- | --- |
| | |

"All the stories are true."
- W.J. Flywheel, Webporium Curator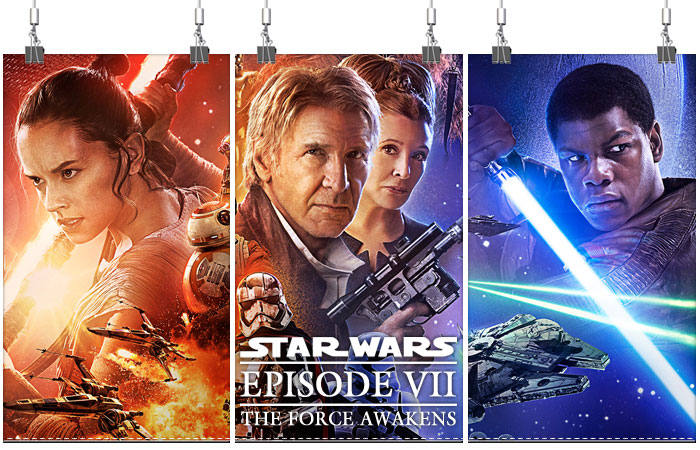 Luke Skywalker has vanished. In his absence, the sinister FIRST ORDER has risen from the ashes of the Empire and will not rest until Skywalker, the last Jedi, has been destroyed.

With the support of the REPUBLIC, General Leia Organa leads a brave RESISTANCE. She is desperate to find her brother Luke and gain his help in restoring peace and justice to the galaxy.

Leia has sent her most daring pilot on a secret mis sion to Jakku, where an old ally has discovered a clue to Luke's whereabouts...

STAR WARS EPISODE VII - THE FORCE AWAKENS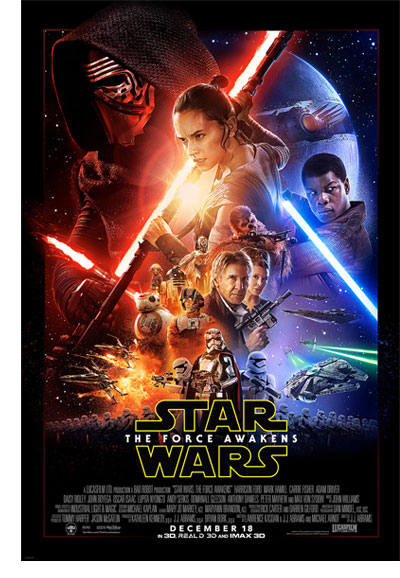 Star Wars: The Force Awakens is an American epic space opera film directed by J. J. Abrams. The seventh installment in the main Star Wars film series, it stars Harrison Ford, Mark Hamill, Carrie Fisher, Adam Driver, Daisy Ridley, John Boyega, Oscar Isaac, Lupita Nyong'o, Andy Serkis, Domhnall Gleeson, Anthony Daniels, Peter Mayhew, and Max von Sydow. The story is set approximately 30 years after the events of Return of the Jedi (1983).
The Force Awakens is the first film in the Star Wars sequel trilogy, announced after Disney's acquisition of Lucasfilm in October 2012. The film is produced by Abrams, his long-time collaborator Bryan Burk, and Lucasfilm president Kathleen Kennedy. Abrams co-wrote the film with Lawrence Kasdan, who co-wrote the original trilogy films The Empire Strikes Back (1980) and Return of the Jedi. Abrams and Kasdan rewrote an initial script by Michael Arndt. John Williams, composer and conductor of the previous six films, returns to compose the film score. Star Wars creator George Lucas served as creative consultant during the film's early production stages.

The Force Awakens is produced by Lucasfilm and Abrams' Bad Robot Productions and will be distributed worldwide by Walt Disney Studios Motion Pictures. Filming began in April 2014 in Abu Dhabi and Iceland, with principal photography also taking place in Ireland and Pinewood Studios in England.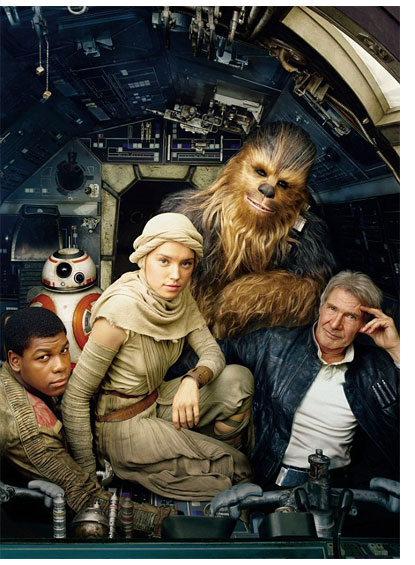 Star Wars creator George Lucas discussed ideas for a sequel trilogy several times after the conclusion of the original trilogy, but denied any intent to make it. In October 2012, he sold his production company Lucasfilm and with it the Star Wars franchise to Disney. Speaking alongside the new Lucasfilm president Kathleen Kennedy, Lucas said: "I always said I wasn't going to do any more, and that's true, because I'm not going to do any more. But that doesn't mean I'm unwilling to turn it over to Kathy to do more."

As creative consultant on the film, Lucas attended early story meetings and advised on the details of the Star Wars universe. Among the materials he turned over to the production team were his rough story treatments for Episodes VII to IX; he later stated that Disney had discarded his story ideas and that he had had no further involvement with the film. Lucas' son Jett told The Guardian that his father was "very torn" about having sold the rights to the franchise, despite having hand-picked Abrams to direct, and that his father was "there to guide" but that "he wants to let it go and become its new generation."

Episode VII's first screenplay was written by Michael Arndt. David Fincher and Brad Bird were approached as directors, but Bird was committed to Tomorrowland. Guillermo del Toro was also considered, but was busy with his own projects. In January 2013, J. J. Abrams was announced as the director of Star Wars Episode VII, with Lawrence Kasdan and Simon Kinberg as project consultants. The production announced the exit of Arndt from the project on October 24th, 2013, and Kasdan and Abrams took over script duties. Abrams cited time concerns over the change of writers, and expressed relief that the release date was announced for December 2015 instead of a previously discussed summer release. He said the key for the film was to return to the roots of the first Star Wars film and be based more on emotion than explanation. In January 2014, Abrams confirmed that the script was complete and in April Lucasfilm clarified that Episodes VII to IX would not feature storylines from the Expanded Universe, though other elements could be included as with the TV series Star Wars Rebels.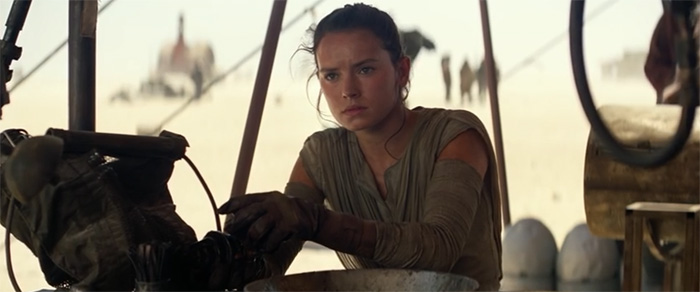 In May 2013, it was confirmed that Episode VII would be filmed in the United Kingdom. Representatives from Lucasfilm met with Chancellor of the Exchequer George Osborne to agree to produce Episode VII in the UK. Beginning in September 2013, production spaces at the Bad Robot facility were converted for shooting of Episode VII for the benefit of shooting a minor portion of the film in the United States.
The film's costume designer was Michael Kaplan, who had previously worked with Abrams on his Star Trek films. Film editors Mary Jo Markey and Maryann Brandon, also long-term collaborators with Abrams, were also signed. In August 2013, it was announced that cinematographer Daniel Mindel would be shooting the film on 35 mm film (specifically Kodak 5219).
Casting began around August 2013, with Abrams meeting with potential actors for script readings and screen tests. Open auditions were held in the UK, Ireland, and the United States in November 2013 for the roles of Rachel and Thomas. Casting began in earnest in January 2014, due to changes to the script by Kasdan and Abrams. Screen tests with actors continued until at least three weeks before the official announcement on April 29th, 2014, with final casting decisions being made only a few weeks prior. Actors testing had strict non-disclosure agreements, preventing them, their agents or publicists from commenting on their potential involvement.


| | |
| --- | --- |
| | AV CLUB FEATURETTE DEPARTMENT |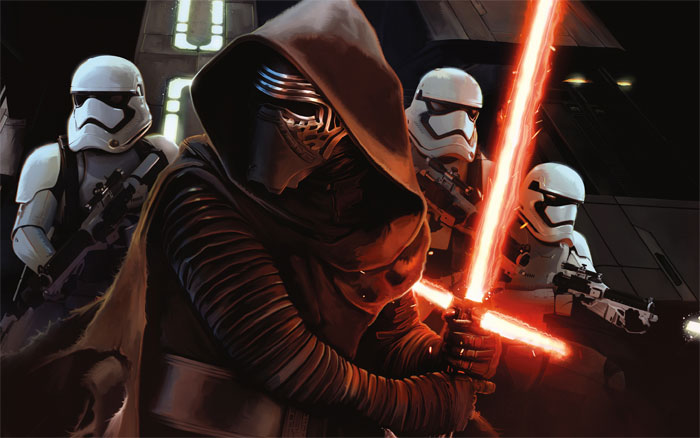 Though Lucas intimated that previous cast members Carrie Fisher, Harrison Ford, and Mark Hamill would return for the new film as early as March 2013, their casting was not confirmed until over a year later. Saoirse Ronan, Michael B. Jordan, and Lupita Nyong'o auditioned for new characters; industry publications reported Jesse Plemons was considered, possibly for Luke Skywalker's son; Adam Driver for an unnamed villain; and Maisie Richardson-Sellers for an unknown character. In March 2014, actor Dominic Monaghan said that Abrams was looking for three unknown actors to play the leads in Episode VII and that rumors of bigger-name stars were untrue.

Daisy Ridley was chosen for the film by February 2014, and by the end of that month a deal had been worked out with Driver, who was able to work around his Girls schedule on HBO. By March 2014, talks with Andy Serkis and Oscar Isaac began and continued into April 2014. In April, John Boyega began talks after dropping out of a Jesse Owens biopic. Denis Lawson, who played Wedge Antilles in the original trilogy, was asked to reprise his role, but declined, stating that it would have "bored" him.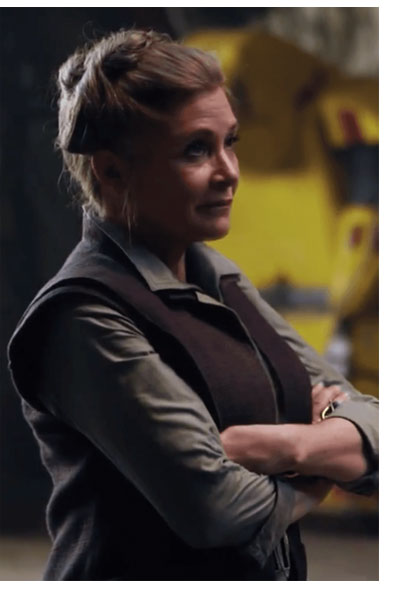 On April 29th, 2014, the cast was announced with a photo of the first table read of the script at Pinewood Studios near London, picturing director Abrams with Ford, Daisy Ridley, Fisher, Peter Mayhew, producer Bryan Burk, Lucasfilm president and producer Kathleen Kennedy, Domhnall Gleeson, Anthony Daniels, Hamill, Serkis, Oscar Isaac, Boyega, Driver, and writer Lawrence Kasdan. Not pictured but included in the cast are Max von Sydow and Kenny Baker. The announcement was originally planned for May 4th (Star Wars Day), but announced early due to fears of media leaks. More casting was expected, including a major female role. In June 2014, Lupita Nyong'o and Gwendoline Christie were added to the cast.

To prepare for his role, Hamill grew out his beard and was assigned a personal trainer and a nutritionist at the request of the producers, who wanted him to resemble an older Luke. Fisher was also assigned a personal trainer and a nutritionist to prepare for her role. The production team built a new C-3PO suit to accommodate Daniels. In May 2014, Fisher's mother, Debbie Reynolds, stated that Fisher had already lost 40 pounds in preparation for the film and in the following November confirmed that Fisher's daughter, Billie Lourd, is in the film.

In May, Abrams announced a donation contest for UNICEF from the Star Wars set in Abu Dhabi; the winner was allowed to visit the set, meet members of the cast and appear in the film.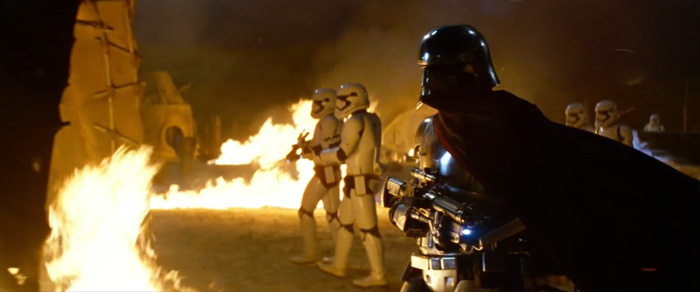 In October 2014, Warwick Davis, who played Wald and Weazle in The Phantom Menace and Wicket the Ewok in Return of the Jedi, announced that he would appear in The Force Awakens, but did not reveal his role. Oscar Isaac's uncle, a massive Star Wars fan, was cast as an extra in the film at the invitation of Abrams upon visiting the set.


In February 2014, Abrams said filming would begin in May and last about three months. Sources told Hitfix that filming would wrap in September 2014. The official announcement came on March 18th, when Disney and Lucasfilm announced that principal photography would commence in May and be based at Pinewood Studios in Buckinghamshire, England. In March, it was revealed that pre-production filming would be taking place in Iceland prior to the start of official filming in May, consisting of landscape shots which would be used for scenery in the film. On April 2nd, Walt Disney Studios chairman Alan Horn confirmed that filming had begun, filming in secret in the U.A.E. emirate of Abu Dhabi by a second-unit. Later that month, it was revealed that in addition to 35mm film, segments of the film were being shot in the 65mm IMAX format. On July 8th, Bad Robot reported on Twitter that the film would be at least partially shot on IMAX cameras.

In early May 2014, the studio posted a selfie taken by Iger with Chewbacca. Iger stated the photo was taken when he visited Pinewood Studios two weeks earlier to discuss the shoot, "which was just about to start", with Abrams, Kennedy, and Horn. Principal photography began in Abu Dhabi on May 16th, 2014. Abrams and members of the cast went to Abu Dhabi in early May, where large sets were built at the location, including a shuttle-like spacecraft, a large tower and a big market, and explosives were used to create a "blast crater". Cast members were spotted practicing driving vehicles that would be used during filming. Production would move to Pinewood Studios in June.

On June 12th, Harrison Ford fractured his leg while filming at Pinewood after a hydraulic door fell on him, and was taken to a hospital. Production was suspended for two weeks to accommodate Ford's injury. Ford's son Ben stated that Ford's ankle would likely need a plate and screws and that filming could be altered slightly, with the crew needing to shoot Ford from the waist up for a short time until he recovered. Jake Steinfeld, Ford's personal trainer, said in July that Ford was recovering rapidly. Coincidentally, Abrams also injured his back when he was trying to help lift the door after Ford's accident. However, he kept this to himself and did not tell anyone about it for over a month.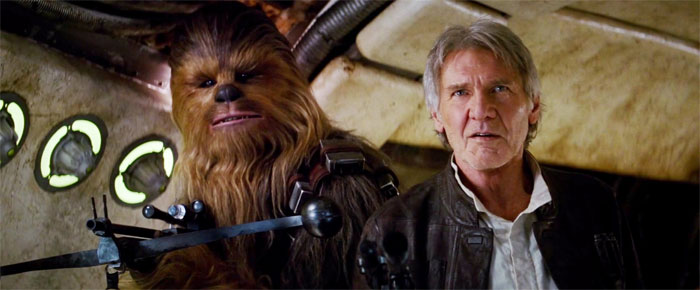 On July 29th, 2014, filming took place over three days at Skellig Michael island off the coast of County Kerry in Ireland with a cast including Mark Hamill and Daisy Ridley. Production was halted for two weeks in early August 2014 so Abrams could rework shooting in Ford's absence and resumed with a fully healed Ford in mid-August. In September 2014, the former RAF Greenham Common military base in Berkshire, near Pinewood Studios, was used as a filming location and featured set constructions of several spaceships from the Star Wars Universe. Principal photography ended on November 3rd, 2014.

Cinematographer Daniel Mindel stated that The Force Awakens would use real locations and scale models over computer-generated imagery to make it aesthetically similar to the original Star Wars trilogy. Rian Johnson, director of Episode VIII, reiterated that Abrams would use little CGI and more practical, traditional special effects, saying: "I think people are coming back around to [practical effects]. It feels like there is sort of that gravity pulling us back toward it. I think that more and more people are hitting kind of a critical mass in terms of the CG-driven action scene lending itself to a very specific type of action scene, where physics go out the window and it becomes so big so quick." Abrams' intention in prioritising practical special effects was to recreate the visual realism and authenticity of the original Star Wars. To that end, the droid BB-8 was a physical prop that was developed by Disney Research in partnership with Sphero, created by special effects artist Neal Scanlan and operated live on set with the actors. In August 2015, Abrams gave the estimated running time of the film as 124–125 minutes.

In February 2014, Industrial Light & Magic (ILM) announced plans to open a facility in London, citing Disney's Star Wars films as a catalyst for the expansion. ILM's Vancouver branch also worked on the special effects for the film.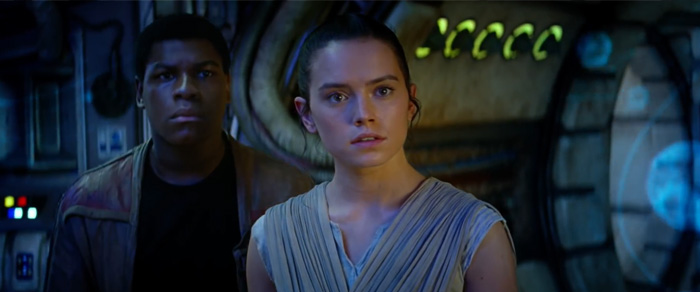 Recording sessions for The Force Awakens began in June 2015 at the Sony Pictures Studios' Scoring Stage in Culver City, with orchestrator William Ross conducting most of the music. Williams attended the sessions and conducted the remainder of the recordings. The score was recorded by a freelance orchestra over several months, with sessions continuing through August 2015 and the film's soundtrack will be released by Walt Disney Records.

On November 28th, 2014, Lucasfilm released a 90-second teaser trailer to promote The Force Awakens. It was screened in selected cinemas across the United States and Canada and in theaters worldwide in December 2014. It was also released on YouTube and the iTunes store, generating a record 58.2 million views on YouTube in its first week. Critics compared the brief footage favorably to the production values of the original trilogy, praising its mix of old and new, but noted the absence of Hamill, Ford, and Fisher and speculated about the significance of the new characters.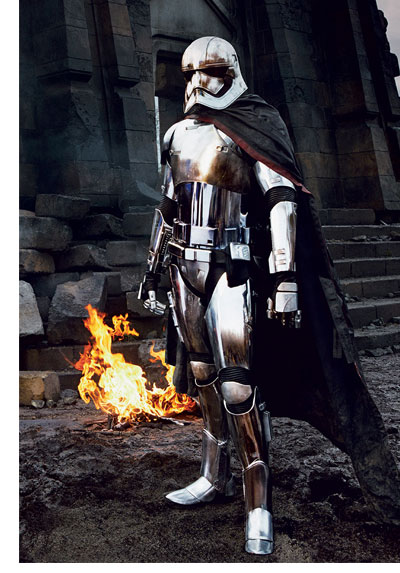 On April 16th, 2015, a second teaser trailer, this one lasting two minutes, was shown at the opening panel at the Star Wars Celebration in Anaheim, California. Lucasfilm president Kathleen Kennedy said the reaction to the trailer was "staggering... the entire room of almost eight thousand people just leapt to their feet and roared, I mean I can't think of anything I've ever been to – other than a rock concert – that felt quite like that." The trailer was viewed over 88 million times within the first 24 hours of release. According to the Guinness World Records, the second teaser trailer amassed 30.65 million in 24 hours setting a new world record for the "Most viewed movie trailer on YouTube in 24 hours." The trailer shows many of the new characters and the first footage of Chewbacca and Han Solo.

Vanity Fair was the first magazine to release an exclusive cover issue devoted to The Force Awakens. The magazine, released on May 7th, 2015, features all new interviews and brand new photos of the cast members photographed by Annie Leibovitz. At the 2015 San Diego Comic-Con International, in addition to a panel with many of the actors, a behind-the-scenes look at the film debuted, highlighting the use of practical sets and effects for the film.

In October 2015, Lucasfilm unveiled the theatrical release poster for the film, as well as a third trailer. The poster was noted for omitting Luke Skywalker and revealing a previously unseen "Death Star"-like "orb". The trailer debuted during the halftime break of Monday Night Football, before releasing online. The reaction to the trailer by fans on social media was "frenzied", with Lizo Mzimba of the BBC saying, "Perhaps the most significant thing about the final trailer before the film's release is how little of the story it reveals". The trailer received 128 million global views in 24 hours, setting a new record for the most views of a trailer in 24 hours.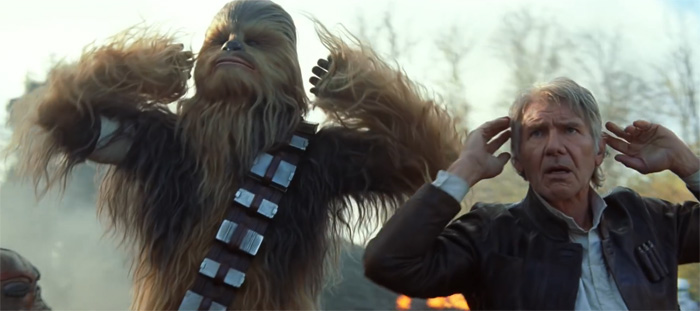 On December 17th, 2015, select theaters across North America will air a Star Wars Marathon, airing the six previous Star Wars episode films in 2D, followed by The Force Awakens in 3D. Attendees will receive a special lanyard featuring exclusive marathon art.

Disney Publishing Worldwide and Lucasfilm announced a series of 20 books and e-books, titled "Journey to Star Wars: The Force Awakens", with releases starting in late 2015, prior to the film. The series will include books by Del Rey and Disney-Lucasfilm publishers and comic books from Marvel Comics. All titles under the program are canonical to the Star Wars universe. The first novel, Star Wars: Aftermath, was released in September 2015 and is written by Chuck Wendig. The story is set shortly after the film Return of the Jedi and deals with the consequences of the deaths of Palpatine and Darth Vader, as well as the power vacuum formed in the Empire's rule over the galaxy and the actions of the Rebellion during the following months. It is intended to be the first in a trilogy of novels that will bridge the Star Wars timeline between the original trilogy and The Force Awakens. Alan Dean Foster will write the novelization of the film.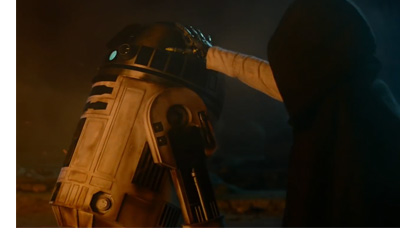 Disney Consumer Products and Lucasfilm announced that September 4th, 2015 would be deemed "Force Friday" and would be the official launch of all of the merchandise for The Force Awakens. Beginning at 12:01am, fans could buy toys, books, clothing and various other products at Disney Stores and other retailers throughout the world. Disney and Maker Studios hosted an 18-hour live-streaming presentation on YouTube, showcasing multiple merchandise products beginning on September 3rd, 2015. Among these products were a remote-controlled BB-8 developed by Sphero. Sphero had participated in a Disney-run startup accelerator in July 2014, where they were invited into a private meeting with Disney CEO Bob Iger, in which they were shown on-set photos and imagery of BB-8 before its public unveiling. Many retailers were unable to meet demand for Star Wars products.

Rian Johnson confirmed in August 2014 that he would direct Episode VIII. In March 2015, Isaac confirmed he would reprise his role as Poe Dameron. In August 2015, Colin Trevorrow was announced as the director of Episode IX. Like The Force Awakens, filming for Episode VIII will take place at Pinewood Studios near London. Some second-unit filming was done in September 2015 in Ireland with principal photography to begin in March 2016. It is scheduled for release on May 26, 2017.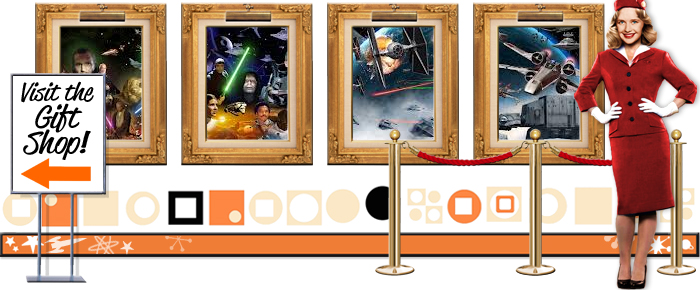 This site is not endorsed by Lucasfilm Ltd. Disney, or Twentieth Century Fox and is intended for entertainment and information purposes only.Star Wars, the Star Wars logo, all names and pictures of Star Wars characters, vehicles and any other Star Wars related items are registered trademarks and/or copyrights of Lucasfilm Ltd., or their respective trademark and copyright holders.