Welcome I am Winston J. Flywheel (no relation), Curator of the Webporium Neat Stuff Hall of Fame Foundation. The inductees presented here, from our so called Popular Culture, have inspired all those collectibles our spouses want us to throw out. But, we never will, because someday this stuff is going be worth something. The exhibits and information presented here is reviewed and compiled from accredited and reliable sources by our team of Neat Stuff experts and historians. Failing that I just ask my geeky nephew Harold, who also runs our AV Department. On behalf of myself, our staff, whose names I can't remember, Candie in reception, my personal assistant Betty and some guy named Bob, enjoy your visit to the Neat Stuff Hall of Fame.

- W.J. Flywheel, Webporium Curator



Exhibits in The Neat Stuff Hall of Fame are categorized by HOF staffers Harrison Willy and Edwina Nilly into four Exhibit Halls that closely relate to their original source pop culture identity.
Movies, Television, Comics & Toys and Disney.
But of course there are going to overlaps. For example: Batman origins are in the world of comics so Batman can be found listed under "Comics & Toys", but since there are also Batman movies there is a link there as well. Batman also gets a link in the Television menu because of that campy TV series from the 1960s.

Looney Tunes is a cartoon and was also a regular feature on TV but originated as theatrical shorts so that's why it can be found in the "Movie" section, still we have also listed it in the "Comics" menu.

The Simpsons is a cartoon (so it gets a link in "Comics") but because it originated on TV it can be also found in the Television section just like Hanna-Barbera characters and shows like The Flintstones or The Jetsons.

Disney stuff could fall under any category ("Movies", "Television" or "Comics") but we felt they deserved their own section. And, even though The Disney Company now owns various properties such as Star Wars, Marvel and The Muppets these entries are still identified under their original sources, "Movies", "Television" or "Comics"
CLICK the Movies, Television, Comics & Toys or Disney links in the menu at the top of this page to open the Exhibit Menus and enjoy your tour or The Webporium Neat Stuff Hall of Fame. If you get lost just wander around until you find something you like.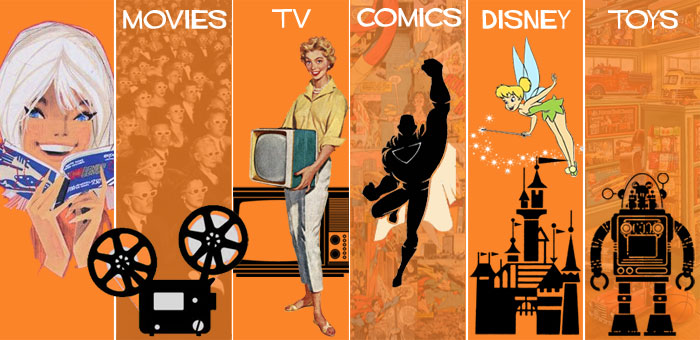 Here is a random Hall of Fame Virtual Trading Card. Collect them all! They are FREE!
Trade them with your friends. One in each especially marked package. No purchase necessay. For entertainment and informational purposes only. No cash value.


We believe it was the 80's English rock and new wave band The Fixx who posed the musical question, "One Thing Leads to Another." Since our staff is easily distracted, from time to time while putting together our HOF Exhibits they may go off on a trivia taggent connecting this and that with the other thing. For instance did you know that many Cheers actors appeared in episodes of Star Trek? Well now you do. Your welcome!


You can find this sometimes useless information by clicking our Triviaography Connections in Six Degrees or Less banners in our Hall of Fame Exhibit pages. Also you can find memorable Quotes and catch phrases from your favorite characters from the world of television and the movies by clicking our Quotables That's What They Said banners.
You can also find Triviaography and Quotables links by visiting our Triviaography Deparment (by clicking the banner link below) where you will find AND THAT'S THE WAY IT WAS, highlights from this day in pop culture history feturing todays birthdays and a useless fact of the day. You can also test your trivia I.Q. with our Neat Stuff Triviaography Quiz, and play Celebrity Doppelganger. These games are fun and free and no prizes will be awarded. And while you are there check out our Triviaography Trading Cards, collect them all!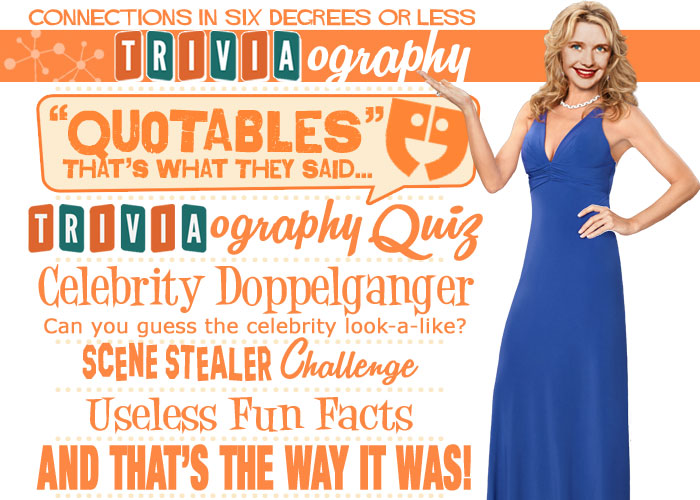 Since my uncle Winston can't even set the clock on his VCR (yes he still has a VCR) he has put me in charge of the Hall of Fame Audio/Visual Department. He even gave us a really neat (kinda scary) office in the basement (we call it The Rec Room) were we can do our work and not bother him. He calls it delegating.
- Harold Flywheel, Director, AV Services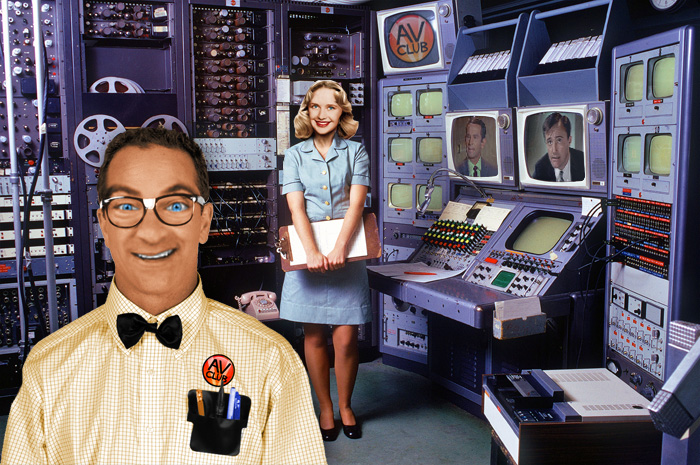 Visit the Neat Stuff Hall of Fame AV Department for a collection of Neat Stuff video presentations.

Our not so secret AV Club File Room features a cool selection of retro photos and vintage ads.

Not Another Slideshow showcases some of our favorite photos from that not so secret file room.

Check out What We Are Watching, Reading or Listening to Right Now!

TV recap features highlights what was on the TV Machine this past week!

Coming attractions! A sneek peek at at the newest movies!

Want some of your own Neat Stuff? Visit The BIG Store, our Hall of Fame Gift Shop, for the best and lastest Toys, Comics and Collectables available on the World Wide Intertubes.