The stuff presented here is a sort of webporium of the stuff I have collected over the years. It is, dare I say it, my own personal Museum of Pop Culture and if like me you have nothing better to do feel free to browse around. I have been an collector for years especially after the wife left and there was no one here to stop me. I even collected as a kid but we didn't call it that back then (that's not me pictured right but an actor pretending to be me).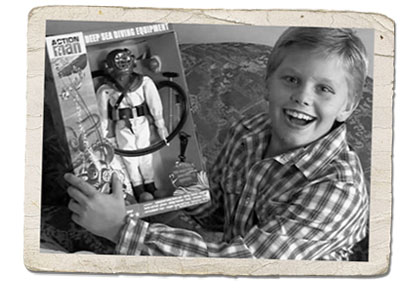 I remember setting up shop and selling some of my stuff in garage sales which was really stupid because if I had kept it, today that stuff would be worth a fortune and all I got was nickel or two. So, I decided to go to Morganville, which is what they called Shelbyville in those days and I tied an onion to my belt, which was the style at the time. Now, to take the ferry cost a nickel, and in those days, nickels had pictures of bumblebees on 'em. "Give me five bees for a quarter," you'd say. Now where were we? Oh yeah..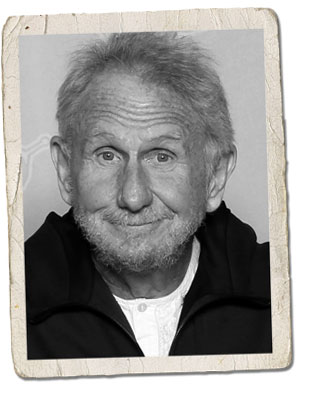 Now a days collecting stuff has become popular. Some even call us Pickers which is much better than hoarders or that weird guy down the street. Unlike hoarders us serious Pickers and/or Collectors like to organize and display our stuff not just let it pile up in a corner (don't look over there). So one day, I think it was a Tuesday, I built this site as a way to catalogue all My Neat Stuff. I didn't plan to sell anything but then someone said they would like to buy that thing. And I said it's not for sale. Then they said name your price. So I said some really high stupid price. They didn't buy it but I didn't want to sell it anyway. After that I decided that some stuff would be for sale and you can spot that stuff from the Add To Cart button. 
Prices are based on the going rates found in various books and publications and what I see other people selling similar stuff for on the Internet. (Pictured above…  again is not me but the great actor Rene Auberjonois.)
If you are interested in starting your own collection of Neat Stuff, and who wouldn't be? You can start by visiting your local comic shop. If you don't have a local comic shop you can go to garage and yard sales or steal toys from your children. Another way is to visit The Big Store where you will find lots of cool links to the latest Neat Stuff available on the world wide intertubes for your Dining, Dancing and Shopping pleasure. The links on our Big Store page will take you to other websites.

My Neat Stuff is hosted at Red Cabbages (no, they don't sell cabbages so stop asking), partnered with Kasey and Company and set up and managed through the legal and accounting firm of Hungadunga, Hungadunga, Hungadunga, & McCormick. Wait I left out a Hungadunga. I left out the main one too. Which follows is nasty letter from our accountants confusing the situation:

In re yours of the fifteenth, yours to hand and made to rep, brackets, that we have gone over the ground carefully and we seem to believe, i.e., to wit, e.g., in lieu, that, uh, despite all our precautionary measures which have been involved, uh, we seem to believe that it is hardly necessary for us to proceed unless we, uh, receive an ipso facto that is not negligible at this moment, quotes, unquotes and quotes. Uh. Hoping this finds you, I beg to remain… as of June 9, cordially yours.
Regards. Make two carbon copies and throw the original away.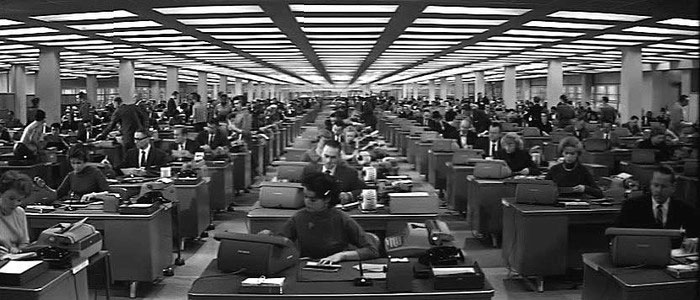 We strive for accuracy in all our listings but we are only human and have been called worse by an exwife, so our lawyers (the second Mr Hungadunga to be precise) whould like us to include the following legal mumbo jumbo. Something about prices subject to change without notice and we are not responsible for any wrong information or pricing posted on the web site. Apparently this gets us off the hook in case of a typo. So if an item is worth $50 but is mistakenly listed for $5, chances are you won't get it for five, unless of course we miss the mistake entirely in which case good for you. If we catch it you'll have the option of purchasing the item in question at the actual price or getting a refund. Which we will give you cheerfully, and you can't ask for much more than that.


Welcome to My Neat Stuff. This is the legal small print part of the website that no one ever reads. Actually the print is not that small. It's 12 point which is very easy to read because we have nothing to hide.
My Neat Stuff provides their services to you subject to the following terms and conditions. When you visit our online store, you accept these terms and conditions. Please read them carefully.
By accessing My Neat Stuff, you agree to be bound by the terms and conditions below. If you do not wish to be bound by these terms and conditions, you may not access or use the site.
1. While visiting My Neat Stuff, you may also not: post, transmit or otherwise distribute information constituting or encouraging conduct that would constitute a criminal offense or give rise to civil liability, or otherwise use My Neat Stuff in a manner which is contrary to law or would serve to restrict or inhibit any other user from using my neat stuff or the internet; post or transmit any information which contains viruses, worm, trojan horse, or other harmful or disruptive component; publish, transmit, reproduce, or distribute in any way, information, or other material obtained through my neat stuff which is protected by copyright, or other intellectual property right, or derivative works with respect hereto, without obtaining permission of the copyright owner or rightholder.

2. My Neat Stuff uses PAY PAL to process all orders on this site through it's parent company, Kasey and Company. When making purchases or other transactions through My Neat Stuff, you may also be asked by the merchant or information or service provider to supply certain information, including credit card or other payment mechanisms. You agree that all information you provide any merchant or information or service provider through My Neat Stuff or its parent Kasey and Company will be accurate and complete. You agree to pay all charges incurred by you or other users of your account and credit card or other payment mechanisms at the prices in effect when such charges are incurred. You also will be responsible for paying all applicable taxes, if any, relating to purchases on/at My Neat Stuff or Kasey and Company. My Neat Stuff or Kasey and Company is in no way responsible for any charges you or any user of your account incurs when making purchases or other transactions in this manner.
3. My Neat Stuff takes no responsibility for the accuracy or validity of any claims or statements contained in the documents and related graphics on My Neat Stuff. Further, My Neat Stuff makes no representations about the suitability of any of the information contained in documents and related graphics on My Neat Stuff for any purpose. All such documents and related graphics are provided without warranty of any kind and some images are for display purposes only. In no event shall My Neat Stuff or Kasey and Company be liable for any damages whatsoever, including special, indirect or consequential damages, arising out of or in connection with the use or performance of information available from the service.
4. All items presented on the Neat Stuff Showcase pages are from my private collection and concidered used items, even though some still may be Mint In Box. All said are sold as is and come without warranty.
5. If you are dissatisfied with My Neat Stuff or with any terms, conditions, rules, policies, guidelines, or practices of My Neat Stuff, your sole and exclusive remedy is to discontinue using the My Neat Stuff store.
6. You authorize My Neat Stuff to collect from any party and to retain all relevant information relating to your use of the My Neat Stuff store, and you hereby authorize any party to provide us with such information. You understand and agree that unless you notify My Neat Stuff to the contrary by e-mailing us, you further authorize My Neat Stuff or Kasey and Company to disclose, on a confidential basis, to any party with whom My Neat Stuff or Kasey and Company has business relations all relevant information relating to your dealings with My Neat Stuff or Kasey and Company.
7. You agree to defend, indemnify and hold My Neat Stuff or Kasey and Company and its affiliate and related companies harmless from any and all liabilities, costs and expenses, including reasonable attorneys fees, related to any violation of this agreement by you or users of your account, or in connection with the use of the my neat stuff store, information, or other materials on my neat stuff on the internet by you or users of your account.


8. My Neat Stuff, Kasey and Company and other names, logos and icons identifying My Neat Stuff or Kasey and Company products and services referenced herein are trademarks or registered trademarks of My Neat Stuff and Kasey and Company. All other product and/or brand or company names mentioned herein are the trademarks of their respective owners. Original content and images are the property of My Neat Stuff. Additional content and images are displayed here only for promotional and educational purposes and are believed to be in either public domain or available for use to advertise/sell the items in question from our on-line affiliate partner stores. Any content/images that are displayed in error can be removed immediately by informing My Neat Stuff.
9. This agreement, including any and all documents referenced herein, constitute the entire agreement between My Neat Stuff/Kasey and Company and you pertaining to the subject matter hereof. My Neat Stuff to insist upon or enforce strict performance of any provision of this agreement shall not be construed as a waiver of any provisions or right. If any of the provisions contained in this agreement be determined to be void, invalid or otherwise unenforceable by a court of competent jurisdiction, such determination shall not affect the remaining provisions contained herein. This agreement shall be governed by and construed in accordance international laws.
My Neat Stuff and Kasey and Company respects your privacy and we will do our best to earn and keep your trust. All personal information you share with us is treated with the utmost care. This privacy policy identifies how we collect, use, and protect the information you provide to us when you visit our stores, use this website, or make a purchase through our online store at this website. My Neat Stuff and Kasey and Company does not share any information to third parties for marketing purposes. My Neat Stuff and Kasey and Company has security measures in place that are designed to protect against the loss, misuse, and alteration of the information we collect.